If you're a hunter, bird watcher, target shooter, or engaged in any activity where enhanced vision is an asset, a spotting scope is a fantastic investment. Spotting scopes are designed to be used with a tripod, and are less portable than a pair of binoculars. However, they offer the best magnification and clarity of any type of sporting optic, making them ideal for spotting animals from long distances. This article will review what to look for when making an investment in a spotting scope to help you choose the best scope for your needs.
The #1 Spotting Scope On the Market Today
It is incredibly difficult to name a single spotting scope as the best available. But if you're looking for a general use scope that can be used for a variety of activities, has good features, and is priced within the realm of reason for most outdoorsmen, you should really consider the Upland Optics Perception HD.
A 20-60x60mm scope, it has the ideal amount of magnification for spotting, and the large objective lens lets in plenty of light without being excessively heavy. Its extra low dispersion glass gives it unbeatable image quality that you won't get with very many other scopes, especially in that price range. Our partner company Upland Optics does a great job, and we feel like they are the company to beat in the optics world right now.
Shop now for the Perception HD Spotting Scope.
Typical Spotting Scope Uses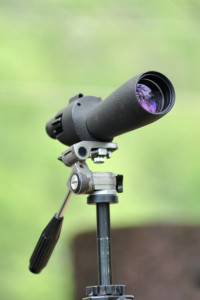 Spotting scopes can be used in a variety of contexts, but they are generally used to provide greater magnification than a pair of binoculars. These scopes are often used for hunting, archery, birding, and spotting wildlife. They can also be used to magnify a beautiful scenic mountain range. A spotting scope can be attached to a camera to take a long ranged pictures of a majestic animal without disturbing them or putting yourself in danger. Some people who use spotting scopes use them in conjunction with guns. This allows the person that is hunting to get a better view of the actual target before taking a shot. Spotting scopes are also used during target shooting to view the target hit at greater distances.
Features to Consider When Buying a Scope
Body Style
There are two types of spotting scopes: an angled body spotting scope, and a straight body spotting scope. Both work well in most situations, but one may be preferred over the other in certain viewing circumstances. An angled body scope is great for looking either up at your target or across flat ground. This type of scope is also perfect for viewing from the window of a vehicle. A straight body scope is best for viewing from a higher position, like from an elevated point on a mountain to catch a glimpse into the valley below.
Objective Lens
The absolute best option for a spotting scope is a high quality objective lens that is comprised of high performance glass. Always go for lens quality over size if you have to choose, as a larger lens of poor quality will result in a mediocre view when compared to a smaller lens of optimal quality. A larger lens will always produce a superior image at higher magnifications than a smaller lens of the same quality. Objective lens size can make a massive difference in price; expect to pay more for a larger scope.
Magnification
The magnification of a spotting scope is designed for viewing at ad distance where conventional binoculars no longer function. Most observation done with a spotting scope requires a magnification of 30x – 40x, which assures that most scopes are capable of producing reasonable images. As the lens quality goes up, the quality of the image increases as well. A bit of quality will always be lost at higher magnifications, but a higher quality scope will reduce the image drop-off quality.
The atmosphere also plays a big factor in the quality of the image being viewed. Humidity, glare, wind, and dust can all lower the quality of the image. High altitudes with dry climates are bound to produce higher quality images at high magnifications. Low altitude areas that are wet and humid may require a low magnification for a clear image. Many spotting scopes do not go higher than 60x due to the limitations set by the atmosphere for magnified viewing in the daylight.
Lens Coating
Lens coating is an important feature of a spotting scope, especially for viewing images at high magnifications. The lens can be fully coated, multi-coated, or fully multi-coated. Each lens coating improves the light transmitting into the lens, but the quality depends on the coating chosen for the specific scope. Premium spotting scopes all tend to be fully multi-coated to produce the optimal viewing experience.
Eye Relief
Eye relief is the distance the viewer's eye can be from the eyepiece without losing any of field of view. This feature is especially necessary for people who wear glasses. With a big enough eye relief, even people who wear glasses with thick lenses will be able to see the full image without an issue. For those who require glasses to see, it is recommended to have at least 14mm of eye relief on a spotting scope.
Prism Type
Most spotting scopes are refractors that use prisms inside the scope to flip the image right side up and left to right. There are two different types of prisms used in spotting scopes: a roof prism and a porro prism. The roof prism spotting scope is slim and compact, but it tends to lack some key features like interchangeable eyepieces. It is an extremely portable scope that is perfect for someone who is always on the go. The porro prism spotting scope is the most efficient and the least expensive prism to produce, which makes it the most common.
Eyepieces
When purchasing a spotting scope, be aware that sometimes the eyepiece is not included in the price of the scope. If the eyepiece is included in the price, the eyepiece may not be removable. Higher end spotting scopes have removable eyepieces that often do not come included with the price of the scope, to give the buyer a chance to choose from the different options available. A single powered eyepiece has some optical advantages, but most people who use spotting scopes prefer the convenience of a zoom eyepiece. With this type of eyepiece, the magnification can be changed easily in a situation where the atmospheric conditions are not stable. A zoom eyepiece that is high quality will have a great eye relief as well as produce exceptional image quality.
Close Focus
A close focus is the nearest distance a spotting scope can view. Most spotting scopes do not have a close focus of less than 20 feet, so make sure the image being viewed is an adequate distance away. This feature is perfect for viewing birds and seeing intricate details on their feathers.
Waterproofing and Fogproofing
Waterproofing and fogproofing are not absolute necessities, but they are features that protect the spotting scope from atmospheric conditions. The seals that are produced to keep moisture out will also keep dust and debris from the scope, which will keep the spotting scope in good condition for a longer period of time.
Tripods
Due to the magnification levels of a spotting scope, a tripod or some support is needed to keep it steady during the viewing process. A car mount works well if viewing from a vehicle, but in most situations a tripod is required. All spotting scopes are threaded like a traditional camera, so there is no need for a specialized tripod. The tripod needs to support the scope, so if the spotting scope is heavy, the tripod needs to be heavy as well. For anyone using a spotting scope while hiking or traveling, make sure to consider the weight of the scope and the tripod before you commit to a long haul.
You can read our guide to the best tripods for spotting scopes to get some ideas for great tripods to use with your new optic.
Camera Adapters
Most spotting scopes can adapt to a camera to take long distance pictures. This process is often referred to as "digiscoping." Make sure the scope and camera are compatible to assure a great picture from the mountain top. To properly "digiscope," specific adaptors may be required for the camera to produce vibrant, razor sharp images that are of exceptional quality.
To learn more about the basics of spotting scopes, check out this awesome video:
Best Spotting Scopes for Hunting
For an avid hunter, the scope used to identify a target can mean the difference between a prized catch and the one that got away. A spotting scope will allow a hunter to get a better look at an elusive deer before taking a shot. It can offer a chance to pick an animal from a herd with enough magnification. Hunting spotting scopes all differ slightly, but they can be a tremendous help when using a rifle or a bow and arrow. Here are some of the most reliable spotting scopes for hunting:
• Swarovski 80 mm STS HD Straight Spotting Scope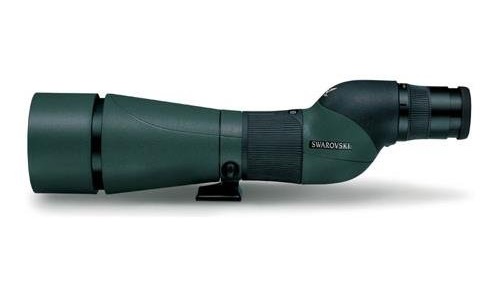 This 80 mm scope is a straight scope design that is perfect for hunting in the great outdoors. The scope features high density glass and a fully multi-coated lens to produce a razor sharp image. A rotating tripod ring gives the hunter some much appreciated positioning flexibility. With a close focus of 16 feet, wildlife near or far can be viewed with great results. The aluminum alloy body is a lightweight, sturdy solution for trekking through the woods, and the scope is coated with a Swaroclean Coating for extra protection from the elements. This water and fogproof scope also features a sunshade to help reduce the glare and shield the objective lens. With this model, the eyepiece is sold separately.
• Vortex Razor HD 20-60×85 Angled Spotting Scope
This angled spotting scope comes at 85 mm. It has a close focus of 16 feet and produces crisp enhanced images through its sophisticated triplet apochromatic lens system. The compact, lightweight magnesium alloy body is equipped with an adjustable eyecup as well as a duel focus feature that allows for fine adjustments to image clarity. The Vortex Razor spotting scope is coated with an ArmorTek Lens Coating to repel oil from the lens. The scope is a model that has been weatherproofed against rain, snow, and fog suitable for any hunting expedition. A 20x – 60x magnification eyepiece is included with the purchase of this spotting scope as well as a rotating tripod ring to allow for more flexibility when positioning the scope.
• Upland Optics Perception HD 20-60x60mm Spotting Scope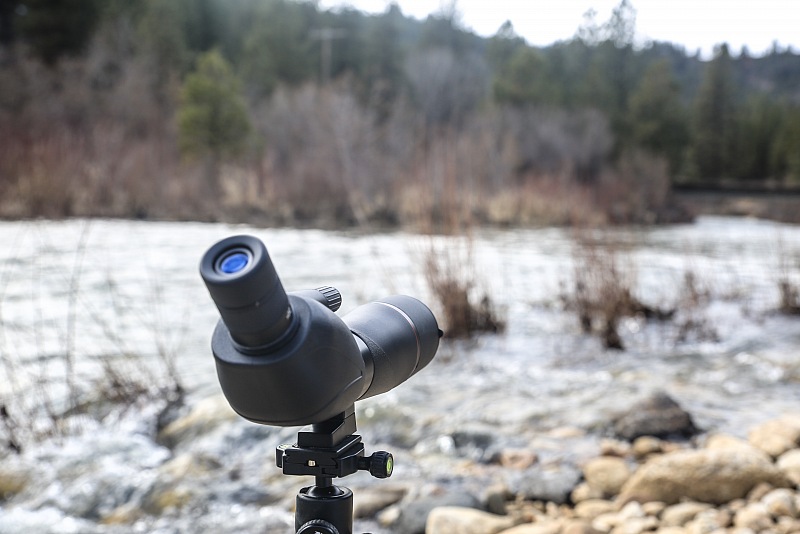 Mentioned above as our overall favorite spotting scope, hunting is where the Perception HD really shines. Upland is a company that focuses exclusively on hunters, and this scope is a fine example of that. Weighing just 2.5 pounds, you can actually carry this scope with you into the field if you wanted to instead of just leaving it in the truck at the base of the hill. Should anything happen to it on your adventures, it is covered by a lifetime warranty. And perhaps most appealing to many hunters is its price, which rings in literally thousands of dollars cheaper than options from other top brands.
Best Spotting Scopes for Target Shooting
In regards to target shooting, the distance for magnification may vary. Rain may not be an issue in this scenario, but it is important to remember that other atmospheric conditions such as humidity, air turbulence, and dust can affect the performance of the spotting scope. A few of the more dependable spotting scopes for target shooting are listed below.
• Leupold SX-1 Ventana 2 20-60x80mm
The SX-1 Ventana 2 features a sleek design and excellent optical quality. It delivers high contrast, bright visual, and has a good (and expansive) field of view. The angled eyepiece is comfortable and twist up eyecups and smooth focusing enhance the experience. It has fully multi-coated lens coating, is fog- and waterproof, and is less expensive than many of the other premium scopes it competes with.
• Swarovski ATX 30-70×95 Angled Spotting Scope and separate ATX Eyepiece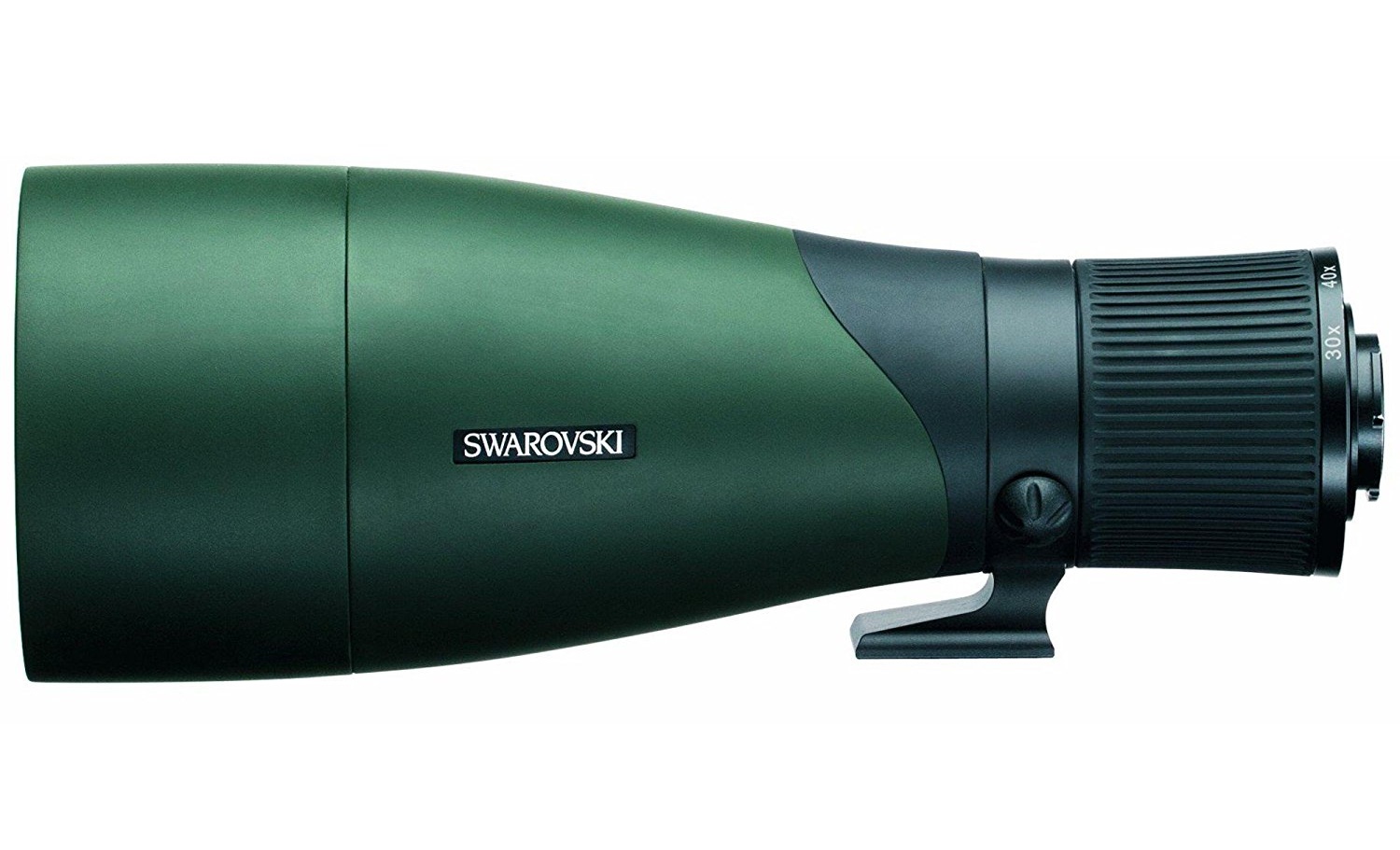 The Swarovski ATX is a high-powered, angled scope that uses cutting edge lens technology to take the viewer to their spotting destination. The 30x – 70x magnification range will define a razor sharp image anywhere within the range that is free of distortion. The focus wheel and the zoom wheel are within easy reach to allow for a quick zoom with little to no adjustment. The high density, fully multi-coated lens produces a brilliant optical image, even in low-light situations. This scope is a bit on the heavy side, but the rotating tripod ring minimizes the need to move the scope once it is positioned.
Best Spotting Scopes for Birding
Birding has been revolutionized by spotting scopes, especially angled body scopes that are perfect for viewing an area where birds might be observed. A good quality spotting scope can be used to enhance images of a bird's plumage in both short and far distances. A high magnification lens will bring to light the finest detail on a bird's feathers, which will allow for species identification from greater distances. You can also combine your scope with a camera using digiscoping techniques to capture amazing pictures. Here are a few of the more popular spotting scopes available for bird watching:
• Kowa TSN 883 Angled 88mm Prominar Spotting Scope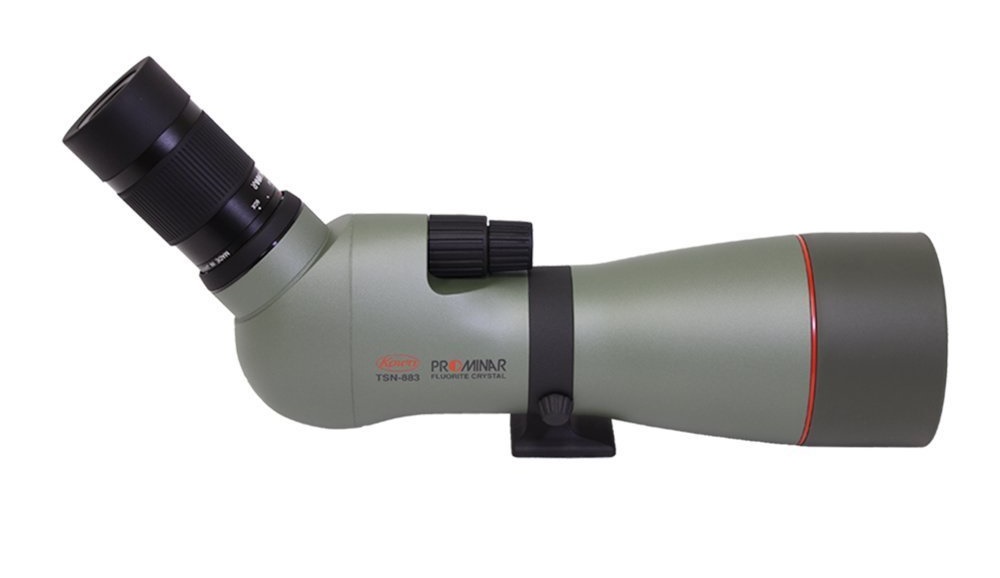 The Kowa TSN is a spotting scope that is perfect for birding because the lens and optical features are included. The dual focus, fluorite crystal lens provides superb images with enhanced features, such as color, contrast, and resolution. The fully multi-coated lens and the porro prism allow for a viewing experience that has exquisite light intake, even in low-light settings. Viewing birds at long distances results in a sharp, undistorted image, and higher magnification levels maintain an impeccable image quality. A lens of this quality is a bit heavy, so the body of the scope is made of a corrosion resistant, magnesium alloy material to help offset the weight. Eyepieces for this model are sold separately, but the design includes a locking mechanism to lock the removable eyepiece in place.
• Leica Televid APO 82mm Angled Spotting Scope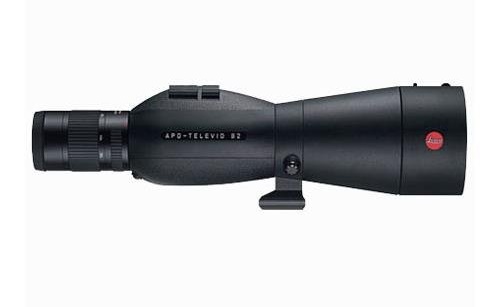 The Leica Televid APO is an excellent angled spotting scope for bird watching. Compared to previous models, this scope has a six percent light yield increase that makes the image resolution even more distinct in any lighting. The fluoride glass brings vibrant color and detailed contrast to the table without sacrificing any range of view. This scope comes with a fog and water proof seal as well as a AquaDura Lens Coating that will repel water and moisture. These protective layers assure quality images are not obscured by dirt or fingerprints. The 12 feet close focus on this spotting scope is designed for bird watching. An avid bird watcher can use this scope to identify a bird from across the lawn to across the lake.
Best Compact Spotting Scopes
A compact spotting scope is a great tool for hunters and wildlife observers who are always on the move. Having a lightweight scope that can easily be managed on trails or in dense foliage will make a wildlife expedition easier and more exciting. Some of the best compact spotting scopes available on the market are listed below.
• Bushnell Sentry 12-36x50mm 789332 Ultra Compact Spotting x 40mm
Another great compact scope for those on the go is the Bushnell Legend in 12-36x50mm. This scope is a lightweight instrument perfect for hiking and other modes of travel. The fully multi-coated lens and the extra low dispersion glass give the scope a high-quality image with excellent light transmission. Make sure the image is pristine with the dual focus feature. Unfavorable weather is not a threat for the weatherproof protection.
Best Spotting Scope for the Money
When deciding which spotting scope to purchase, one should consider the features of the scopes as well as its performance. A great scope will be one that has most of the optimal features, but is offered at a lower price than competing scopes. After careful consideration, a few of the best buys for spotting scopes are:
• Vortex Razor HD 16-48×65 Angled Spotting Scope
The Vortex Razor HD exceeds the quality level of many spotting scopes with heftier price tags. The top of the line lens features high density glass that is implemented to produce impeccable images free of imperfections. The high resolution and astounding sharpness can be seen throughout the entire field of view; it is even evident at full magnification. The angled body scope has a close focus of 11 feet, so wildlife that is nearby can be viewed without difficulty. In addition, a 16x – 48x magnification eyepiece is included with the purchase of the Vortex Razor. This specific spotting scope is protected from most atmospheric conditions, including rain, fog, snow, wind, and humidity. The protective layers also safeguard against dust, debris, and unwanted fingerprints.
• Celestron Regal M2 16-48×65 ED Angled Spotting Scope
The Celestron Regal M2 is another great buy. This spotting scope produces exceptional images without distortion. The extra low dispersion glass enhances the image with a crisp resolution as well as vibrant colors. The edges of the viewing area are never out of focus, even at increased magnifications. Fine adjustments can be made with the dual focus feature. This light weight scope has a magnesium alloy body to prevent corrosion, and the optics are fully protected from the elements. A 16x – 48x magnification removable eyepiece is included with the purchase of the Celestron Regal M2 as well as a photo adapter that helps get the scope ready for "digiscoping" in the great outdoors. The scope is also equipped with a rotating tripod ring for greater flexibility while viewing and a sunshade to reduce the glare on the pictures taken.
Best Spotting Scopes under $200
Some situations call for products that don't break the bank. Here are a few suggestions for quality spotting scopes under $200:
• Redfield Rampage 20-60x60mm Spotting Scope
The Redfield Rampage is a great selection for anyone looking for a spotting scope in a low price range. In addition to a 20x – 60x magnification range, this spotting scope offers many features that are commonly seen in more expensive models. This lightweight scope will give you a clear image, especially at the mid range magnification levels. The fully multi-coated lens increases light transmission, giving the viewer a sharper image. The Redfield Rampage is designed to be rugged; the scope features weatherproof qualities to protect from the rain and fog.
• Barska 30-90×90 Colorado Spotting Scope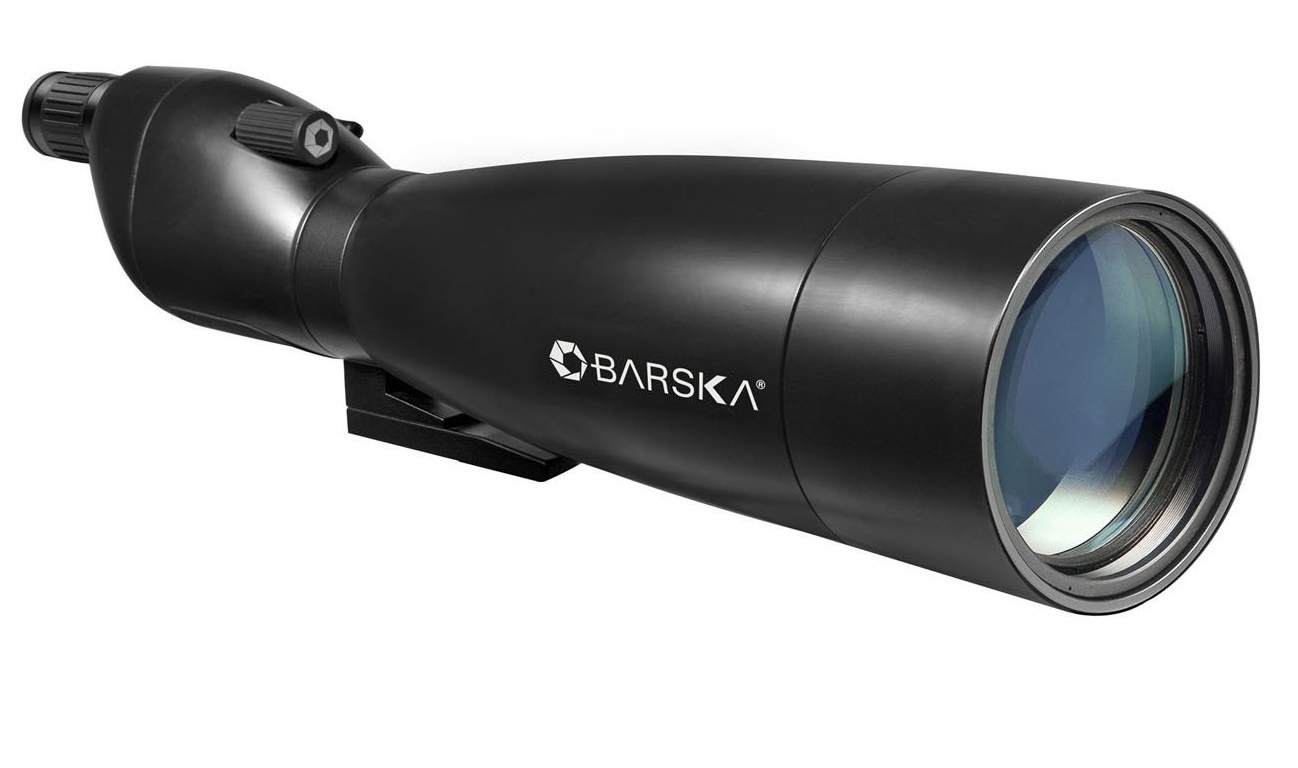 Another great spotting scope under $200 is the Barska. This spotting scope features a straight body model that has a high magnification range of 30x – 90x, which is exceptional for this class of spotting scope. A fully coated porro prism helps increase the optics, giving the viewer a bright, high quality image. The Barka maintains noteworthy image quality and clarity in low light situations and at higher magnification levels.
Best Spotting Scopes under $500
Mid-ranged spotting scopes can still exhibit exceptional features. After some careful consideration, here are some great selections below the $500 price point:
• Vortex Diamondback 20-60×80 Straight Spotting Scope
The Vortex Diamondback is an excellent mid-rang spotting scope. The great value is matched by a great performance that has a reputation for being on par with spotting scopes that cost twice as much. The fully multi-coated lens is coupled with a dielectric prism coating that optimizes light transmission, which gives the viewer an image that stays true to the bright colors seen in nature. The classic straight body design also features fog and water resistant seals that will protect the scope from moisture or debris. The Vortex Diamondback is a very sturdy scope that is great for "digiscoping." A sunshade is included to help reduce the glare in the field of view.
• Vanguard Endeavor HD 15-45×65 Angled Spotting Scope
A spotting scope with a top of the line reputation at a reasonable price is the Vanguard Endeavor. Vivid colors and sharp details are the result of an extra low dispersion glass and a fully multi-coated lens. This scope features a close focus of 14 feet and a magnification range of 15x – 45x to produce picture perfect, distortion-free images. Small adjustments can be made with the dual focus feature. This scope design also features weatherproofing as well as rubber armoring that are meant to protect the scope from damage. The Vanguard Endeavor is a scope that has an extended eye relief for more comfortable observation in the impressive field of view.
Best Spotting Scopes under $1000
Most people are willing to pay a little extra money to get the spotting scope features and the magnification levels they desire. A few of the choice spotting scopes under $1000 are listed below.
• Vortex Viper HD 20-60×80 Angled Spotting Scope
The Vortex Viper is an angled body HD spotting scope that sports all of the top of the line features that are often seen in high end scopes. The optics on the Vortex Viper produce exceptional high resolution images that remain vivid in color and contrast. The lightweight design also features a rotating tripod ring and an adjustable eyecup for more comfortable viewing. It also has a dual focus feature that allows for coarse, fine adjustments to the image. The design is waterproof and fogproof with some added protection to keep any oil and debris from the lens. This model does include a 20x – 60x magnification eyepiece, which makes the overall value even better.
• Pentax PF ED II 65mm ST Spotting Scope
The Pentax PF ED is a popular straight body spotting scope that offers extremely high performance at an affordable price. The lightweight scope has a magnesium alloy body that is easily portable for the spotter on the go. The extra low dispersion glass and the fully multi-coated lens give the scope an optical excellence characteristic of high end scopes. This model includes a 20x – 60x magnification lens that is combined with a sunshade to reduce glare. Images that are fully magnified maintain the clarity and vibrant detail seen at low magnifications. This scope can also be fit to a variety of astronomical eyepieces that create possibilities for the spotter to have a view into the galaxy.
There are a lot of different spotting scopes available on the market today, but not all scopes are created equally. This article was designed to introduce someone who is new to birding or other recreational activities where a spotting scope is useful to the different features that are available. Once a spotter is sure of the magnification they need, it comes down to knowing the price restraints for purchasing the scope and determining which extra features should be included in the price. If "digiscoping" is an ambition, make sure the spotting scope selected can accommodate. Hopefully, this article will help a new spotter determine which scope is best suited for them. Make sure to consider the suggestions made above, but also do additional research so your spotting scope lasts generations to come.