Night vision rifle scopes prove to be very useful for multiple groups of people; hunters can attest to the importance of owning this type of scope when hunting animals like hogs and raccoons in the dark, and the military relies on this form of optic technology extensively in low light conditions. If you hunt or hold target practices at night, a night vision rifle scope is essential for locating your target and having optimal accuracy.
This guide covers everything you need to know in order to make an informed purchase of a night vision rifle scope. We'll cover options in various price ranges and with varying technology, as well as go over what the different brands and generations of technology have to offer.
Best Night Vision Rifle Scope for the Money
Sightmark Photon XT 4.6x42S Digital Night Vision Rifle Scope
As you may already know, Sightmark is a steadily growing brand in the field of rifle scopes. This particular model is for sale on Amazon with a stellar star rating of 4.6 stars, so it has proven to be a great scope for the money.
What are the details?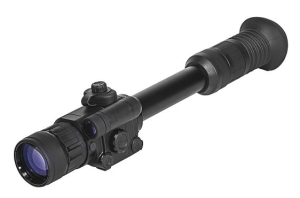 The Sightmark Photon is most effective when placed at medium range; nonetheless, it features six digital reticle options that allow you to operate on a variety of ranges, and the reticle options are available in red, white, or green.
Due to the wide range of reticle options, this riflescope has an impressive array of applications. The two crossbow reticles allow this scope to be used with crossbows designed to shoot 320, 350, 370 and 400 feet per second. In addition to having crossbow reticles, the two available duplex reticles are for rifle shooting, and they are great for hunting game such as hog or raccoon. The scope's Mil-Dot optical aids in rangefinding and estimating holdovers. Finally, you can even opt to use German style reticles. Overall, there are several features and options to choose from when operating this rifle scope. It all depends on what your preferences are and the situation in which you are trying to make the shot.
Features beyond reticle options include a magnification of 4.6x, so paired with a large 42mm lens and an above average resolution of 640×480, you're guaranteed to easily see anything in sharp detail for up to 120 yards! The Sightmark Photon's digital interface also informs you of the wind direction, elevation height, and adjustments needed for making an accurate shot.
As for the battery life, this scope has a 33% longer life than the average in its domain. It's also lighter than the average rifle scope of this ability, so both of these factors are worth considering when you're using the scope for extended periods of time. Furthermore, if you're out late at night, this scope sports a video output feature that allows the hunter or shooter to capture clear images during both the day and night.
The Sightmark Photon is a great device for the money; with a price below $500, this scope has everything that most shooters and hunters need to make those accurate shots. Click here to see the price.
Best Night Vision Rifle Scope for under $1,000
ATN X-Sight II 5-20 Smart Rifle Scope with 1080p Video, Night Mode, WiFi, GPS, Image Stabilization, iOS and Android Apps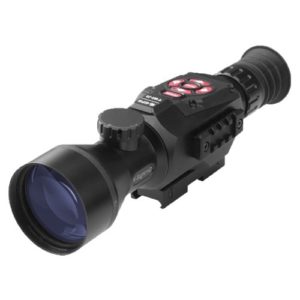 ATN is known for manufacturing top of the line scopes, and their X-Sight II 5-20 night vision scope is no exception.
What are the details?
The ATN X-Sight comes with many technical conveniences such as Wi-Fi, GPS, smartphone control, and the ability to geotag your location on your photos and videos. The scope's obsidian core allows for images to be recorded and captured clearly at night, and its HD 1080p sensor makes these images appear colorful and clear. 
One of this night vision scope's most sought-after features is its patent-pending smart rangefinder; this feature easily implements the necessary technology to estimate the distance you are from your target in a few simple steps. Once ranged, the scope will automatically adjust the point of impact, leaving out any guesswork or calculations on your end. 
Another admirable application offered by this scope is its capacity to offer seven different reticle options and seven color options needed for adjusting to any scenario or environment. Once these components have been set and you are gearing up for the perfect shot, there is another technologically savvy aspect of this scope that will give you peace of mind: the recoil activated video. You won't have to worry about recording anything because this scope will automatically start to record a video before and after you take a shot. Overall, this scope is a great selection for its selection of features and price point! Click here to see the price. 
Best Night Vision Rifle Scope for under $500
Yukon NVRS Titanium 1.5×42 Night Vision Rifle Scope with Weaver Mount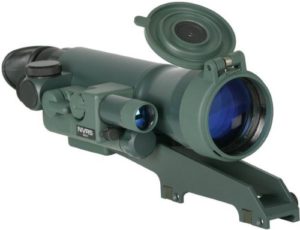 The Yukon Titanium scope earned its nickname, the "Varmint Hunter," due to the fact that it is the smallest rifle scope in Yukon's line of titanium scopes. It is highly durable and lightweight, and its lengthy mount is designed to provide an ergonomically sound experience for the shooter. This scope also fits a large range of rifles – even those that have a bolt action style!
This scope has a 50 mm lens that offers high-resolution imagery and also helps to capture all possible light in a given environment, so this component of the scope works in concert with the built-in Pulse Infrared Illuminator to enhance brightness and range in the middle of the night, making the Yukon NVRS Titanium an essential tool for many nighttime scenarios.
Other features include a flip-up objective lens cover, multi-coated optics, and is adaptable to digital cameras. This Yukon scope also has precise wind measurement and elevation adjustment controls. 
Finally, comes with a sturdy tote case and a lifetime warranty, so you can't beat having all of these features for the low cost of this scope! Click here to see the price. 
Best Gen 1 Night Vision Scope
Firefield FF16001 NVRS 3x 42mm Gen 1 Night Vision Rifle Scope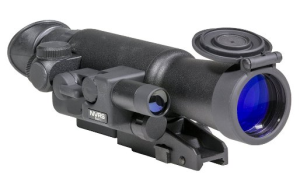 Firefield may be newer to the rifle scope technologies, but they've definitely proven that they can deliver reliable and durable products.
Generation 1 scopes are usually the most purchased night vision rifle scope models due to being relatively inexpensive while still providing the shooter with advantageous technical assistance in terms of long range accuracy.
The NVRS 3×42 Night Vision Rifle Scope is a Generation 1, or Gen 1, scope that comes equipped with 3x magnification to help acquire medium and long-range targets, and these targets can be easily sought out during the early hours of the day or late at night thanks to the scope's high power IR illuminator.
This scope's titanium body is protective, sturdy, and very lightweight in comparison to many other rifle scopes, and its ergonomic design aids in delivering a more accurate shot. In addition to it's rugged build, this scope has other measures that allow for the scope to be used in unpleasant weather conditions, if necessary. The NVRS 3×42's flip up lens cover protects the multi-coated optics when needed, but when the lens cover is taken off, the illuminated red duplex reticle's brightness can be incrementally adjusted for brightness in order to remain effective in any environmental condition.
This rifle scope has everything that you need to get the job done when shooting at night, and you don't have to worry about your wallet suffering! Click here to see the price.
Best Gen 2 Night Vision Scope
Armasight Nemesis 6x-SD Gen 2+ Night Vision Rifle Scope with 6x Magnification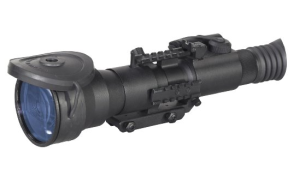 Now that we will be discussing a Generation 2 rifle scope, you can expect to see more advanced technology and a greater variety of capabilities than observed with a Generation 1 scope.
What are the features and details of the Armasight Nemasis 6x-SD Gen 2 Night Vision Rifle Scope?
This scope has an impressive 6x magnification with 6.5 degrees FOV, which is very convenient for those long range points that are often too difficult to accurately hit without this form of advanced technology. Additionally, the well-defined and extremely thin crosshairs set this scope apart from any other night vision scope on the market by giving the user an ability to make extremely precise shots on very small targets, even from far distances.
Its high-quality image intensifier tube, unique adjustable brightness illuminated reticle, and detachable infrared illuminator are a combination of features that make this scope very useful in low-light and essentially no light settings.
This Armasight scopes's controls are digital and the windage and elevation adjustments are very user-friendly. This is important when you're needing to remain as steady as possible when gearing up to take a shot; you don't want to have to hassle with a rifle scope that will cause too much noise or movement. And when you do end up shooting at your target, the scope should remain steadily on your weapon since it is shock protected.
Environmental factors such as rain will have you unconcerned since scope is waterproof; your Armasight Nemesis 6x will be just fine and it won't hinder the operation at all. Another handy design feature includes the scope's built-in flip-up and backup iron sights, which further help with aim and may be necessary if dealing with multiple distracting environmental conditions.
This Armasight Nemasis has a lengthy 60-hour battery life, which is much longer than the average Gen 1 models offer you as they aren't designed to last as long as the Gen 2.
Finally, the Armasight Nemesis 6x has a two-year warranty. If it causes any issues, you can return it without it costing you a dime. It was an easy choice to include this model as the best Gen 2 night vision scope. Click here to see the price.
Best Gen 3 Night Vision Scope
Armasight NYX-14 GEN 3+ Alpha MG Multi-Purpose Night Vision Monocular with Manual Gain
The Armasight NYX-14 is a multi-purpose monocular scope that is both helmet and weapon mountable, and its quality is equal to that of military issued night vision technology.
This scope is comprised of small dimensions and has an extremely durable design. This device will not overload your rifle with heavy weight or strain your neck if you opt for "hands-free" use, and it is durable in weather conditions beyond the rain. According to Armasight's product description, the NYX-14, "…can withstand salt water, rain, high humidity, extremes of temperature and still give unsurpassed levels of performance."
While the NYX-14 was built with a standard 1x magnification, it comes with 3x, 5x, and 8x magnification lenses to use depending on the distance that you are trying to shoot a target from. It also produces an image resolution of 62-72 lp/mm.
One of the scope's unique features is its manual gain control component (MG), which allows the shooter to manually increase or decrease the image brightness to account for the amount of natural light that is present in a given situation. It also comes with a built-in infrared illuminator for clear vision in pitch black settings.
Armasight's NYX-14 scope is backed by a 2-year warranty, can be utilized in a variety of ways, and is a top quality night vision rifle scope.  This is, by far, is one of the best night vision options for Gen 3 models. Click here to see the price.
More Information – Top Night Scope Brands
There are many great brands out there that produce quality night vision scopes. Most likely, if you're reading this article, you're either a novice or you're an expert who is seeking the "best of the best" scope for a bargain price. Below, we have detailed more information regarding the brands of the night vision scopes that we outlined at the beginning of the article. This information may help you to make a decision about which scope to purchase above, especially since they all come with a variety of enticing features and capabilities.
Armasight
Armasight is a big name in the thermal imaging and night vision technological field; they've designed and invented products like night vision scopes for years. Their main headquarters is located in San Francisco, California, and they offer spectacular quality for a wide range of prices. You can purchase a high standard night vision scope for $10,000.00, or purchase a scope for as low as $150.00. It merely depends on the features and technology that you desire and the amount of money that you're willing to spend.
ATN
ATN is another brand that specializes in night vision and thermal imaging scope technology. "ATN" is an acronym for American Technologies Network, and like Armasight, it is also located in San Francisco. This company has been around for over two decades and takes great pride in having all of their products manufactured in the United States, producing scopes that are expensive and relatively inexpensive. Both ATN and Armasight are used frequently by hunters, law enforcement employees and the military.
Firefield
Firefield is a night scope brand that was established in 2009 and is rapidly building its reputation among the shooter community. Firefield saw the growing need for affordable scopes and thermal imaging products with the decline in the economy; they realized that there was an opportunity to serve people who couldn't afford over-priced tactical products, so their philosophy is to provide optical equipment for shooters that are of high quality but low price. Never let the newness of a company deter you from giving their quality of products a try!
Sightmark
Emerging in 2007, Sightmark is also a new brand and company that's increasing in popularity among the shooting community. According to their slogan, Sighmark's technology equips users with the ability to "make the mark". With their main headquarters in Mansfield, Texas, the brand and products have found their way into many outdoors retailers such as Academy Sports and Cabela's and Gander Mountain. Sightmark offers high-quality riflescopes for affordable prices. It's no wonder that Sightmark a rapidly growing brand.
Yukon
Yukon is another great rifle scope company. They're committed to giving their consumers the latest and greatest in night vision rifle scope technology. Most people that have never shot a rifle in their life have heard of this brand and name, which speaks to the popularity of this brand. It's a name to consider when shopping for the perfect night vision riflescope for you.
Night Vision Generations
If you're new to the shooter community and learning about what rifle scope is best to purchase, it is not only important to compile information about all of the best brands to purchase from, but also to know the difference between Generation 1, Generation 2, and Generation 3 scopes. These terminologies are typically shortened to Gen 1, Gen 2, and Gen 3, so keep this in mind as you start searching and shopping for the best scope.
Gen 1
Gen 1 is fairly simplistic and affordable. For most shooters and hunters, it offers everything that you need and then some while also being the most inexpensive of all the generations. Gen 1 was introduced during the early sixties, a time at which the Space Age was developing new technologies that humanity never thought was possible. A Gen 1 night vision scope is sufficient for most shooters' needs; however, since it is the first generation, it has fewer perks and may operate more slowly than the later generations.
Gen 1 scopes typically have the following capabilities and shortcomings:
The average useful sight range for Gen 1 is about 75 yards.
It has shorter battery lifespan than Gen 2 and Gen 3 scopes.
Overall life expectancy is 1500 hours of use.
Due to older technology, the user is generally illuminated thus making them obvious and visible.
Lower resolution imagery
Gen 2
Gen 2 is a step up from Gen 1. Although it is more expensive than the Gen 1, it's still not as expensive as the Gen 3. However, in the form of technological advances, Gen 2 blows Gen 1 scopes out of the water.
Here are some of the details regarding a Gen 2 scope:
The average useful sight range is about 200 yards. (That's 125 more yards than Gen 1's 75 yards)
It has a longer battery life than Gen 1.
Overall life expectancy is 4500 hours.
Great resolution for images.
Doesn't need the IR illumination
Gen 3
Gen 3 is the big, bad boy when it comes to night vision rifle scopes. It's so advanced that the United States Military uses the Gen 3 on all of their rifle scopes and other optical equipment. However, keep in mind that most Gen 3 rifle scopes are very pricey. Don't fret though; with its advanced technology and accuracy, you will get what you pay for!
Here are some details regarding a Gen 3 scope:
The average useful sight range is 300 yards. (Sometimes more depending on the model and grade that you have.)
Offers the best low light performance
Imagery technology allows it to work in all light shades and conditions.
The absolute best resolution for images.
Has the longest life expectancy with an amazing 10,000 hours and more of operation!
Conclusion
After reviewing the product options listed, as well as the additional information provided regarding different brands and scope generations, you have found the best night vision scope to suit your needs.