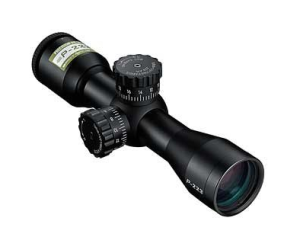 A high-powered rifle isn't going to do you much good if you can't hit your target. Spending the money upfront on a good rifle scope can drastically increase the effectiveness, enjoyment and reliability of your rifle. Sorting through the wide assortment of available scopes may seem like a difficult task, but provided you have a clear understanding of what to look for you can quickly narrow down your options. Factors such as the materials used in the build, the quality of the glass and the accuracy of the reticle are all important considerations when buying a scope. Scopes are small, portable and can easily be attached to the top of any rifle for the ultimate in portability. Additionally, red dot sights can be used on an AR-15 to increase your accuracy by creating a visual aid for aiming.
Features to Look For When Purchasing an AR-15 Scope
A lot of products on the market have the same basic features, but you can narrow down the available options by excluding scopes with components you don't need. For example, you might be able to save some money and get a scope with a lower magnification if you don't plan on shooting long-range targets. On the other hand, if you have the extra money, it might makes sense to buy the best scope you can get since your needs may change. The magnification, reticle, degree of parallax, scope to eye distance, and minute of angle are all important features you should understand before buying a scope.
Magnification: The level of magnification will determine the distance of a scope's viewable range. Scopes can come with variable and fixed power magnification. The best scopes use variable magnification, since it allows for a better range.
Reticle: The reticle helps you to see objects at a distance. Reticles are also known as crosshairs, and they come in a wide variety of styles. Dot and duplex are the most common types. Duplex is good for camouflage operations, while dot works well for distant contact operations.
Parallax: Parallax occurs when you look at something from a different angle. Take the speedometer in a car for example. As a passenger, if you look at the speedometer, you're going to see the needle resting on a different speed than the driver. The driver, who is sitting directly in front of the speedometer can view the needle as it was intended. Scopes that have a magnification of more than 10X will experience parallax, so it's important to have an adjustable objective lens to counteract the parallax and get an accurate shot.
Eye Relief: The distance from the scope and your eye is known as eye relief. It's important to have enough room so that if the rifle recoils when you shoot, the scope won't hit you in the eye.
Minute of Angle: The minute of angle (MOA) allows for minute adjustments. The specification on the scope for MOA usually determines the amount of adjustment in inches. For a scope with a one-quarter inch MOA, the bullet will hit one-quarter inch from the crosshairs on the scope. This can be used for adjustments in windy conditions, or to account for other advanced adjustments that may be needed.
With those points covered, here are the scopes that come with the highest recommendations and the best prices:
Nikon P-223 BDC 600 Riflescope with Rapid Action Turret: Under $250
This is a high-quality scope that is unlikely to reflect light from the lens, which provides a clear and bright image quality. The exit lens is the perfect size for most needs, and uses Nikon's multi-coating formula. The scope is lightweight and very portable, weighing in at just 2.2 pounds. The reticle includes the BDC 600 opening circle aiming points. The open circle is capable of adjusting according to the distance of the target. The one-quarter inch MOA allows for quick adjustments in the field.
The rifle is optimized to work with Nikon's Spot On Ballistic Match Technology for increased accuracy and reliability. This scope is one of the best scopes out there in this price range, and it comes with a lifetime guarantee from Nikon. The large scope is built for distance, but red dots make it suitable for close-range targets as well. This scope stays honed in no matter what you throw at it. Bumps, shakes and off-road adventures won't affect it's ability to stay on target and give you an accurate shot.
UTG 3-12×44 30 mm Compact Scope: Under $150
If you want a stable, consistent and reliable rifle scope, this mid-range scope offers an ideal option. It has a consistent eye relief that helps to keep your brow and eyes safe from kickback. Super compact, the UTG  is a 36 colors Mil-dot with good accuracy. Coated lenses offer good clarity and light transmission.
If you're operating with a limited budget but don't want to sacrifice clarity, this is a great option. The majority of reviews are positive and the price makes it too good to ignore.
Vortex Optics Spitfire Prism Scopes: Under $350
If you don't mind spending a bit more, this Vortex scope is worth the money. Multi-coated, anti-reflective coatings make these optics stand out. The Spitfire will work best in medium range shooting applications and it's built for situations where speed is critical.
Many reviewers compare this favorably to the ACOG, at a much more wallet-friendly price. And, Vortex is well-known for offering excellent optics, so this scope is highly recommended overall.