With the advent of modern technology, the trail camera has become a must-have tool for hunting, hiking, and surveying. Also known as game cameras, trail cameras have become so technologically advanced that even outdoor photographers, landscapers, and security-savvy homeowners have begun to invest in these invaluable optical tools. With a host of trail camera options available, however, pinpointing just the right camera is easier said than done. A look at the complete guide to trail cameras can help you select the right device for your outdoor needs.
The Top 10 Best Trail Cameras
1. Browning Strike Force Pro XD Trail Camera
Features and Benefits: The Browning camera is the brainchild of a company that originally specialized in manufacturing firearms, scouting equipment, and hunting tools. With over a century of experience in the hunting business, this company has insider knowledge of what makes a good trail camera. The top features of the Strike Force Trail Camera are the built-in dual lenses. These two camera lenses work together to produce high-quality images 24MP in size. Trigger speed for this camera averages around 0.19 seconds, and it has a power-conservation feature that results in a battery life of approximately 10 months for six lithium batteries.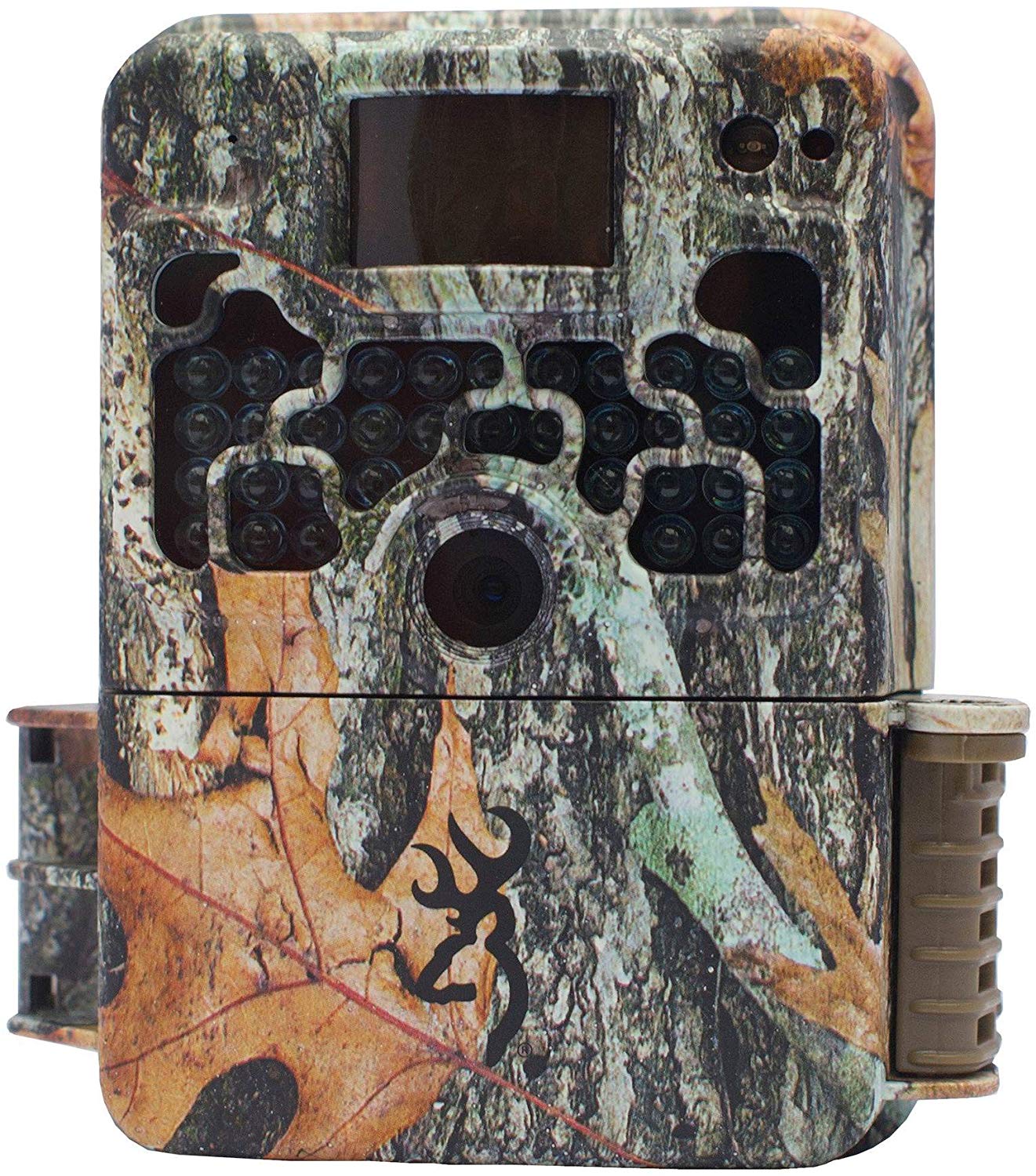 Specs:
Photo Resolution – 24MP
Video – 1080p HD video with audio
Trigger Speed – Between 0.15 and 0.22 seconds
Detection Range – 80 feet
Flash – Red-Glow Infrared
Stand-Out Feature – Dual Lenses
Pros:
Dual Lenses produce stellar picture quality
High-definition video
Long battery life
Fast trigger speed
Cons:
Short video duration (20 seconds or less)
Very small camera screen display
Time and date may be difficult to read due to small display
Features and Benefits: Campark trail cameras are among the most well-known game cameras on the market. Instead of using one passive infrared sensor, this camera uses three. This triple-action capability increases motion sensitivity and results in a trigger speed of 0.3 seconds. It also lessens the amount of battery power needed to activity the camera. The camera takes high-definition video and can also film game at night without scaring off camera-shy species like deer. (Since humans can usually detect the LED lighting, however, this camera may not be suitable for discreet home security.) The camera is compatible with a microSD and has a color display screen.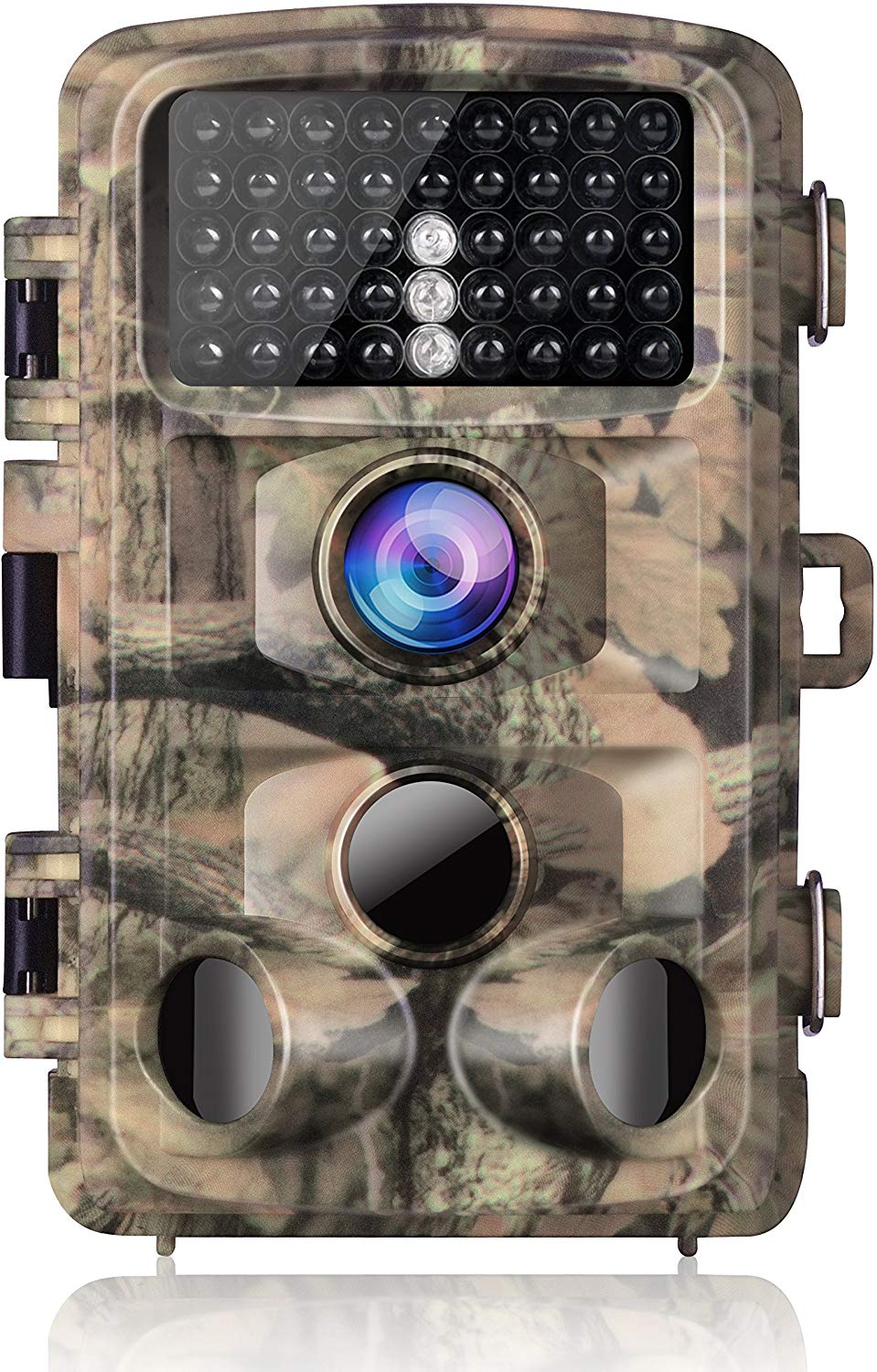 Specs:
Photo Resolution – 14MP
Video – 1080p HD video
Trigger Speed – 0.3 seconds
Detection Range – 65 feet
Flash – 42 Low-Glow Infrared LEDs
Stand-Out Feature – Three PIR sensors
Pros:
Three passive-infrared sensors
Takes good-quality daytime and nighttime photos
Attractive camouflage color options
Waterproof casing
Cons:
Initial setup may be challenging for beginners
3. Stealth Cam G30 Trail Camera
Features and Benefits: The Stealth Cam with GPS is a no-nonsense device perfect for everyone from beginners to seasoned professional scouts. It has a matrix-blur reduction feature that ensures each 8MP photograph comes out crisp (regardless of angle). Boasting a multi-zone detection feature, this trail camera accurately responds to movement at a trigger speed ranging from 0.5 to 0.75 seconds. The camera's 30 infrared LEDs provide superb illumination for up to 80 feet in the dark, making this tool perfect for taking nighttime pictures. In addition, another excellent scouting feature is the game camera's smart GPS capability. The GPS records the exact location of the snapped photograph and it can also notate the location of the camera itself. This way, you can use a handheld hunting GPS if you suspect the camera has been lost or stolen.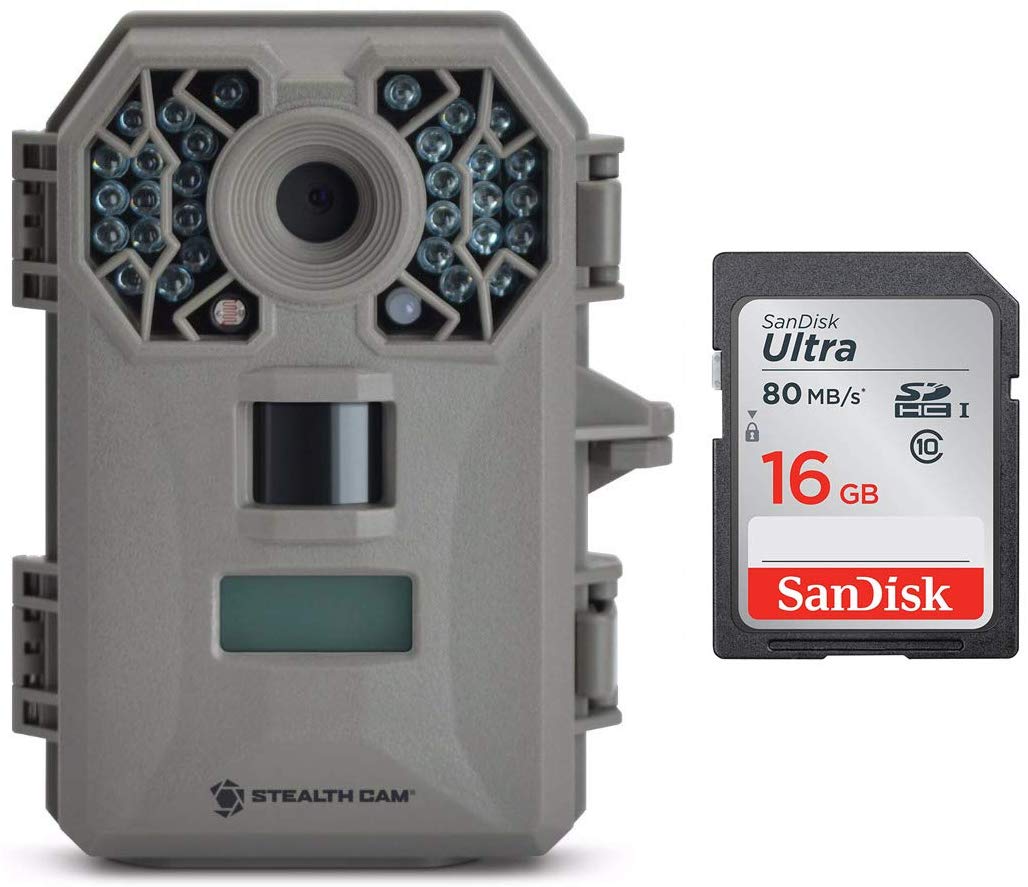 Specs:
Photo Resolution – 8MP
Video – HD with Audio
Trigger Speed – 0.75 seconds
Detection Range – 80 feet
Flash – 30 IR LEDs
Stand-Out Feature – GPS capabilities, matrix-blur reduction, multi-zone detection
Pros:
Multi-zone, motion-sensor detection
Matrix-blur reduction
Pre-configuration settings for beginners
Clear nighttime photos
Records HD video with audio
GPS tagging included
Cons:
Glowing LED lights may be visible to nearby wildlife
Slower trigger speed than some models
4. Reconyx HyperFire 2 HF2X Trail Camera
Features and Benefits: At first glance, some of the specs for the Reconyx HyperFire 2 HF2X may seem unusual. Why does an upscale camera have 3MP resolution and 720p video? The reasons for the non-standard specs is that this is not your average camera. Because instead of the usual 32GB to 64GB SD Card storage compatibility, this trail camera can hold an SD card of up to a whopping 512GB in size. The camera also accepts 12 AA batteries that can last up to two years. Given the massive storage capacity and extremely long battery life, the Reconyx is the perfect "set up and go" device. Photos taken with this camera feature excellent visual contrast and sharpness relative to its sharp resolution, allowing you to collect years' worth of high-quality images with minimal effort. In addition to the excellent storage and setup features, the trail camera uses no-glow, high-output infrared illumination technology. This means that you can capture images up to 150 feet away during the nighttime without any LED brightness scaring away the wildlife away.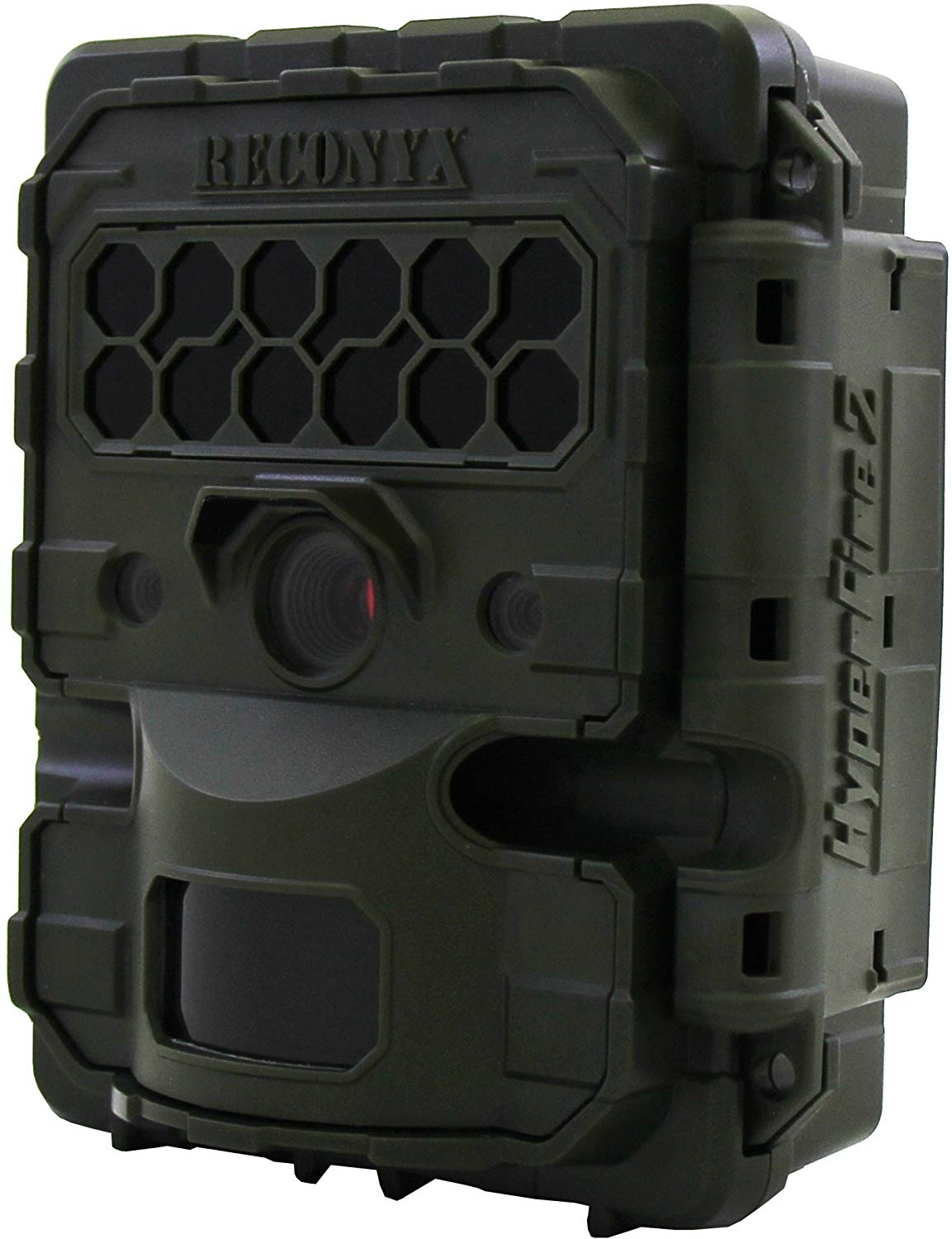 Specs:
Photo Resolution – 3MP
Video – 720p with Audio
Trigger Speed – 0.2 seconds
Detection Range – 150 feet
Flash – No-Glow High Output-Covert IR
Stand-Out Feature – Buckview Advanced Software
Pros:
Extreme storage capacity
Extra-long battery life
Very fast trigger speed
Superior image quality
Easy to "set up and go"
No-glow ifrared illumination for nighttime recording
Five-year warranty
Cons:
Video duration maxes out after 10 seconds
Features and Benefits: The Foxelli trail camera is a super stealthy device that takes equally high-quality photos during both daytime and nighttime. Like a sly fox, this game camera can swipe desired information without detection from prey. It features natural camouflage that blends in with tree bark, and its lens snaps high-resolution 14MP pictures. And Foxelli's video feature is among the most impressive as it can record high-definition 1080p videos of up to 10 minutes long. Because of the lengthy video capacity, the Foxelli trail camera is the go-to device for holistic study of game behavior. The camera also has 42 low-glow LED lights for discreet nighttime recording and crisp daylight photos and video.
Specs:
Photo Resolution – 14MP
Video – 1080p
Trigger Speed – 0.5 seconds
Detection Range – 65 feet
Flash – 42 low-glow IR LEDs
Stand-Out Feature – Super fast PIR motion sensor, excellent night lighting
Pros:
Can record 1080p HD videos of up to 10 minutes long
Low-glow infrared illumination technology for steathy day and night recording
Fast motion sensors
Excellent natural camo and easy mounting
Cons:
Display screen is difficult to see under certain lighting
Keypad is not the easiest to use
Features and Benefits: The Victure HC300 has an innovative design that is sure to make you feel victorious in hunting, gaming, or scouting. It snaps high-quality photos with excellent color contrast, and the camera casing is completely weatherproof. The trail camera also contains 38 no-glow LEDs, making it perfect for capture nighttime photos and videos on your property or on the field.
Specs:
Photo Resolution – 16MP
Video – 1080p
Trigger Speed – 0.5 seconds
Flash – 38 No-Glow IR LEDs
Stand-Out Feature – Completely stealth nighttime illumination
Pros:
Excellent image quality
No-Glow infrared technology
HD video quality
Weatherproof
Cons:
Fewer frames per second (fps)
Must open camera cover to access control panel and display screen
7. Moultrie A-40i Trail Camera
Features and Benefits: Moultrie is another highly recognizable brand name in the game camera world. Famous for the production of hunting-specific products like deer bait and squirrel traps, Moutlrie knows exactly what it takes to create a successful trail camera. The Moultrie camera features no-glow, motion-activated LED lights that make it perfect for capturing images and video in the dark. Moultrie devices are also compatible with wireless modems to transfer images or videos across connected networks.
Specs:
Photo Resolution – 14MP
Video – 720p with audio
Trigger Speed – 0.7 seconds
Detection Range – 60 feet
Flash – iNVISIBLE IR LED technology
Stand-Out Feature – Mobile device integration
Pros:
One of the very best nighttime trail cameras
Mobile integration available
Video includes audio
No-glow and motion-activated LEDs preserve battery life
Cons:
Requires older-model SD memory card
Features and Benefits: TOGUARD specializes in economical hunting cameras and home security devices. This camera snaps pictures ranging from 1MP to 14MP in resolution. In addition, the device can film videos up to 60 seconds in duration and up to 1080p in high-definition quality. With motion detection up to 75 feet in depth and 120 degrees in width, it is suitable for wide-range scanning or near-panoramic security views. With 42 low-glow LEDs, the trail camera also provides excellent nighttime recording.
Specs:
Photo Resolution – 14MP
Video – 1080p
Trigger Speed – 0.5 seconds
Detection Range – 75 feet
Flash – 42 low-glow IR LEDs
Stand-Out Feature – Detection width of 120 degrees
Pros:
Economical
Durable
Long battery life
Great detection range and field of view
Low-glow LEDs for nighttime illumination
Cons:
Videos playback is double-speed unless using a VLC media player
Features and Benefits: BlazeVideo provides high-quality images and video in even the harshest climates and environments. Capable of functioning in everything from below freezing temperatures to sweltering heat, it is perfect for year-round field use. The camera takes eight AA batteries that perform efficiently for at least six months. With its theft-proof mounting, you can use this device to monitor game, fowl, or the exterior of your home.
Specs:
Photo Resolution – 16MP
Video – 1080p
Trigger Speed – 0.6 seconds
Detection Range – 65 feet
Flash – No-glow IR
Stand-Out Feature – Weather-resistant, long-batery life
Pros:
High-quality images
Long battery life
Climate-resistant
No-glow illumination
Cons:
Features and Benefits: FHDCAM is a motion-activated trail camera with a field of view that is 120 degrees in width. Combined with a fast trigger time, this feature enables the camera to snap excellent daytime photos. And at night, 42 no-glow LEDs provide picture-perfect viewing without scaring the animals away. With a built-in screen for photo and video review, this camera is a pratical resource for the field and home.
Specs:
Photo Resolution – 12MP
Video – 1080p
Trigger Speed – 0.4 seconds
Detection Range – 45 feet
Flash – 42 No-glow IR LEDs
Stand-Out Feature – Motion-activated detection width of 120 degrees
Pros:
Durable mounting
High-quality video
Fast trigger time
No-glow LEDs for night vision
Cons:
Shorter detection range than other models
What is a Trail Camera?
A trail camera is a field-based recording device capable of capturing pictures or video regardless of whether the photographer is available to snap the shutter. Sometimes referred to as a remote camera or game camera, this specialized camera is a valuable resource for capturing photographs in limited-access areas or tight spaces. The trail camera is the perfect equipment for working in outdoor conditions that make high-quality conditions difficult to achieve with a regular camera.
Suggested uses for trail cameras include the following:
Scouting Activities
Trail cameras have changed the game for hunters and wildlife watchers. These game cameras provide precise detail on the size, quantity, gender, species, and trophy quality of animals that frequent a hunting area. A good trail camera can provide insight on everything from pattern movement to shed collection.
Scouts can choose from among weatherproof features and motion-activated snapshots to monitor wildlife throughout the season. There are also long-range and wireless options that can snap distance photos and download the images directly to your smartphone.
Home Security
Trail cameras can provide excellent safety information about your home or business property. Placing a camera in the right area can provide a bird's eye view of your property complete with date and time stamps. Trail cameras also offer excellent night-vision and can help mitigate the fear of everything from burglars to nocturnal animals.
Sporting Events
Trail cameras are also practical for team, club, intramural, or collegiate sports. Suggested applications include behind a scoreboard during a court-based game or overhead in of a sports arena.
How Does a Trail Camera Work?
Before strapping your trail camera against timber to zoom in on the nearest whitetail buck, it is wise to have a basic understanding of how these cameras work.
1. Camera Range
The first step to understanding any remote camera is becoming knowledgeable about range. There are two main types of trail camera range: detection range and flash range. Detection range is the span at which the camera can detect and photograph game during the daytime. Flash range span at which the camera can detect and record game at night (since nighttime photos require a flash for visible recording). Camera traits like high resolution, fast trigger speed, and quick recovery time can all enhance the information provided when a camera saps a photograph within its range.
While detection range and flash range involve depth and lighting, you may also need to consider field of vision. This refers to the scope (e.g. side angle and peripheral) that the lens can accommodate. For example, you may want a panoramic view to study herd activity in an enclosed space or for security monitoring purposes. If you find this setting irrelevant for night recording or trophy hunting, however, you may choose to bypass this setting completely in favor of a better depth of view.
2. Flash Type
Flash type describes how well the trail camera can illuminate passing game during the nighttime. There are three flash categories: white flash, no-flash infrared, and infrared trail cameras (IR cams).
White-Flash Cameras – These cameras snap color photographs at night, making them great for identifying species and studying game behavior. One possible disadvantage is that the flash may be bright enough to scare off game in certain areas.
No-Flash Infrared Cameras – These cameras take black-and-white nighttime photos. Animals are unlikely to notice this camera because there is no flash, but no-flash also means the pictures may be grainy and will not include color.
Infrared Trail Cameras – IR cams include no-glow (black flash) cameras and low-glow cameras. These cameras have infrared emitters that produce a minuscule to faint illumination when motion-triggered, offering a compromise between white-flash and no-flash types.
3. Detection Circuits
In addition to range and flash types, the camera also includes detection circuits that detect movement or game activity. Two important operations aspects of the detection circuit are trigger speed and recovery time.
Trigger Speed – The time it takes for the camera to detect movement and capture a photo. The total elapsed time is the trigger speed.
Recovery Time– The time it takes for the camera to reset itself after taking a photo. If the camera has a sleep or power-conserve setting, the wake-up time after an inactive session is also important.
Fast wake-up time, trigger speed, and recovery time are important for active trails on which game may be visible for only a few seconds. However, slower trigger speeds and recovery times may work just fine near food sources or grazing areas in which game may remain for an extended period of time.
4. Battery Unit
Batteries help determine how long the camera will last out on the trail, and long battery-life may prove more economical over the life of the camera. A trail camera typically includes eight sockets for AA batteries. Battery-powered options include lithium batteries, rechargeable batteries, and solar panels. Lithium batteries are non-alkaline batteries that offer 100-percent consistent power over the lifetime of the battery. Rechargeable batteries are practical in colder regions and help prevent environmental waste. Solar panels work well in sunny regions and can operate indefinitely, but this energy source also requires an external power port that may be more noticeable to passing game.
5. Viewing Screen
A trail camera may also include a screen or input setting to view captured photos or video.
Integrated Viewing Screen – Trail cameras with built-in viewing screens allow you to scroll through footage on-site (similar to looking at photos saved on a digital camera or smartphone). These on-board screens are small and provide a good idea of the images captured, but you may still need to download them to a larger screen to view specific details.
No Screen – Some brands find the viewing screen unnecessary for a rugged trail camera, so they do not include it. This may help lower the overall cost of the camera and eliminate any anxiety over the risk of LCD screen damage on the field. However, this also means that you have to remove the SD card to view images on your laptop or computer. In some cases, you can also use an adapter to view the images directly on a smartphone.
Wireless Download – There are also advanced camera models that let you download images remotely as well as text or email the photos. You may also be able to use a trail-camera network to connect all cameras and computing devices.
Cellular Cameras vs. Wireless Cameras
When it comes to viewing photos, some brands may label trail cameras either cellular or wireless. Cellular cameras record pictures and then transmit them to your phone via an internet connection. The camera includes a SIM card just like the one that stores photos on a cell phone. And like a cell phone, you may need to purchase a data package to store and send photos. Wireless cameras have built-in transmitters that transfer photos using a WiFi network. You can then download and view the photos from a device in the network.
Trail Camera Storage Capabilities
Nearly all game cameras use removable SD cards to store photos or video. SD cards vary widely in memory (storage capacity). Depending on how large the storage capacity, an SD card can hold anywhere from hundreds to tens of thousands of images.
1. SD Card Storage Space
Available storage space within an SD card can also depend upon picture quality. High-megapixel images use up much more storage space. For instance, an SD card with 32MB of storage space can save up to 11,000 pictures of 8-megapixel quality. However, the same SD card can store only half that amount if the megapixel quality is 22MP or higher. Simply put, you will need an SD card with plenty of storage space if you plan to take any high-definition pictures.
Certain settings may also require a spacious SD memory card. If you frequently use the automatic, time-lapse, or burst-mode setting, you will need more storage space to save high quantity or unexpected images. Large storage space is also essential for scouts unable to check the trail camera very often. Plenty of space will ensure that you never miss any images until you are ready to check the device again.
As a last rule of thumb, always make sure the trail camera is compatible with large-storage SD card. Most cameras will note the SD-card capacity that it will accept. If a trail camera notes it is compatible with SD cards of up to 32MB, for example, it will not be able to recognize a large-capacity SD card such as 64MB.
2. SD Card Speed Class
Most trail camera brands recommend that you select Class 10 SD cards. This is a designation that ensures continuous recording of images or videos with less likelihood of corruption. If you have problems with a camera, the first troubleshooting step is to replace the corrupted SD card. Slower speed classes (such as 6, 4, and 2) are inefficient for trail cameras, so always be sure that the SD card has a Class 10 speed label to enable your game camera to function properly.
Trail Camera Setup and Placement
Most experts would recommend setting up the trail camera with the same consideration you would for hunting, scouting, or shed tracking. The most notable setup factors include timing, sense of direction, scout path of entry and exit, and adequately stocked equipment.
Tips for Trail Camera Setup and Checkups:
Try to set up the trail camera at midday when the sun is at its apex. If possible, setting the camera up just after a light rain can help disguise human scent.
Ensure that the motion sensor points in the direction you believe that the game will travel. If hunting a specific species (e.g. deer, elk, moose, boar, turkey, or bear), be sure to adjust for height so that the motion-sensor can detect any movement.
Camera lens should point in the northern or southern direction (to avoid false positives of shadows as the sun moves from east to west).
Ensure the camera has fresh batteries the first day of setup.
Plan to check the SD card every 10 to 14 days.
Tips for Trail Camera Placement Depending on the Season
Spring – Early in the year, animals tend to be social animals. They may frequent the same feeding areas or follow daily routines. This is a good time of year to take an inventory of probable game availability before peak hunting season arrives. Camera setup should focus on food sources, field edges, and (if legal) mineral licks. Fawns, farrow, cubs also tend to arrive in the spring.
Summer – Hot summer months are great for catching activity at the water hole. Set up the camera in a flat or low-impact location.
Late Summer – Young breeder males begin to shed, and travel patterns include heavy-tread trails and bedding areas. Set the camera up near staging areas, pinch points, and well-traveled terrain.
Early Fall – This is early hunting and breeding season that tends to separate bachelors from bucks. Place the camera near (meaning 20-30 yards) scrapes – the pawed ground beneath tree branches that is a popular resting spot for male game.
Peak Season Fall – Known as "rut," this is the best season to get daytime photos. Set up the trail camera near high-traffic areas, funnels, and rub lines.
What Brands Make Trail Cameras?
Popular brands include the following:
Browning – American hunting brand famous for high-functionality trail cameras
Campark – Notable trail camera brand designed for scouting and field work
Foxelli – A product line of stealthy, camo-inspired trail cameras
Moultrie – Trusted brand of hunting-specific trail cameras and products
Reconyx – A line of innovative "set it and forget it" trail cameras
Stealth Cam – Practical, no-nonsense trail cameras for beginners and veterans alike
Victure – Excellent trail cameras for daytime and nighttime recording
TOGUARD – An innovative line of trail cameras and home security products
BlazeVideo – Top-selling brand of low-glow trail cameras
FHDCAM – Rugged and technologically advanced line of trail cameras for hunting and protecting the home
Important Features to Consider
Understanding camera basics already provides an idea of features to look for when selecting your device. For example, you may have already deduced that fast trigger speed and quick recovery time are both desirable traits in a game camera. The ability to access your files (either through an LCD screen, cellular, or wireless download) and compatibility with a large enough SD card are also desirable features. The other key features to look for in a trail camera specifically refer to the quality of photo and video.
Important Photo Features
Megapixels (MP) – Megapixels are the building blocks of any photograph. The higher the megapixels, the sharper the photograph. High megapixels are important for outdoor photography, but this feature may not be as much of a priority for general scouting or a basic home-security camera.
Burst Mode – A setting that enables the trail camera to snap a sequence of images very quickly. This is a great way to look at fast animals, but you will also need plenty of storage space.
Time-Lapse Mode – This setting automatically takes pictures on a set timer (for example, at intervals of every 10 minutes). It is ideal for daytime and also requires sufficient storage space.
Time-and-Date Stamps – A setting that records calendar data against each photo. Data may include time, date, temperature, location, and even moon phase. This feature is important for perfect hunting technique and is a critical feature if the trail camera is meant for home security.
Important Video Features
If the purpose of your trail camera is to take video footage, consider the following features:
Resolution – Generally speaking, the higher the resolution, the sharper the video feed. Standard resolution is 640x480p, but you may also find high-definition resolution in 720p or 1080p. Some high-end cameras offer up to 4K resolution
Duration – For trail cameras, video length can range from three seconds to over five minutes per video.
Audio – Many newer models enable audio. While audio may not be necessary for tracking game, but you may wish to have it for scouting large-game birds or when using the camera for home security.
Time-Lapse Video Mode – This setting can record video clips at set intervals (such as once every two hours). Keep in mind that time-lapse image mode is not the same as time-lapse video; a camera MUST have video recording to perform the second option.
Hybrid Mode – This high-end option can record a picture and short video clip simultaneously.
Night Video – This option using LED lighting to record videos in the dark, but it may require extensive battery power to sustain.
The Bottom Line
Whether hunting, scouting, sporting, or interested in home security, a trail camera is an integral part of your equipment arsenal. Be sure to maintain your camera periodically with compatible glass or plastic cleanser for the lenses, consistent battery recharging, and SD card replacement if needed. If storing the trail camera during off-season, remove batteries and double-check seals and gaskets against any wear and tear. By choosing the right trail camera and following basic maintenance techniques, any outdoor enthusiast can make the most of this device.