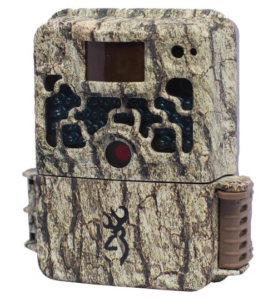 Trail cameras are rugged, weatherproof, remote cameras with long-lasting batteries that can be left unattended for months in remote areas, or in areas that are difficult or dangerous for a photographer to access. Remote cameras have a wide range of uses. Artists, nature photographers, and researchers use them for time-lapse photography. Homeowners, researchers, and hunters use them to observe wildlife. In sports photography, remote cameras might be placed behind a basketball hoop, on a goal, or beside a racetrack. They are used as web cams to display scenic views as well as to monitor equipment in hazardous areas. These cameras are also used for security and surveillance by many.
In this article, we will break down the best trail cameras that fit your specific needs and detail how to use them properly.
Best Overall Trail/Game Camera
The Browning Strike Force Sub Micro ranks high on all features, and it is our top choice. A fast trigger speed of 0.67 seconds and a recovery time of 2.3 seconds ranks it in the top five percent of all trail cameras on the market. Reviewers report that the camera captures head shots of animals as they enter the field of vision, full shots as they pass through, and "butt shots" as they leave, indicating that the field of vision consistently matches the camera's 50 foot detection range.
In daylight, the camera's light sensors easily handle direct sun, shade, or a mix of sun and shade, producing bright, clear images with excellent contrast. As a result, this camera captures excellent daytime photos and HD videos with sound. Daytime videos can last from five seconds to two minutes.
At night, the no-glow, infrared flash for night photography emits no visible light, but some dimness, graininess, and blur is expected from these flashes. Reviewers report, however, that the contrast in the nighttime image is exceptional and that all areas of the image are evenly lighted. They could identify human faces and count the points on a large buck within a 50-foot detection range.
This trail camera uses six AA batteries; lithium batteries provide approximately six months of battery life while rechargeable batteries provide about two months per recharge.
Camera setup is easy. The two-inch internal viewer with live preview mode allows you to see the area that is in the cameras field of view as you set it up. The camera's size (5″ x 3.2″ x 2.5″ ) and the bark pattern printed on the case allow it to blend exceptionally well with tree bark.
Best Wireless/Cellular Trail Camera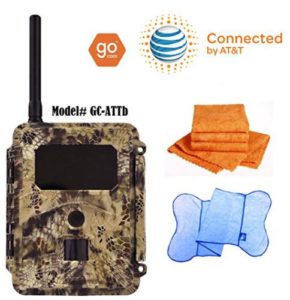 Spartan's HD GoCam is a top ranked cellular trail camera for a good reason: its sleek design is the product of experienced camera users whose design input led to a quality, durable camera. Furthermore, high quality does not mean that the camera is more difficult to use; in fact, it is ready to use right when you take it out of the box. An AT&T DataConnect Pass SIM card is included with the purchase, and activating the service only requires accessing this webpage.
This camera offers a less-than-one-second trigger speed and captures photos that may be set to have a resolution as high as 8 MP. If enough images are taken to fill the 32 GB SD card, you can set the card to overwrite its stored photos with the newest captures, starting with the oldest stored photograph. Furthermore, you can choose between two duty periods for the camera to capture images in different trigger intervals and time-lapse settings if you do not want it constantly taking pictures. Picture parameters are set using the online camera menus available on the website through which you activate your wireless camera service.
An additional feature offered by this trail camera is the ability to record videos instead of transmitting photos. Video resolution can be set as high as 720 HD, and the infra red LED array illuminates up to 70+ feet for clear night videos and pictures.
To protect your 6"x5"x3.5" piece of equipment, this Spartan camera boasts a case that is exceptional in preventing water damage during outdoor use. The flush case mating areas in both the front and rear case halves, as well as the rubber gasket and double-hinged latch attached to these case halves, provide an excellent seal to avoid environmental damage. However, in the event that the camera gets damaged in any way, you can rest easy knowing that all Spartan cameras have an industry-leading 2-year warranty.
The camera is powered by 12 AA batteries that are housed in the rear case, and this will provide a few months of battery life, and no external power source is necessary.
Best Camera for the Money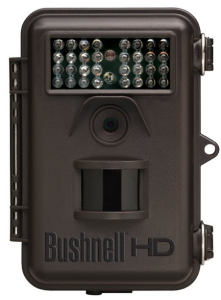 The Bushnell Trophy Cam HD Trail Camera with Night Vision has a trigger speed of 0.6 seconds and a detection range of 60 feet. A similar Bushnell Trophy Cam lists a recover speed of 2.9 seconds and a detection range of 50 feet. When set to automatic mode, the Passive Infra-Red (PIR) motion sensor monitors ambient temperature conditions and regulates the sensitivity of the trigger based on the temperature readings.
The camera is equipped with a day/night auto-sensor and can be set to take photos only during the day, only at night, or both day and night. Field Scan time-lapse mode allows the camera to take still photographs or videos at your choice of intervals independently of the motion trigger. Field Scan 2X allows two windows for photography or videos which is useful for capturing images during the magic hours of dusk and dawn. A similar Bushnell Trophy Cam stores videos as avi files, but, because it is not a true avi file, Mac computers require a free DIVX player to display the videos.
When triggered by the motion detector, the camera takes still photos or up to 60 seconds of video with sound and is suitable for use during the day and night, and has a video resolution of 1280 pixels by 780 pixels. Images are stamped with the date, time, phase of the moon, and the temperature. A GPS locator tag allows those with multiple cameras to input the longitude and latitude of the camera's location and have that information embedded in the image file.
The nighttime red-glow infrared LED flash has a range of 60 feet. Some animals notice the flash, but are not frightened by it. A similar Bushnell Trophy Cam provides an adjustable nighttime flash with settings of low, medium, and high. Setting the flash lower shortens the exposure and darkens nighttime pictures, eliminating problems with motion blur and severe white out for objects within 10 feet of the camera. This setting also lengthens battery life. Daytime pictures are clear, sharp, and have excellent color. The video is also excellent and the audio is able to pick up sounds at some distance.
The camera uses four to eight AA batteries. A comparable Bushnell Trophy Cam used just 0.19 milliamps while resting. Daytime photography requires 403 milliamps while nighttime photography requires 685 milliamps, which ranks this camera in the top 10 percent of all cameras for low power consumption. Batteries in the similar model could last from two to four months or up to six to 12 months if the camera takes few pictures. Battery life can be extended with the use of nimh rechargeable batteries.
The camera is user friendly and easy to setup. The case design is simple, durable, and with the Real Tree AP Camo design and a size of only 5 1/2″ x 4″ x 2 1/2″, it is very easy to conceal.
Best Trail Camera Under $100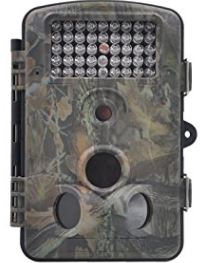 The FULLLIGHT TECH 1080P 12MP Game and Trail camera takes quality nighttime images and videos due to its 42 pcs infrared LED, clearly capturing anything within 50 feet. These features and five different capture modes will make this camera a top contender for both home security and hunting, especially with an optical lens that pan up to a 120 degree wide angle. It is also safe in the elements, withstanding both rain and snow with its waterproof durability.
Game will not be easily scared off when this camera is snapping images because it was designed with Low Glow Infrared Technology, and the images themselves are quickly captured with a trigger time of 0.9 seconds. The camera resolution is customizable for the user and images are easy to view on its 2.4″ screen.
This camera comes with a 1 year warranty, but the required 8 AA batteries and memory card must be purchased separately.
Best Trail Camera Under $200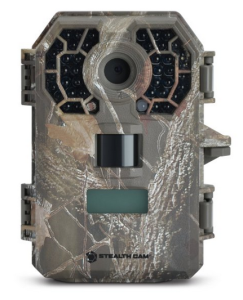 The Stealth Cam G42NG No-Glow Trail Game Camera receives an average rating of 4.3 stars out of five stars from 158 reviewers on Amazon. While the camera has a fast trigger speed of 0.49 seconds, it has a below average recovery time of 6.6 seconds. However, a firmware update is expected to reduce recovery time by half.
The camera has a detection range of 60 feet, and the no-glow infrared flash extends to 50 feet allowing the camera to monitor a wide area night and day.
The camera takes both still photos and HD videos with sound that range from five seconds to three minutes. Photo resolution can be set to two megapixels, four megapixels, eight megapixels, or 10 megapixels. Eight or 10 megapixels provide the most detail and the highest quality images. Animals close to the lens are in focus and there is little blurring, even with extensive motion. However, the background and objects more than 70 feet from the camera are out of focus. Interestingly, this is the opposite of most cameras. Daytime photos have vivid colors and good contrast, but some nighttime photos heavily white out objects close to the camera. A firmware update has improved nighttime photographs overall, but inconsistencies continue.
The camera uses eight AA batteries and requires 0.26 milliamps of current when resting, 646 milliamp seconds for daytime photography, and 1,475 milliamp seconds for nighttime photography. While the battery usage for daytime photography falls in the middle of the range when compared with the competition, the other two numbers are higher. Batteries will last three to six months depending on the number of photographs taken. Lithium batteries work best. Alkaline batteries will work, but aren't recommended. Nimh rechargeable batteries will not fire the infrared flash, so do not use them in this camera.
The case is well designed and measures only 5 1/2 inches by 4 inches by 2 3/4 inches. A bracket for a python lock and a threaded insert for a Slate River Mount are built into the case.
The camera can be set to take from one to nine photos in burst mode. It has three preset modes and one custom mode to choose from in addition to a manual shot capability that is protected with a Secure Lock password. The preset modes include a three-photo burst at eight megapixels with a 30 second delay, a single photo at eight megapixels with a 30 second delay, and a 10 second HD video with audio at a 720 pixel resolution with a 10 second delay. When you move the slider to one of the preset modes, the backlit programming window lights up and the display scrolls through the settings for that mode. If you want a different setup, move the slider to custom mode and choose the settings you prefer.
This camera is a solid choice, but the slow recovery, higher power usage numbers, and inconsistent nighttime photographs are negative attributes to consider.
These trail cameras provide a range of options and prices for those seeking remote cameras for artistic purposes, security, or wildlife observation.
How Do I Select a Trail Camera?
When deciding which trail camera is best, the most important question to answer is how you will use the camera. Will you take interior or exterior shots? Will you use the camera for nighttime photography as well as daytime photography? Are you using the camera for artistic purposes, sports photography, surveillance and security, or wildlife observation? Does the camera need to pan over an area or will it be fixed? Do you want still images, video, or both? Do you want a film camera, or do you want a digital camera with an SD card that can be left in place long term and that may be able to transmit images to your e-mail address or cell phone?
High quality images are important for any remote camera. Do not buy a camera with less than eight megapixels of resolution, especially if you intend to print the images.
Trigger speed is another important consideration. Camera used for sports photography, surveillance, or wildlife observation need a fast enough trigger speed to capture quick movements without blurring.
The range of the camera's heat and motion sensors should match the camera's field of view. When the trigger speed, the detection range, and the field of view work together properly, the camera should capture the person or animal that triggers the camera entering, passing through, and exiting the field of view.
The case of a camera used for wildlife observation or outdoor surveillance must be easily concealed, durable, and weatherproof, especially waterproof. It should have a sleek design with no protruding parts or controls that could be damaged.
The easier the camera is to use and the more simply it functions, the less likely it is that something will malfunction while the camera is unattended. The point of a wildlife observation camera is to reduce the presence of humans so that the animals behave normally, so it is important that both the camera's battery life and its ability to continue to operate both extend for several months.
How to Use a Trail Camera
Braided safety cables and other mounting hardware secure remote cameras in areas where people might pass below; these cables may be secured and protected by gaffer tape and black wrap. Surveillance cameras might be mounted on motorized brackets that pan over a wide area, while trail cameras are mounted in fixed positions and many have camouflage cases.
Selecting a position to mount the camera is also an important variable to consider depending on what one is intending to capture. Mounting these cameras at 30 inches captures images of deer and larger animals, whereas a lower position captures smaller animals and game birds. Setting cameras to take three pictures in succession in "rapid fire" or "burst" mode captures fast moving animals without disturbing animals inclined to linger even when using a red-glow infrared flash that animals notice. Deer look in the direction of the flash but don't flee, but predators such as coyotes and bobcats are more likely to be spooked. Purchasing a python lock or a security mount or box discourages theft of the camera.
Shutters on remote cameras can be triggered by a cable attached to a button, by radio remote, or, if the camera must operate independently of a photographer, by heat and motion sensors.
Check out this great video on the secrets of successfully using a trail camera: