Anyone who uses a gun for target practice or hunting will agree that having a sight is essential for being able to accurately hit a target. Traditional iron sights can be used to achieve this desired accuracy; however, red dot sights provide a faster way to aim and shoot without missing. While these sights were typically used by the military, they are now often employed for recreational means, including hunting and paintball. Red dot sights are popular to use for aiming at moving targets, especially since this type of sight allows you to line up the target and take a shot at a quick rate of speed. Let's take a look at some of the best red dot sights on the market, and then we will cover key features to look for and evaluate when purchasing a red dot sight.
What is a Red Dot Sight?
If you are unsure of what a red dot sight is or how it differs from other types of sights, here are some additional details to go over before exploring the following options: Any non-magnified, illuminated sight that can be equipped to a shotgun, a rifle, or a handgun is considered a red dot sight. The reticle or "red dot" is created by an LED or a laser diode light that is reflected or projected into the field of view. This "red dot" is aimed directly in your line of sight to become the aiming mechanism that lines up the gun with the targets to make the perfect shot.
The Best Red Dot Sights on the Market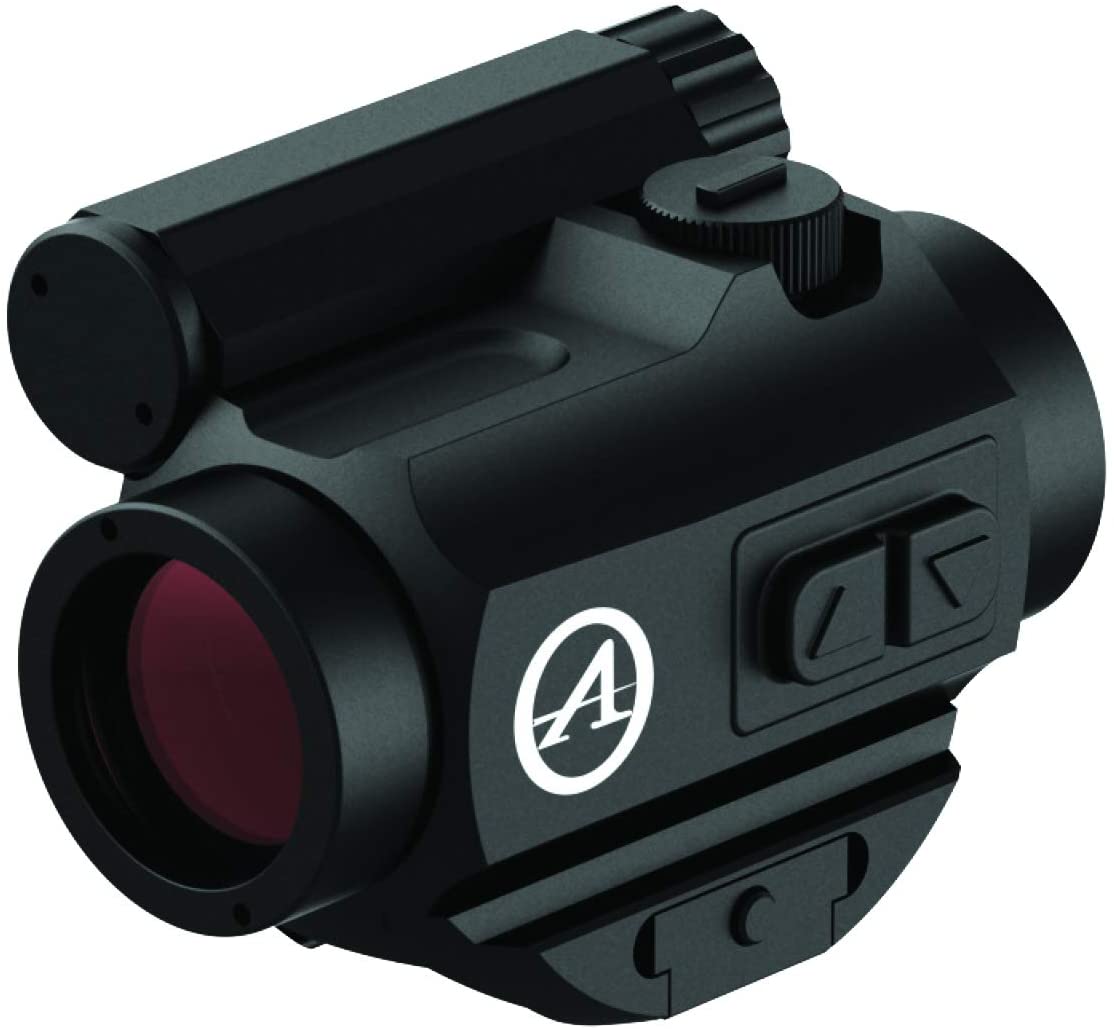 Athlon may not be the biggest name on the market, but they are one of the most impressive of late. Their latest generation of products have all been high performance at an affordable price, and their Midas Red Dot series is a great option for anyone in need of a quality red dot. One of its most impressive features is its battery life. At medium brightness, it claims to have an incredible 50,000 hours of juice! To make this battery life even better, it has a built in motion sensor that automatically turns the unit on and off. And its fully multicoated glass lives up to the quality that I've seen in the rest of Athlon's line. Athlon has several other versions of this sight as well depending on how much power you want. I highly recommend giving this unit a try, you can check its price here.
The Vortex SPARC 2 is a well built, extremely sturdy sight that provides great features at a really reasonable price. An upgrade to Vortex's original SPARC, the light weight sight is built to impress, and many reviewers have not had problems with it standing up to the tests of time at all. The battery life of this sight at minimum brightness can last up to an incredible 5,000 hours. A six hour auto shut down feature is also present to help preserve battery life. A simple button press makes it easy to adapt the color, shape, and illumination of the reticle. This sight also features a fully multi-coated lens as well as waterproof optics to keep moisture, dust, and debris away from the lens. It is also parallax free, which allows for more rapid shooting while you have both eyes open. Click here to see the current price.
The Bushnell Trophy TRS-25 is a great, durable, lightweight sight that does not lack in quality. The multi-coated lens has an amber bright, high contrast coating that is designed to help you quickly distinguish where your target is in any lighting. The parallax free design adjusts to your eyes, which allow rapid shooting with both eyes open. The sight has the ability to adjust the size and the illumination of the reticle to three different levels and preserve the battery life. An additional feature that is useful for shooting excursions in the great outdoors is the waterproof, fog proof, and shockproof construction. Click here to check the current price.
The Aimpoint PRO is a great sight that has new, never-before-seen features incorporated into its' design that maximizes the performance and battery life of the device. The sight can be turned on and left on for at least three years before a new battery will be required. The service date and battery change reminders are perfect for tracking and making sure that you never let your batteries die while you are out on a hunt. The front lens of this sight also features a band-pass coating, which enables compatibility with most types of night vision devices. Both the front and the rear lens are set back from the edge to cushion the sight from impact devastation and safeguard it from scratches and fingerprints. The Aimpoint PRO also has a mount with a removable spacer as well as a torque limiting twist knob that optimizes the pressure places on the rail. Click here to see the current price.
The Sightmark Ultra Shot Pro Spec Sight NV QD is ideal for someone looking to purchase a high quality, cost-effective sight. The double pane lens helps to eliminate parallax, which is a very helpful and common feature among red dot scopes, and the sight has four different reticle patterns to allow for maximal customization. You will also have the unique ability to mount the sight in front of a night vision monocular to create a co-witnessed sight setup. Furthermore, if you are in pursuit of a fast target, this sight is equipped with a quick detachable rail mounting system and an internal interlocking system that holds zero extremely well; therefore, you won't have to worry about frequently readjusting this sight in the field. Finally, you can be sure that this scope will hold up in multiple types of environments and situations due to its durable aluminum frame and metal shield. Click to see the current price.
The Burris FastFire III is a very versatile sight that was built to stand up to rugged outdoor life for long periods of time. Windage and elevation adjustment upgrades are available with this sight. This Picatinny mounted sight has a 3 MOA dot reticle that can be adjusted to three brightness settings, and it also sports an automatic brightness setting that adjusts to the current lighting conditions. Battery access is conveniently located on the top so the sight so that it does not need to be removed when the battery needs replacing, and the low battery indicator will help you best prepare to have a fully powered sight for your next adventure. This Burris FastFire III also comes with waterproof and shockproof features.
Choosing the right sight is imperative for any hunter or marksman. Whether you are shooting for the fun of the sport or for the competition of it, it is best to find a sight that you are comfortable using. The key is to be able to make an accurate shot without spending a long time lining up the shot, especially if you are aiming at a moving target. Red dot sights are a great option for accomplishing that, but make sure you are aware of the important features to consider when purchasing one. Remember, expense does not always equal quality. The five sights listed are all excellent choices, but continue reading the content below before deciding which red dot sight is best for you. Click here to see the current price.
Benefits of a Red Dot Sight
• Faster Targeting Capabilities
Once a target is acquired, it is easy to quickly center the reticle on the target and fire the gun. There is no need to align the sights and take time to aim. This type of sight gives a much greater accuracy rate when taking aim at a moving target.
• Greater Field of View
Red dot sights have a wider field of view than most tube style sights. Having a wider field of view allows for a shot from a greater distance, but the sight is still not magnified so being reasonably close is still recommended.
• Unrestricted Eye Relief
For most sights, it matters how far away the shooter's eye is from the sight, but with a red sight, the eye relief is unlimited. This feature allows for faster targeting, because it takes away part of the restraint placed upon someone who is aiming with another type of sight.
• Works Well with Low Light
Red dot sights are easy to aim in the dark of night. The cross hairs of most sights become invisible in the dark, but the red dot is even visible in the darkest environments.
Features to Consider when Purchasing a Red Dot Sight
• Housing Configuration
A red dot sight can come in either a tube style or an open style. The tube style is closer to a traditional sight in appearance. This type of housing allows the shooter to apply filters and protective covers to the lens, which could make the "red dot" easier to see in bright sunlight. Open sights do not have the classic tube style. These types of sights consist of only the bare basics, and objective window to see through and a source of illumination. Since an open housing configuration has less room for flair, filters cannot be used to enhance the viewing experience.
• Type of Projection
Red dot sights include both holographic and reflex sights. With a holographic projection, the sight is illuminated from the front of the lens and a laser diode light is projected onto the viewing window to create a holographic red dot to assist with aiming at a target. Reflex sight projections are much more common in red dot sights that are used for recreation. A reflex sight reflects an LED light that is positioned behind the lens into your line of sight.
• Style of the Reticle
The reticle is effectively the "red dot" that is used to bring the gun in line with the target. All Reticles are designed to be illuminated to make it easier to shoot in low lighting conditions, but they are not required to be red or to be a simple dot. The color and patterns of red dot sights vary, so it is best to find one that allows comfortable shooting. Styles range from a single dot, to cross hairs, or even bullseye patterns that can be displayed in a red or green color. A good sight will be able to utilize multiple patterns and adjust to the desired color. The size of the reticle can also often be adjusted. A bigger dot typically means that targeting is faster. Make sure to avoid fancy styles; it is important to naturally align your eye to the center of the reticle for faster target finding.
• Battery Life of the Sight
The battery life of any red dot sight is extremely important. You need to know that the reticle will be there when it is needed, and a sight that has a short battery life presents the chance of the light going out when you are getting ready to aim for a target. Without the reticle, targeting becomes more complicated and accuracy can suffer. Reflex sights that use LED's to create the "red dot" consume much less energy than holographic options. A good sight should be able to get roughly a thousand hours of usage before the battery life diminishes. Make sure to preserve battery life whenever possible by turning the sight off when it is not being used. Shooing in cold weather can also be a factor of how long the battery life will last, so make sure to always carry a backup just in case.
Tips for Choosing a Red Dot Sight
• Higher Price does not mean Better Quality
Spending a lot on a sight is not always going to guarantee that the quality is better than the cheaper models. Sometimes advertising will suck you into a more expensive red dot sight that is missing key features, like being able to change the shape or color of the reticle to something that allows your eyes to focus at a faster rate.
• Compatible with Gun
Not all sights are able to be mounted to just any gun. Sights are designed to go with certain types of guns, and they will only fit properly on those styles. Make sure the sight that you are looking to purchase is compatible with the gun you own or are looking to own.
• A Comfortable Size and Weight
Make sure the sight is an appropriate size for your gun and the area where it will be stored. The weight of the red dot sight will affect the overall weight of the gun. Make sure that the gun can still be handled effectively with the sight attached to make assure that the accuracy of your aim is not diminished.
• Mounting the Sight
Mounting the sight to the gun is an extremely important step. If the sight is slightly off, then your whole aim will be off as well. Take your time when mounting and adjusting the sight to assure that it is straight. Your precision when mounting the sight will help you nail the target every time.
Overall, there are multiple features to take into consideration when making your red dot sight purchase. A sight equipped with all of the right features fit for you will take your recreational hunting or target shooting to the next level.