For a definitively top-notch telescope, look no further than the MINOX MD 50 W 16-30x Waterproof Spotting Scope. This travel-friendly device boasts innovative specifications and unparalleled manufacturing excellence. The cutting-edge design is fine-tuned to suit the lifestyles of nature enthusiasts, bird watchers and campers. To showcase machinery that is truly unsurpassed in its industry, the following review demonstrates the sheer brilliance of this MINOX masterpiece!
The Lens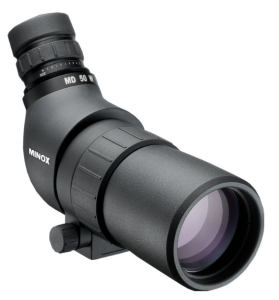 Sharpness and clarity are boldly accentuated by the 50mm lens. A generously wide range of vision is enabled by the expansive angle of view. At its base magnification of 16x, the MINOX MD 50 W 16-30x Waterproof Spotting Scope is equipped with a 2.7° angle. At 30x magnification, the angle comfortably reaches 1.9°. The minimum focus distance is 5 meters, and its field of view measures between 33m and 47m. Eye relief spans 11mm to 15mm, and the exit pupil diameter goes between 1.6mm and 3.6mm. These specifications are setting the industry standard for crystalline telescoping!
Meanwhile, here's how the brand describes their zoom: "Go from just five meters from your subject right through to infinity." There is nary an exaggeration in this claim, but the focus may lose consistency in the far distance. Still, this is an unprecedented line of vision for any telescope, especially a handheld one!
The Size
Portability is a key part of this scope's appeal. The product weighs approximately 1.3lb or 615g. The dimensions are meant to fit in your luggage on the move. It conveniently measures 213 x 63 x 123mm. It defies the conventions of mainstream telescopes by being cleverly compact. The lightweight frame provides powerful resistance against regular wear and tear. This structure maintains the machine's precision for life. For being so tiny, the MD 50 W 16-30x Waterproof Spotting Scope is remarkably robust. The gadget is great for accompanying binoculars. Overall, it is a little powerhouse!
The Structure
MINOX has outfitted this telescope with their trademarked multi-layer M* coating. This preserves an immaculately high rate of light transmission, so brightness is never an issue with your viewing habits. The finish also results in fantastic resolution alongside authentically natural color renditions and a resolutely sharp contrast. With the refined controls, focusing is almost automatic. Adjustments are streamlined with extraordinary efficiency!
It is built with a special angular design that ensures a relaxed posture for the user. The scope also is embedded with a swivel tripod connection, which enshrines maximum pivoting and positioning. To support handheld operation, the units also possess a soft rubber grip that maintains comfort for long durations of use. This system incorporates nitrogen filling to stave off misting within the optics. The threat of condensation can be permanently eliminated, and this protection even works under intense temperatures. Every MD 50 W 16-30x Waterproof Spotting Scope is prepared to handle relatively extreme conditions!
The Features
To ensure lasting enjoyment, this profoundly intuitive product comes with a protective nylon carrying case. It is waterproofed to withstand 5m of depth. The exterior is also weatherproofed and dust-proofed. With these quality assurances in place, there will be no disruptions to your scoping pleasures.
The Price
Upon release, the magnificent machine was listed for $339. This already generous asking rate has been lowered to around $250 at most retailers. Reliable telescopes have never been this affordable before!
Final Note
This MINOX scope can fit anyone's needs. The craftsmanship caters to a lot of particular spotting preferences, and it is fine-tuned for personalized calibrations. For those who love the outdoors, there is no companion more faithful than the MD 50 W 16-30x Waterproof Spotting Scope!