Like Icarus, popular optics manufacturer Vortex is aiming high. Their Razor HD spotting scopes are designed to deliver super premium performance similar to market leaders in this class like Swarovski, Leica, and Zeiss. They want to do it at a fraction of the cost, too. Have they succeeded? Yes! Vortex's spotting scopes soar high without getting too close to the sun.

Optical Features
The core of the Razor HD scope is a triple-apochromatic lens array designed to provide maximum clarity and minimal color aberration. The outermost lens has an AmorTek coating to protect against scratches, dirt, and corrosion. The inner lens elements are made of high density low dispersion glass, earning the scope its "HD" title.
The standard eyepiece on the scope is an adjustable 20-60x zoom model. A few alternatives are also available (see "accessories" below). The zoom adjusts smoothly. It has no presets, but it's sturdy enough to hold any position it's set to. At 1000 yards and minimum zoom the scope delivers a 117 foot field of view with this eyepiece; the maximum zoom FOV is 60 feet. The scope's eyepiece mount is a standard bayonet system with an integrated button-release locking system.
Operation
Focus control on this scope is provided by a dual focus knob. This is a first for Vortex; the manufacturer has used single adjustments on all of its previous scopes. Vortex really knocked this feature out of the park on their first try. The coarse focus adjustment is truly coarse, taking the scope from its closest possible focus distance out to infinity in less than two full turns. This is fairly exceptional performance, and the fine adjustment knob also works smoothly.
Razor HD scopes have some very nice operational features that make them a real joy to use in the field. There's an integrated lens hood to minimize lens flare and a basic sighting tube attached to the lens mount. The lens caps are sturdy and fit tightly; in fact the objective lens cap is extremely snug.
Construction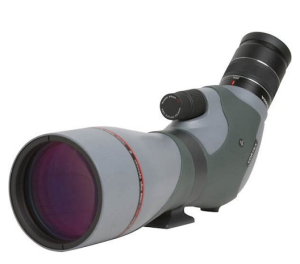 Vortex has released the Razor HD in both straight and angled versions to suit the needs of different users. (Angled spotting scopes are often preferred by prone and range shooters, while those more interested in straight glassing find straight scopes more convenient.) The straight version of the scope is about a half-inch longer than the angled one; they're otherwise identical.
These scopes are completely sealed and purged with argon to prevent internal fogging and water intrusion. The frame is made of a magnesium alloy to reduce overall weight. The armored body of the scope is grey with a dark green textured overlay around the prism housing, making handling a little easier.
Accessories
The manufacturer offers a few extra eyepieces to expand the versatility of the Razor HD scope. These include a 30x fixed magnification wide-angle eyepiece and a 23x long eye relief model ideal for range use. Vortex also makes an excellent camera adapter for digiscoping that fits multiple cameras from point-and-shoot models up to full DSLRs.
Vortex's case deserves special attention. A very good zippered, padded case is included with the scope itself. This case has multiple high-quality zippers allowing access to the lens, eyepiece, and tripod mount without removing the case, making the scope fully usable. It has two carrying handles and a removable shoulder strap.
Advantages
Price! The current suggested retail price of the Razor HD spotting scope is just $2000. It easily delivers performance comparable to much more expensive models while costing only half as much.
Versatility. The quick focus adjustment and simple controls make this an ideal scope for use with moving targets. The availability of both straight and angled models makes it easy to match the scope to the user's needs, too.
Comes with a great case. A padded, durable case that allows you to operate the scope without removing it should normally cost one to two hundred dollars. Vortex throws it in for free.
Drawbacks
Performance at extreme focus is slightly lacking. Pushing all the way up to 60x zoom results in some minor image degradation and color aberrations. This is normal for high-zoom scopes, though.
Tight fits on both the objective lens cap and the eyepiece mount. Removing the lens cap for the first time is a real struggle, and most users will likely elect not to replace it fully. The socket for the eyepiece is similarly a very tight fit, requiring a little force to lock the eyepiece into place.
Conclusion
While Vortex's Razor HD spotting scopes aren't without flaws, there is no alternative scope that overcomes them at a price that's anywhere close to the Razor's. This scope offers outstanding premium performance for just $2,000; Buying an even better scope can easily cost twice that much or more. This makes the Razor HD a superb choice for spotters who want outstanding optics and great reliability without a sky-high price tag.