The question to bring one set of optics on an outdoor excursion over the other will always be tricky. It depends on the situation and the power and versatility of your optics.
In this article, we'll narrow down some areas where you should prefer one over the other. First, though, let's take a look at the main differences between the two optics.
Spotting Scopes & Binos: What's the Difference?
The key difference between these two optics is size and portability. Binoculars are typically smaller and designed to be held by hand, while most spotting scopes are larger and work best with a tripod. For hunters on the move, binos are often better because there's no setup required. But hunters who stay in one area for longer periods of time — not to mention birders and nature watchers — can make the most of a spotting scope.
The other key difference is power and range, with the spotting scope usually coming out ahead in these categories. We'll talk more about those features next.
Spotting Scopes
On average, spotting scopes are going to have more powerful focus and longer range than your basic set of 8x42mm or 10x42mm binoculars. If you recently purchased a spotting scope or are looking to get one, here are a couple of situations you should consider:
Hunting: For long distance hunts where the terrain is variable, spotting scopes will help you determine key details about the environment. When you are sitting in a location where you can observe the terrain around you for miles, the scope will be preferable to a set of binos.
Birding: In order to have a successful birding experience, acquiring the most intricate details of birds is the priority. It's no surprise that two different bird species may only be separated by a small and hard to see color scheme. With powerful zoom and light transmission, the spotting scope is going to be your best friend.
The inconvenience with spotting scopes is that the larger ones (which are usually the best), require tripods for the best stabilization. Tripods add excess weight, which is at best undesirable and sometimes out of the question. If you're planning on hiking long distances or going up steep terrain, you might want to think twice about bringing a spotting scope.
That powerful range and magnification is where the spotting scope really shines, though, and that's worth considering in many instances. Magnification on a scope can be several times greater than binoculars, and that can make a vital difference in many hunting situations. For avid birders, spotting scopes also offer a greater ability to find elusive species.
In terms of bulk, there are some spotting scopes that you can freehand. This means less overall weight, but it also means smaller and less powerful lenses. Even so, these are often more powerful than binos. Some hunters even prefer the feel and usability of a spotting scope over binoculars.
Click here to read up on our picks for the best spotting scopes on the market. You can also check out OpticsMag's guide to buying a spotting scope for more recommendations and advice on choosing these high power optics.
Check out these quicks tips for using a spotting scope effectively.
Binoculars
While not as powerful as spotting scopes, binoculars are certainly the most widespread and versatile optics in the outdoor adventuring world. They weigh less than spotting scopes and some models do produce impressive power, focus, and light transmission.
With binoculars, the ease of access and relatively lightweight construction is the most important feature. You don't have to take off your backpack or set up a tripod every time you need to glass terrain. Compared to spotting scopes, they're a whole lot more convenient.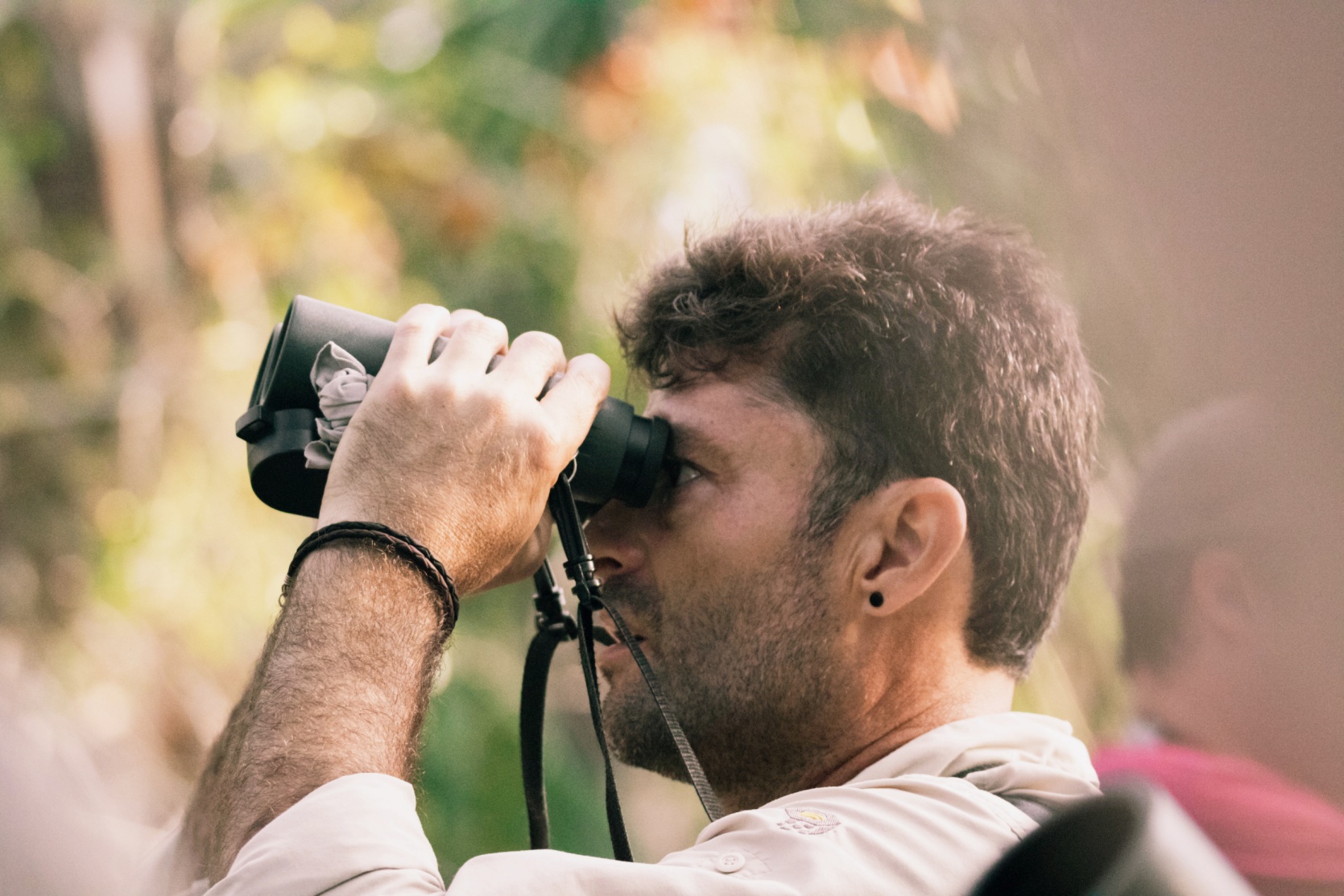 So, where should you be using binos? Rather, the question should be where shouldn't you be using binoculars? Binos can be and are usually used in just about every outdoor excursion there is. They are also commonly used in indoor events such as opera or theater, where people sitting far away may not be able to see the stage that well.
To ensure the best possible experience with your binoculars, be sure to read up on and understand the specs, which will detail magnification and range. Additionally, you can find out how they hold up during low light conditions (morning and evening).
Click here to see our choices for the best binoculars you can buy for any situation.
Bottom Line
Having quality optics completely alters your ability to hunt and to view wildlife. Both spotting scopes and binoculars offer distinct benefits on their own. Ideally, you would carry both, but that's not always realistic.
There isn't a primary set of criteria that dictates which optics are better than others. Sure, spotting scopes on average sport more powerful and longer reaching lenses. However as we've discovered, the most power doesn't equate to the best experience.
If you want to just carry one, you can ask yourself a few questions to make a decision.
What's the terrain like?
What will the weather be like?
What time of day will you be out there and for how long?
Are the animals/objects you want to see well camouflaged or reclusive?
Spotting scopes will give you the benefit of better magnification and range, but be sure to bring a sturdy tripod for the best experience. Binoculars offer portability and easy access, so these are the clear choice in many cases (particularly intensive hunts). You'll experience the differences when it comes to those factors, but the most important thing is to have high quality glass and the best specs for your situation.