Vortex is a manufacturer of high-quality optics for hunting, bird watching, and other outdoor activities. The Diamondback 10×42 pair of binoculars are dedicated sporting optics with a clear view of nearly one-thousand yards. They'll fetch you a high-price, but if you're looking to up your game in the outdoor world, the Diamondbacks are the optics for you.
During a bright day, the sun can play havoc with a binocular's ability to see objects at a distance. We were blown away by the Diamondback's anti-reflective lens that gave it above average light filtering. Of course, as you approach a thousand yards above, general vision quality decreases. However, the Diamondback's optics are dielectric coated and argon purged to deliver above average clarity and keep them water and fog proof.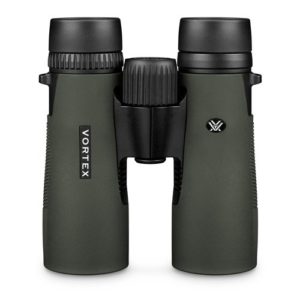 When you search for a good pair of sporting binoculars, there are a couple of things that you want to consider. The first and foremost however is focusing. The Diamondback gives you some options to properly adjust the binoculars for your comfort.
The IPD (Interpupillary Distance) is the distance between the primary light gatherers in your eyes. The Diamondback has the ability to rotate its barrels in order to match the distance between your eyes.
The center focus is located in the middle of the binoculars and should be adjusted after you have played with the barrels and formatted them to your liking.
The diopter ring (on the right barrel) is a mini-focus that will help you adjust the binoculars to your own vision. Anyone else with different viewing preferences will have to adjust the ring on their own.
The eyecups are also adjustable. If you're using the binoculars with your naked eye, you can twist the eyecups away from from the body of the binoculars. This feature combined with the focusing features gives the user maximum control over the clarity of the object or area they wish to view.
Due to their weight, it can be difficult for younger users to handle these optics without shaking them. Thus if you plan to use these optics for hunting or bird watching, they would be complimented by a small tripod to eliminate shakiness. Furthermore, two built-in structures on each barrel allow for a neck strap to run through.
Overall, there is little we could find to slander the Diamondback. There are still shadows that most binoculars have trouble with when you move them around sharply, but they aren't a huge deal if you find some sort stabilizer (like a tripod) for them.