Humans have always been fascinated with the stars, and children have grown up being amazed by space for years. Today, there are a number of excellent telescopes that are designed by various manufacturers for specific astrological purposes. Some of these telescopes are extremely advanced and take a lot of technological knowledge in order to operate.
However, there are numerous ones on the market designed for children and amateurs and do not require a lot of previous technological background knowledge. After all, everyone has the right to enjoy the beauty of the stars. If you are interested in astronomy and telescopes, you will be able to find all of the information that you could possibly need below.
Best Telescope for Beginners – Celestron AstroMaster 114 EQ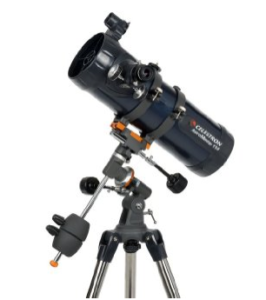 If you are a beginner, the AstroMaster Reflector Telescope is by far the best choice on the market. It has a lot of higher-end features that other brands do not provide in this price range, and it is an easy telescope to set up. This is extremely important for beginners because you have to know how to set up a telescope correctly in order to get the most out of it. Most beginners are still learning about astronomy in general, and therefore, they are content to see the simple things and wonders of space.
With the AstroMaster Reflector Telescope, they might not be able to see far off galaxies, like with a higher powered telescope, but they will be able to see things like the rings of Saturn and the moons of Jupiter. These things are fascinating for beginners, and it is an excellent starting point. With this telescope, you will get access to two different eyepieces that get up to 100 x magnifications. When using this telescope, it has been recommended that you also use the CELE705 lens kit. These lenses will enhance your view, giving you the best experience available.
The dimensions of this telescope are 11 inches by 17 inches by 32.25 inches. It isn't as large as other telescopes, which will make it easier to handle for beginners, and when it is assembled, it is only 12.7 kilograms. Therefore, it will be easy to move for most beginners, regardless of their age. When it comes to brightness, this particular telescope is actually three times brighter than other telescopes that are considered to be 60mm scopes. The only downside that people have found about this particular telescope is that the start pointer on it is not all that easy to use.
According to the reviews of the people who have used this telescope, this telescope is a good telescope, but it is really designed for beginner observation and not deep sky observing. They also said that the price of this telescope is excellent for the quality that it will provide you, especially if you are a beginning astronomer. After all, if you are a beginner, you do not want to spend a lot of money on your first telescope, while trying to figure everything out.
Best Telescope for Kids – Vixen Space Eye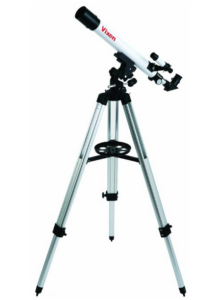 A universe is an amazing place, and kids are often times fascinated with stars. However, just like most things, it doesn't make sense to purchase an expensive telescope for a child. That is one reason why this particular telescope is the best telescope for kids. The Vixen Space Eye Telescope is a 50 mm telescope, and other than price, it has a lot of features that make it perfect for a child. Unlike a lot of other telescopes, this one only weighs 6 pounds, which means it will be easier for kids to move around when using it.
This particular telescope comes with everything that a kid could want and need in order to enjoy the universe. The telescopes dimensions are 13 inches by 8 inches by 37 inches. According to some of the customers who have purchased this particular telescope, one of the best things about it was its mount. With cheaper telescopes, you sometimes have to deal with the object are watching skipping slightly when trying to move the telescope. However, the Space Eye 50 mm Telescope has slow motion controls.
Due to this, it will make it easier for a kid to actually be able to steady the telescope and follow the objects that they want to without having to worry about the object getting blurred and losing eye contact with it. Another aspect about this particular telescope is the fact that it actually is powerful enough to allow kids to see the rings of Saturn under certain conditions. This is important because although the moon is both unique and extraordinary, there is nothing better for a new astronomer than seeing the beauty of Saturn layout before their eyes.
Another excellent aspect about this particular telescope is the fact that you can actually purchase an adapter for it that will allow you to be able to hook your smartphone up to it. This is an excellent way to also introduce you or your budding astronomer to astrophotography. This adapter is actually designed to work with most types of smartphones, and it will add on hours and hours of fun from this particular telescope for your kid and even yourself.
Best Telescope for Astrophotography – Celestron NexStar 130 SLT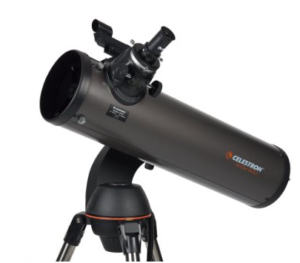 Astrophotography is a little more difficult than regular observation. One of the biggest differences is the fact that you need a telescope that is actually designed to be able to take the photos needed and desired. According to many astrophotographers, the NexStar 130 SLT computerized telescope is by far the best one available on the market for anyone that is actually interested in astrophotography. This telescope comes with a focal ratio of f5, and it has a focal length of 650mm.
While using this particular telescope, you will find that it is extremely easy to move, and this is entirely thanks to the fact that it has a motorized Altazimuth mount. You will not have to worry about being able to follow objects in order to get that perfect picture of your favorite object in the sky. It also has SkyAlign. This is an excellent aspect about this telescope because you will no longer have to worry about just looking at one object. With SkyAlign, you will actually be able to align the telescope with any 3 celestial objects in the sky that are bright.
There have only been two things about this particular telescope that have been logged as needing help. The first thing is its battery. The battery life is rather short compared to others. Therefore, it is imperative when using this telescope that you charge the battery to full before heading out to do your astrophotography. After all, you would not want to be in the middle of your project and have the telescoping die. The second thing about this telescope is that it is a little sensitive to vibration. Therefore, when you are using it, you need to make sure that it is on a surface that will not conduct vibration.
However, the pros of the NexStar 130 SLT far outweigh these minor setbacks. For instance, you will not find another telescope in its price range that has as wide a field of view as this telescope. Therefore, you will be able to broaden the horizons of your astrophotography experience. It is also very light and portable. Therefore, you will not have to worry about it being too heavy to move around as you see fit.
Best All-Around Telescope – Gysker AZ70400 
It can be difficult to locate a telescope that sits at the crossroads of affordability, power, and clarity. However, the Gysker AZ70400 solves that problem by accomplishing goals in all three of the previous categories.
In addition to your purchase, you get the tripod and a 25mm and 10mm eyepiece. The AZ70400's focal length is 400mm, which is technically on the lower end of their products, but its power is still impressive.
There are no computerized or electronic aspects about the AZ70400, so you can just manuever the telescope by hand. It does come equipped with an inverted star finder which should aid in your search for objects in the night sky.
Best Telescope for the Money – Celestron NexStar 4 SE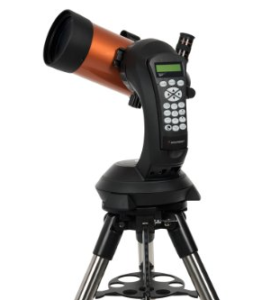 There are thousands of different telescopes that are available on the market, but when looking at price vs features, the Celestron NexStar 4 SE Telescope is by far the best telescope for the amount that it costs. This telescope has a state-of-the-art computerized operating system, and this will allow you to be able to view a number of excellent and beautiful celestial objects. Although this telescope can be used by beginners, it is designed more for a more advanced astronomy observer. With the single touch of a button, you will be able to find thousands of different planets, galaxies, and stars, and you will be able to enjoy the entire world of astronomy from the privacy of your own backyards or your favorite star gazing spot.
According to the people who have used this particular telescope have given it an overall excellent review, but there are a couple of things you should be aware of before purchasing this telescope. First off, this telescope can actually use rechargeable batteries, but these batteries are not included with the actual telescope. Therefore, you will need to purchase them separately. Plus, due to its size, it can be rather limited when it comes to being able to view deep into space. However, its size is also one of its best tributes. Thanks to this, it is both small and portable, which means you can carry it around a lot easier to the places that you wish to star gaze from.
The computerization components of this telescope are also very trackable, which means you will be able to keep track of the different celestial bodies that you observe with the telescope. Another thing that actually makes this the best telescope for the money it costs is the fact that you can also take part in amateur astrophotography. You will be able to take pictures with it, but it will be rather limited. They will not be as high quality as a telescope that was designed for such things. This telescope is motorized, and therefore, you can actually align the telescope to be able to track whatever you want from planets, nebulae, galaxies, and stars.
Best Telescope for under $100 – Meade Instruments Infinity 70mm AZ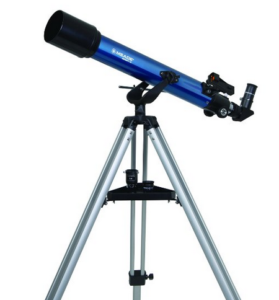 There are a lot of different telescopes that fall into this price range, but just like everything else, there is one that is superior. In this price range, the telescope that is superior is the Meade Instruments Infinity 70 mm AZ Refractor Telescope. This telescope has an aperture of 70mm (2.8 inches), a focal length of 700mm, a focal ration of f/10, and a rack-and-pinion focuser. When you purchase this telescope, you will also receive an instructional DVD and an Astronomical software, which will help you take your stargazing to the next level. For its price range, you will be able to view farther out into space than with other telescopes like it, but it was not designed to allow you to observe far away.
It comes with an Altazimuth mouth that has a slow-motion control. This is excellent and helps to make sure that the view does not skip when trying to move it manually. Because of this, you can also track the things that you want to track, regardless if it is day or night. This telescope has 2 barlow lens which always you to double the magnification power of all eyepieces. It has two different eyepieces to choose from. The low eyepiece is 26mm, and the high eyepiece is 6.3 It provides you with a red dot viewfinder, which will allow you to point at the celestial objects that you want to see. Therefore, you will be able better observe to your desire. Another asset to purchasing this telescope is the fact that it actually comes with an accessory tray. This is very convenient if you are observing the stars out and away from any furniture. It is actually big enough for your phone and keys.
Another reason why this is such an excellent telescope for its price is the fact that you can use it at night to observe the universe and during the day to observe things like birds and the ocean. The assembly of this particular telescope is very easy, especially since it is a refractor telescope. This means you will never have to worry about aligning mirrors. You will actually be able to use it straight out of the box.
Best Telescope for under $200 – Orion StarBlast 4.5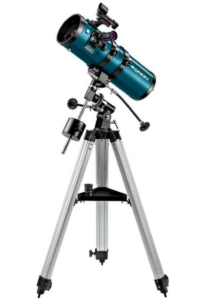 If you are looking for the next step up to your beginning telescope, the Orion StarBlast II 4.5 Equatorial Reflector Telescope is the next logical price. It is still reasonably priced, and it will give you the best experience possible for a telescope within its price range. This particular telescope is able to view a number of different things in the night sky. Not only can you see planets and moons, you will also be able to see a number of deep space objects as long as they are bright enough. If you are new to astronomy, you can actually start out with this telescope because it is easy to set up and use, but it is also suitable for an intermediate astronomer who is looking upgrade.
The eyepieces that it comes with are Expanse telescope eyepieces, and they will actually give you a 66-degree field of view. Unlike cheaper telescopes, you will even be able to see the Andromeda galaxy with this one, and the first time you see it, you will be in awe of its absolute beauty. It also has fast f/4 optics, which means that you will be able to see a lot more celestial objects without having to hunt for them, thanks to the widened field of view that it provides. This telescope does come with a EQ-1 equatorial telescope mount with a slow-motion control. Basically, this means that you will be able to follow celestial objects across the night sky without having to worry about your view being skipped.
With these controls, you will never have worry about moving your telescope by hand. You can actually just enjoy a smooth viewing of your favorite celestial objects. The dimensions of this particular telescope are 44 inches by 12 inches by 20 inches, and it weighs a little less than 20 pounds. Therefore, it is heavy enough to be held down firmly, but it is not so heavy that you cannot move it as needed to set it up. This telescope requires a Lithium-ion battery, and it comes with one. Therefore, you do not have to worry about going out and finding one of your own.
Best Telescope for under $1,000 – Meade Instruments LightBridge 12-Inch Truss Tube Dobsonian Telescope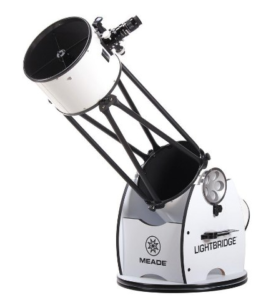 When you get up to this price range, it is imperative to do the research. The LightBridge 12-Inch Truss Tube Dobsonian Telescope has received the best results and reviews for the people who have actually used it. It has a number of excellent features that will allow you to have the best astronomy experience possible for its price range. This telescope has a focal length of 1525 millimeters, and it has an aperture of 12 inches. This will actually allow you to see celestial objects a lot brighter than most other telescopes available on the market for less than $1,000. As an added bonus, this particular telescope actually comes with a 1-year limited warranty.
This is extremely important, because everyone knows that it is possible for accidents to happen. You do not want to purchase so a high quality telescope without having some protection for those accidents. The focal ration of this particular telescope is f/5, and the dimensions of this telescope are 29 inches by 6 inches by 12 inches. It does weigh close to 100 pounds. Therefore, it is imperative that you are careful when moving it, because it is not the easiest telescope to move around once you have it set up and placed in the desired spot. However, the beautiful experience that you get with this telescope is especially worth it.
Before you are able to use the telescope, you will actually have to get 8 AA batteries in order for it to work. It is recommended that you purchase higher quality batteries in order to avoid them being drained quickly and you missing out on a beautiful astrological event that might only come around once in a life time. This telescope actually stands around 5 feet tall. Therefore, you will not have the need for any other type of mount, and this particular telescope is excellent for visual observing, but it is not recommended for someone that wishes to partake in astrophotography. However, if you live in a big city or an area with high light pollution, this is the perfect telescope because it will actually allow to see through it and view deep sky observations.
Best Telescope for under $2,000 – Celestron Advanced VX 8″ f/10 EdgeHD Telescope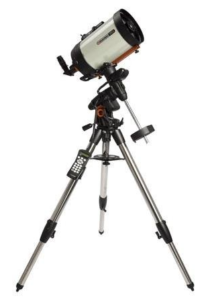 If you are interested in going big, the Celestron Edge HD Telescope and its usual bundle is by far the best deal in the $2,000 price range. First off, this telescope comes with a 2 year warranty, which is extremely important, especially due to the expensive nature of this telescope. When observing the stars, you never know when something might happen to knock over your telescope or something else. So, this warranty will allow you to have peace of mind when out having fun and observing celestial objects. The Celestron Edge HD 8" Telescope comes with a 1.25 inch eyepiece, a 1.25 inch 90-degree mirror diagonal.
It also comes with a Celestron Advanced VX Mount that is a tripod mount. This will actually make it a lot easier to set up. These types of mounts are generally more stable, which means they are less likely to be tipped over by an accident while trying to observe the stars and other celestial objects. This telescope weights around 85.5 pounds, and due to its weight, it is imperative to make sure you plan where you want to observe from prior to moving it. This will cause you a lot less trouble than having to constantly move it once it is set up. One of the only downsides to this particular telescope is the fact that you cannot merely use regular batteries to charge it.
It actually needs 12 volts in order for it to work. Therefore, you will need an inverter and a car battery to make it work or a power port I a nearby vehicle. However, the excellent results that this particular telescope will provide you in your observing experience are completely worth it. You will be able to look and see just about anything that you really want, within reason. Some people have even reported that while using this particular telescope, they were actually able to get 120 second exposures without having to deal with see the star trails. This telescope actually takes astrophotography to a whole new level. Plus, it is excellent due to the fact that vibration is not an issue when this telescope and mount are used together.
Things to Know when Buying a Telescope as an Amateur Astronomer
If you are new to astronomy, it can be extremely difficult to learn everything on your own, and if you are not careful, you could make costly mistakes when buying your telescope. One of the most important things to remember when buying your first telescope is that there is no substitute for quality. Although you might find an appealing telescope at your local department store, it is always a better idea to purchase your telescope from an actual telescope store or from a place where you can find just as high a quality of the telescope.
If you are willing to put in the time and really learn astronomy, you can actually save yourself a lot of money, especially if you are a younger astronomer. For instance, joining an astronomy club is a great way to learn the different constellations. By doing this, you will actually be able to find a telescope that is cheaper and more simplistic to use. Some astronomers might tell you that you need all of these technological features on your telescope in order to take seriously. However, it is not always important to have these features. A lot of times, people want these features for the sake of having them, but they could honestly get by without them lightening the expensiveness of their telescope choice.
When practicing astronomy, it is important to know that observation is key to having a good experience. One of the things that separate expert astronomers from amateur astronomers is their observation skills. Therefore, it is imperative that you make sure to work on these skills because it will actually assist you in being able to get a smaller telescope that will most likely cost less. Generally, there are two types of astronomers that people want to be: Visual astronomer or an astrophotographer. As an amateur astronomer, it is always better to start out as a visual observer, because the equipment and knowledge of astronomy are a lot more extensive in order to do astrophotography.
Reputable Brands of Telescopes
There are a lot of different brands that manufacture telescopes for both professional and amateur astronomers. Below, you will be able to find a few different reputable brands that are some of the best in the industry.
Celestron – Celestron has been manufacturing telescopes and accessories for over 50 years, and all of their workers provides quality craftsmanship that actually make them one of the best manufacturers, in the industry. They have telescopes designed for every type of an astronomer, regardless if they are a beginner or a professional. One of the best things about Celestron telescopes is the fact that they are extremely easy to assemble, and those who purchase them are always guaranteed satisfaction.
Sky-Watcher – If you have ever been to a star party, then you have probably seen a Sky-Watcher telescope, especially if you live in Europe. They have been around since the 1960s, and currently, they are actually known as the #1 fastest growing telescope brands in Europe, and their reputation is starting to grow everywhere else as well. They are the manufacturers that actually created one of the first Dobsonian telescopes, which is one of the most popular types available on the market.
Zhumell – Zhumell is known for their beginner telescopes. They have a wide range of these types that are low cost being less than $200. They have been around for years, and they are by far the best brand available on the market for that young or inexperienced astronomer in your life.
Meade – There are different stages of being an amateur in astronomy. Some are kids and some are adults. Meade understands that this is important knowledge to know when manufacturing telescopes. Currently, they are one of the top manufacturers when it comes to creating telescopes for any amateur despite this knowledge or age.