Spotting scopes are the unsung heroes of outdoor excursions. You don't see nearly as many spotting scopes in the field as you do binoculars and rangefinders. The reason being is that spotting scopes can be heavy can cumbersome to transport on a backpack.
Nevertheless, a spotting scope provides pristine imagery and vision to the outdoorsman/woman on a level that binoculars will be unable to match. If you plan on hunting or birding for an entire day or more, a spotting scope will come in handy for long-range spotting. If you don't see a spotting scope here that you like, check out our picks for the top spotting scopes of 2018.
This holiday season, look to save big on a spotting scope for the outdoorsman/woman in your life. Spotting scopes will shot that you or a relative are truly passionate about the outdoors and willing to upgrade to the best optics in order to have the best experience. For a complete list of best-selling spotting scopes, click here.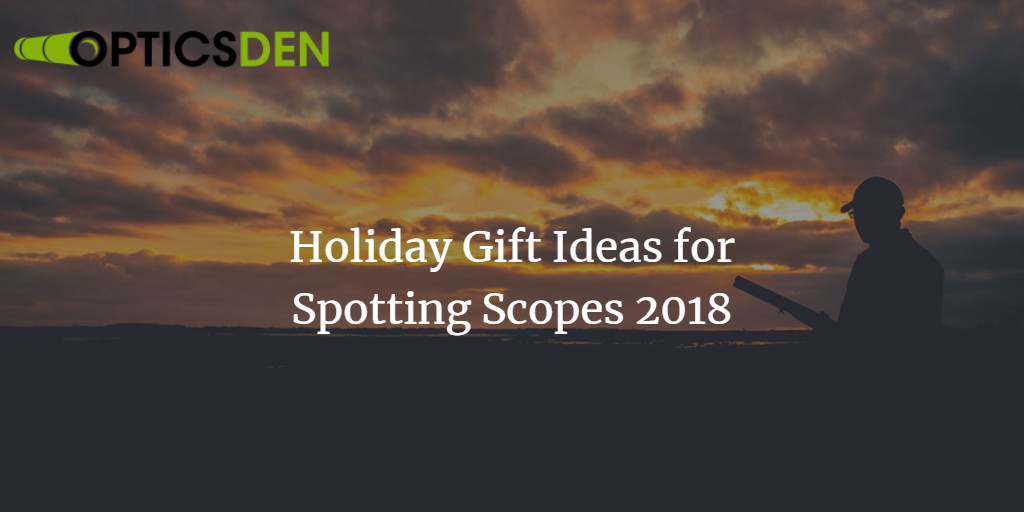 Best Overall Spotting Scope
The Upland Optics Perception HD is a specialized hunting spotting scope. With a 60mm lens and variable zooms from 20-60x power, the Perception HD provides exceptional image quality at long range even when light is low.
Best Hunting Spotting Scope
Swarovski 80 mm STS HD Straight Spotting Scope
It would be easy to discount the Swarovski scope because of its price tag. However, its 80mm lens and a separate 25-50x power eyepiece, you're getting unreal image quality at maximum range. It's also pretty rugged and waterproof up to 13 feet.
Best Target Shooting Spotting Scope
Minox MD 16-30×50 Straight Spotting Scope
The Minox MD is a straight facing scope with a comfortable range of 30-50x power levels. It's coated in nitrogen internally to protect against fogging, corrosion, and other weather conditions.
Best Birding Spotting Scope
Kowa TSN 880 Angled 88mm Prominar Spotting Scope
The TSN 880 is a high-quality scope with an 88mm lens. This lens is among the best in compensating for high or low light situations to make sure you get the best image quality. For birding purposes, its eyepiece is adaptable to DSLR camera lens or smartphone lens.
Best Compact Spotting Scope
Minox MD 16-30×50 W Angled Spotting Scope
Minox's next scope is the MD 15-30×50, an angled scope that's actually pretty small and thus much easier for fitting and transportation. Despite its size, it has solid power levels between 16-30x.
Best Spotting Scope Under $200
Redfield Rampage 20-60x60mm Spotting Scope
The Rampage is an affordable scope with lens and power level that is perfect for any outdoor activity. A 60mm lens and 20-60x will put you beyond the range of most binos, all while still having a low price tag.
Best Spotting Scope Under $500
Vortex Diamondback 20-60×80 Straight Spotting Scope
Like most Vortex products, the Diamondback is of rugged construction and is completely sealed against outside debris. It features an impressive 80mm lens with appropriate power ranges of 20-60x.
Best Spotting Scope Under $1000
Vortex Viper HD 20-60×80 Angled Spotting Scope
The Viper is of similar design to the Diamondback but offers better vision and image quality at extreme range. Another small perk is that its lightweight despite its size and doesn't require a large tripod in the field.
Best Premium Spotting Scope
Vortex Razor HD 16-48×65 Angled Spotting Scope
The optics on the Razor are some of the best in the spotting scope industry. On top of that, it features noticeable upgrades to its lenses that make it stand out over its predecessors. You won't be disappointed with image quality when utilizing the Razor.
Do Spotting Scopes Make Great Gifts?
Rifle scopes, binos, and rangefinders are some of the most common optics you'll see in the fields. A spotting scope will prove that you are intent on having a successful excursion into the outdoors, whether you are hunting, birding, or target shooting. Like most optics, they come in a variety of sizes and power levels.
Spotting scopes don't come cheap, so that's why it would be a good idea to snatch one up this holiday season.