If you're a long-range shooter or a bowhunter, you know how important accurate ranging is to the success of your hunt. If you spend a lot of time up in a tree stand or hunting in high country, calculating an accurate shot angle can be pretty difficult. With a rangefinder, finding true distance and shot precision is much easier.
Concerned about the cost and weight of another piece of equipment to your already-heavy load? Don't be. Most rangefinders are small and light—and some can even take the place of your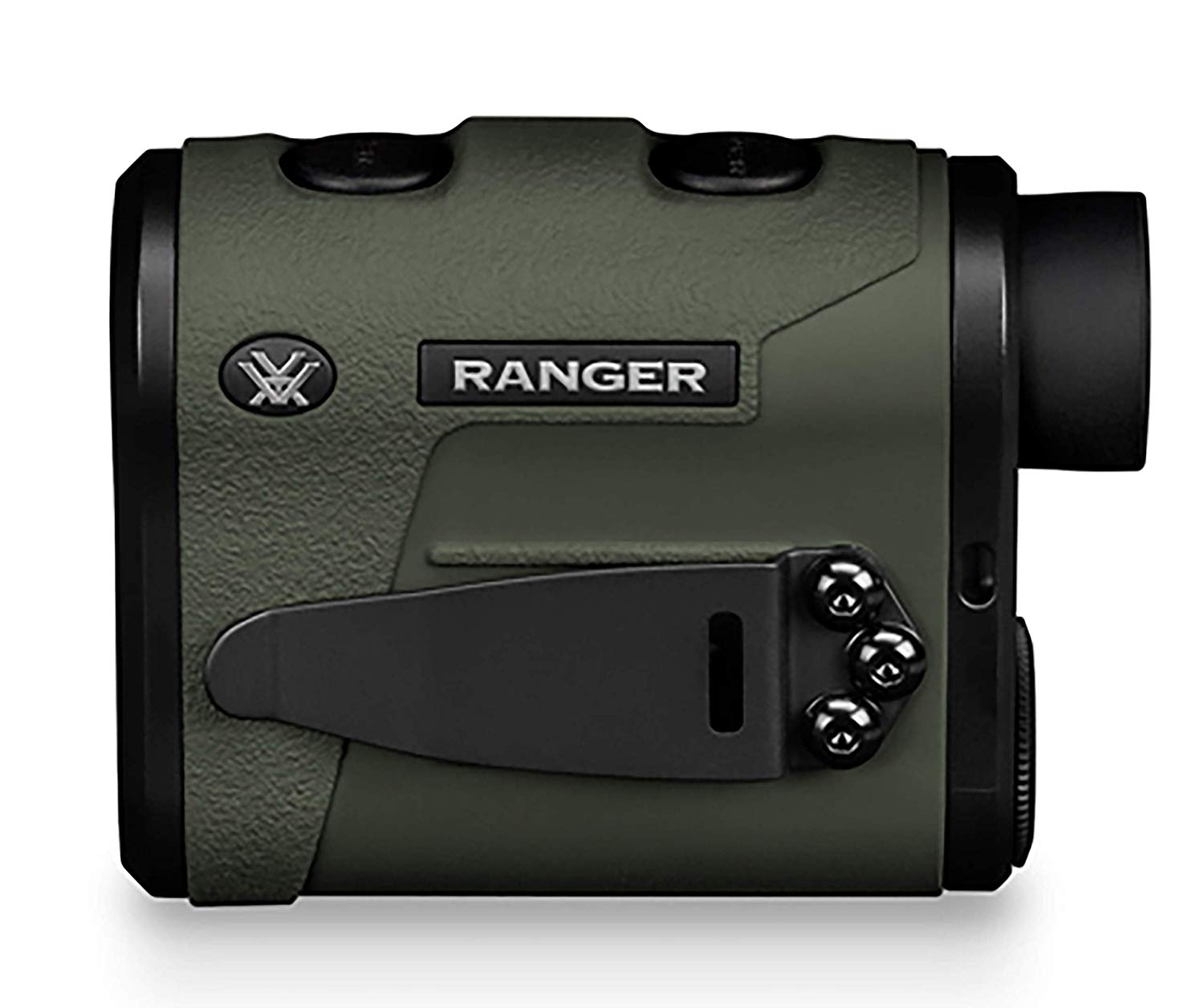 binos.
So, if you're looking for a good rangefinder for yourself or your favorite hunting buddy, check out Vortex Optics's Ranger line.
Vortex's old line of Ranger rangefinders was enormously popular, but they've done a great job improving the product.
Specs
The Ranger rangefinders come in four options: 1000, 1300, 1500, 1800. As the names suggest, each option is capable of ranging up to that particular number of yardage to reflective material. To a deer, you can expect about half. (Read our full review of the 1000 here)
Each option includes 6X magnification, 17mm of eye relief, and a 22mm objective lens. With these rangefinders, you'll get 315ft/1000yd linear FOV and 6 degrees of angular FOV. The Ranger rangefinders also boast an accuracy within -/+ 3 yards at 1,000 yards and a max angle reading of +/- 60 degrees.
Prefer to range in meters or yards? It doesn't matter. The Ranger rangefinders can be set to either setting.
The Ranger rangefinders will also handle cold and hot temps You can expect it to work between 14 and 131 degrees F.
Glass
With excellent glass quality, the Ranger rangefinder provides multi-coated lenses for optimal light transmission. You'll also get an adjustable diopter that's easy to use. You count on a precise picture that stands up against even the most expensive rangefinders.
This rangefinder has great low-light capabilities. So, if you're out while the sun is setting or rising, you'll be able to get a reading if you're not too far away.
Construction
Although the body of the Ranger rangefinders is plastic, it's coated with rubber. The rubber coating feels secure and non-slippery. It's also serves as great protection for the rangefinder itself. You can feel confident the Ranger rangefinder will survive pretty much anything that happens to it.
The entire thing is waterproof and protected from internal fog. It's also O-ring sealed, so the operating system will continue to have your back, even in tough conditions.
Each model is threaded for a tripod and comes with a high-quality carrying case for protection and longevity.
These rangefinders require a lithium CR2 battery. However, there is a battery included in the box. The battery cover is sealed and can be opened with a coin.
Portability
The Ranger rangefinders are compact, lightweight, and have a great, ergonomic hand feel.  These rangefinders are 3 inches wide, 3.9 inches long, and only weigh 7.7 ounces. None of the models would be a bother to carry around for days at a time.
One really neat feature of the Ranger rangefinders is the adjustable utility clip on the side. The side clip is adjustable and can be mounted on either side or removed completely. Clip it to your pocket, belt, or to your pack for ultra-easy access as soon as you need it.
Ranger rangefinders also come with a lanyard if you prefer to carry around your neck. However you like to take the Ranger with you, it'll be easy to bring.
Features and usability
The Ranger is easy to use with a quality, intuitive display.
The button closest to your eye is the "measure" button. Press it once to turn on and a second time to measure. That's it.
The button further away from your eye is the "menu" button. There are three changeable settings. One is the brightness, which is really helpful in low-light conditions. The other settings change the measure between LOS and HCD modes.
The Line of Sight Distance (LOS) provides the straight-line distance to the target. It will also provide the angle.
In Horizontal Component Distance (HCD) mode, the Ranger will measure the distance and the angle and do the math to provide the most accurate yardage for your shot. If you spend a lot of time hunting in elevation or in tree stands, this setting can be enormously helpful.
By holding down the "measure" button, the Vortex Ranger will also "scan." This scan feature provides continuous readings across a landscape or can track a moving target.
One thing to note about this rangefinder is that it won't pick up objects under 10 yards.
Vortex VIP warranty
Another great feature of this Ranger rangefinder is that it comes with a lifetime warranty. If something were to happen to it and the optics get fuzzy, Vortex will take care of it—for as long as you have the product.