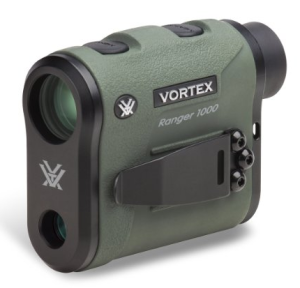 The Vortex Ranger 1000 has got to be one of the best rangefinders on the market today. Its compact design, wide range of focus, and durability make it a top contender for any of your optical needs. Its long range capabilities make it perfect for hunting season, but it can also drastically improve your short range skill for archery season. The adjustable brightness makes the Ranger 1000 clear and crisp, leaving behind the haziness that some other range finders have been known to have. It also has a convenient clip that can be used to attach the range finder to your belt or pack as you trudge through whatever environment you happen to find yourself. As far as quality for the price, you can't do much better than the Ranger 1000.
A more detailed look at the the specific features of the Ranger 1000 will show why it is such an effective and vital piece of equipment for any outdoorsman. It has fully coated antireflective lenses, which stops the majority of glare and keeps the view through the rangefinder bright yet visible. As anyone who has used a range finder before can tell you, it is crucial that lens flares and other optical anomalies be kept to a minimum. The last thing you want is to lose out on the perfect shot because of shoddy equipment.
The Vortex Ranger 1000 has an impressive physique as well. Its construction gives it a durability boost that most can't match. Harsh weather conditions are no worry with this range finder. O-ring seals keep the internal structure protected from dust, debris, and even moisture. The compact and lightweight design makes this range finder tough and rugged. It can handle the harshest of conditions or treatment. It also comes with a built in rubber grip guard that further protects from drops and outside damage. A mounting port on the bottom of the range finder allows for tripod mounting and car window mounting as well.
The Vortex Ranger 1000 also boosts some of the strongest optical performance in the world of range finders. You can use both LOS and HCD modes, depending on the angles involved in your ranging. HCD, or Horizontal Component Distance, is useful when you need to compensate for an extreme angle, and LOS, or Line of Sight, shows the true line of view without taking angles into account. Both are exceptionally helpful in a variety of situations. The Vortex Ranger 1000 also comes equipped with a Scan Mode which shows constantly updated distance readings while moving the viewfinder across a landscape or while tracking a moving target. This is especially helpful when hunting season rolls around. Perhaps one of the simplest yet most important features is a small detail of the display. Instead of the typical black LCD displays, the Vortex Ranger 1000 has a brightly illuminated red display that can be seen in even the darkest conditions without throwing off excess light that might betray your position. For hunters accustomed to practicing their hobby in the dark of early morning, this small detail can make all the difference.
The Vortex Ranger 1000 is small, measuring in at around four inches by three inches and weighing less than eight ounces. It has a magnification rating of 6x, and an accuracy of plus or minus three yards at a distance of one thousand yards, which is supremely accurate for the majority of common uses. The range finder comes with a detachable clip, a neck lanyard, a soft carry case, and a battery. Extra accessories can be purchased separately for the seasoned users who may require a little something extra.
I would happily recommend the Vortex Ranger 1000 to anyone in need of a new or upgraded range finder.