Crossbow hunting and target shooting are becoming popular activities among hobbyists and professionals in this modern age. If you're practicing archery, crossbow scopes are an essential tool to have whether you're on a range or hunting game.
We've compiled a list of the very best crossbow scopes available. We'll also discuss the fundamentals of crossbow scopes, including types, designs, and mounts. First, though, let's dive right into the scopes.
Why Use a Scope?
Scopes are typically used to magnify one's target to get a more precise shot and makes it easier to visualize the goal. Scopes can additionally lend aid to one's accuracy and can make for clean and quick kills so game from hunting won't suffer.
There are various kinds of scopes – or sights as some refer to them as – all with different features and functions. The archer must choose a scope that best suits their specific needs and fits their crossbow nicely.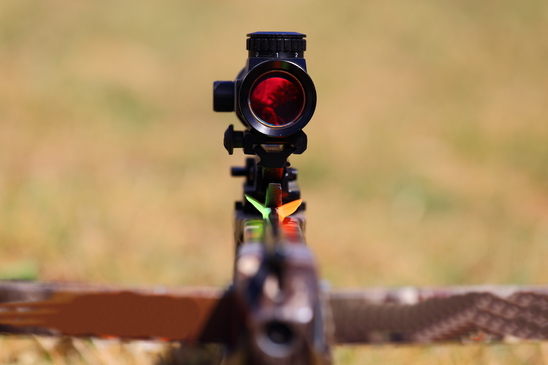 Recommended Crossbow Scopes
While there is a vast variety of scope brands to choose from, only a few make it to the top and are worth mentioning.
Excalibur Scopes
The Excalibur Twilight DLX Scope Multirange Reticle is one of a few worthy scopes from Excalibur. This one is particularly good in low light situations, and it's at its best on crossbows at 300-400 fps. This is especially true when it comes to sighting in the scope. This 1962 Scope 6X44mm 30mm tube boasts excellent durability, so it's a good option for hunters who encounter harsh conditions. Though the magnification is 6x, it offers a 50-foot range at 100 yards.
If you are serious about crossbow hunting, then this is the scope for you. To achieve more success, you need a scope capable of pulling in the maximum amount of light possible, even in low light conditions. The 44mm objective lens gathers as much light as possible and the 30mm tube allows for unobstructed light transmission.
A multiplex crosshair system allows for accurate placement within 10-yard increments and between 300 and 400 fps speeds. It also features a dual red or green reticle for low light conditions and improving accuracy.
Other Crossbow Scopes
Another worthy crossbow scope is UTG's 4×32 1″ Crossbow Scope with Pro 5-Step RGB Reticle and QD Rings. It's built on a TS platform with a 1″ tube, wide-angle lens, and parallax at 50 yards. It also includes broadband lens coating, RGB side-wheel illumination, zero-reset/locking W/E knobs, and comes with complete flip-open lens caps and UTG RQ2W1104 QD rings.
The side wheel with green/red illumination has a flexible adjustment for the most versatile weather and lighting conditions. The scope has ergonomic and precise windage and elevation adjustment turrets for a more precise shot.
Plenty favor this scope for its crystal clear glass view and effective green/red colored sight reticle, great for day or night shooting. It's pretty solid and well-built with comfortable eye relief and houses overall wonderful optics, fantastic for archers looking for an effective yet affordable scope.
This TenPoint Rangemaster Pro Illuminated Crossbow scope has an 8.25-inch aluminum scope that features variable speed and compensation settings for a crossbow between 275 and 425 FPS. You do not have to make any adjustments for distance, and the 7/8-inch scope mounting rings are included.
The reticle is etched glass and also fully multicoated. It provides 1,5 to 5x optics that reduce the loss of light transmission. The 30mm tube heightens light gathering and enhances its overall durability. You will find crystal clear images.
This crossbow scope is ideal if you truly care about the overall quality of each component making up your scope. You will also find increased versatility due to the variable optics of this scope. If you would rather not use an illuminated reticle, you can ask the manufacturer for one that is non-illuminated.
This scope is calibrated for bolts between 275 and 425 FPS, and the markers are between 20 and 60 yards. However, keep in mind with the older versions of this particular scope, there was a red ring around the lens. This red ring allowed the prey to easily spot the hunter. This red ring has been removed from this particular model.
This is a fully multicoated optical system with a BDC 60 crossbow reticle. The hand-turned 1 MOA adjustments and spring-loaded instant zero-reset turrets are among its other notable features. The NIKW9 Prostaff P3 Crossbow scope is a precision scope ideal for hunters looking to upgrade their current scope.
While it may still be considered relatively new to the market, its high performance has certainly caught the eye of seasoned hunters. When making adjustments to the scope, you can feel and hear the clicks when making those reticle adjustments. The elevation and winding turrets are also marked, making it easier to make the proper adjustments.
This scope's knob caps are made from aluminum material, so it is durable and made to last. The main tube of the scope is made from a more rugged aircraft-grade aluminum, making the scope lightweight and durable.
The scope has a multicoated optical system and BDC 60 reticle to maximize its performance. The glass is anti-reflective to ensure you have a clear, bright, and crisp image. The layers also help with light transmission and maximum brightness, working in all kinds of light conditions.
The downside to this particular crossbow scope is its fixed magnification. You cannot make any adjustments to this.
This is a high-quality scope that was made for hunting. It features a special range finding and trajectory compensating reticle. It offers 4″ eye relief and has a rubber eye guard. The fully coated lenses of this scope allow for maximum brightness, clarity, and contrast.
The TRUGLO crossbow scope has 20, 30, 40, and 50-yard crosshairs. Whenever you use the 20-yard crosshairs, you can be assured that the other yards will also be aligned. Instead of a traditional matte or black finish, this crossbow scope has a Realtree Camo finish, which adds to the concealment factor hunters are known for. It has a durable, scratch-resistant, and non-reflective finish.
The reticle of this scope uses horizontal lines to measure the target's distance so you can make more accurate last-minute adjustments. You will also find fingertip windage and elevation adjustments among its features, allowing you to make even more accurate shots.
A few downsides? This crossbow scope is known to fog up and doesn't offer as many adjustment options as some of the other crossbow scopes on our list.
Scope Design Basics
The scope is to be placed on the body of the crossbow above the trigger. An obvious component to a scope's design is the long black tube with an ocular lens eyepiece on one end and the sight on the opposite end past the eyepiece.
If the archer decided to add zooming features, there should be a power ring to be able to adjust the magnification of the sight. The elevation adjustment and windage adjustment tool can be found in the middle of the scope tube, and at the end of the scope is the objective bell where the scope's body seems to get wider and almost bell-shaped.
The objective bell is where the objective lens is contained. There are three main types of scopes an archer can choose from, including a laser sight scope, red dot sight, and reticle scope.
Types of Scopes
A laser sight scope is an alternative, most practical for when you're aiming at a moving target. The laser is meant to help the archer anticipate when the arrow will strike the objective. Laser sights can either be mounted underneath an archer's crossbow or to the scope's upper portion.
If the laser sight is used with a quality scope, it can be utilized to accurately determine midrange targets. An iron sight is another alternative and is the most basic yet durable. There can be two sights on the crossbow, with one as a post, bead, or ring in the crossbow's front and on the back of the bow perpendicular to the crossbow's line of sight.
A red dot sight scope makes a red (or sometimes green) dot that the archer can see and use to pinpoint his aim at the target. You can either get red dot sights with single style distance settings or more advanced multi-dot scopes with several distance settings; it depends on what your preferences are. Often, the red dot sight can be adjusted so it will be brighter or darker according to your liking.
A reticle scope has crosshairs that section the lens view into four parts. This type of lens scope is the most common and more traditional. The crosshairs might be etched, wired in, or lit up in the scope, depending on the model.
Scope Mount Types
When selecting a type of mount for your scope, there are the Picatinny, Dovetail, and Weaver rails to choose from. Picatinny mounts can elevate the scope by about ½ an inch above the crossbow body and is most practical if you use a red dot sight scope. "Picatinny" comes from the place of origin where the system was designed at the New Jersey-based Picatinny arsenal.
The Dovetail mount looks similar to the Picatinny mount in that it has a set of grooves running parallel that grasp onto a tiny set of ribs raised in the middle part of the scope's base. Dovetail mounts are actually the oldest used mounts, and because of a 1931 patent on the mount's design, Dovetail mounts are also known as Redfield style or Leupold style.
The Weaver rail grips onto scopes' beveled outer edge and is considered sturdier than other alternate mounts such as the Picatinny and Dovetail rails.
Crossbow scope rings are usually made out of steel or aluminum. Be sure to pay attention to the scope's accuracy, size, and range when picking the best scope for your target shooting or hunting needs, for these will be important in how your scope performs.
Most of the time, archers look for scopes that can increase their range to hit targets easier. If you're using your crossbow for hunting small game, then your scope should feature a short to mid-range distance, and it needs to fight nicely onto the scope mount while being lightweight and sturdy.
If you have something like a variable scope, which can be a bit on the heavy side, it can affect your ability to hunt and be anything but an improvement.
Terms You Should Know Before Buying a Scope
There's nothing like knowing exactly what you need to improve your crossbow's accuracy. So before deciding on the perfect scope, here are some terms you need to know and keep in mind as you're exploring the scope market.
Magnification is a basic function of a scope's features, which allows the archer to zoom in on objects from afar since the naked eye can't do it. There is a wide range of magnifications on scopes, with most of them having up to 32x maximum.
A scope's field of view is essentially the sight picture with a particular width. For example, if your target's distance is at 150 yards, the scope will give you a 15 feet wide sight. Thus, it's not only magnified, but it also provides the focal lengths of the lenses.
Usually, if the magnification is high, then the field of view will be narrow. While this feature isn't necessarily for new crossbow users who still need practice, it's very important for hunters that need to hone in on their prey, especially smaller game.
Stray light is an internal coating that disperses light that enters the scope and prevents it from reflecting off the scope's metal. Overall, this helps you achieve the clearest sight of the goal.
Eye relief is simply the space between your eye and the eyepiece lens. It prevents any accidents that may happen to your eye while shooting, such as the lens bumping into your eye if your crossbow has a bit of kickback.
The length refers to the distance from the edge of the objective lens up to the back edge of the eyepiece. As a rule of thumb to remember, the longer the scopes measure to be, the greater the magnification will be, but it will also be heavier. Depending on your preference, the magnification will vary if you like lightweight scopes versus heavier scopes.
The center tube diameter lets you know the size of the scope's rings and the base of the scope.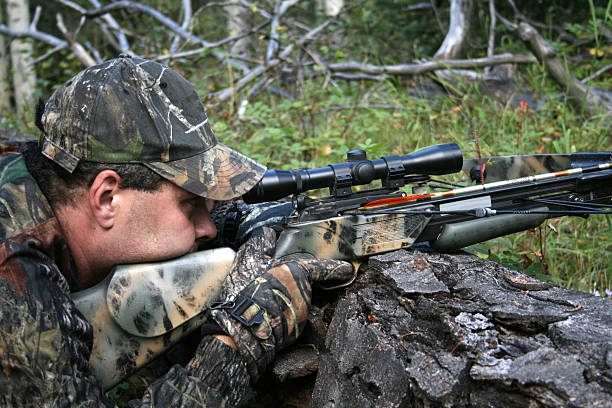 Questions to Ask Before You Buy
When browsing for the perfect scope, here are some questions you may want to ask yourself to make sure the scope fits your needs.
Does the scope fit your budget?
Typically, the pricier a scope, the more features it has and the better it performs. Cheaper scopes come with more standard and basic features and don't have as many advanced settings such as higher magnification or illuminated sights.
What is your purpose for buying a scope?
Believe it or not, this matters very much, for it can affect how you perform whether you're just a hobbyist archer or a serious hunter. If you spend most of your time at a shooting range, then perhaps a red dot sight scope or reticle scope would be most ideal.
If you like to hunt game, then a red dot or a laser scope could serve you well. Laser scopes are especially great for moving targets, as mentioned before.
Is it easy to sight in with the scope?
If you're familiar with sighting in, you'd know how irritating it is if you have a scope that takes dozens of tries to adequately sight in on your target. You won't have this issue if you get a quality scope.
Is the scope waterproof, fog proof, and shockproof?
These qualities are important if you're shooting in different weather situations, as they will help you get a more accurate shot and prevent any inconveniences.
Is the scope made of durable material?
Depending on the scope you choose, it could last from a couple of months to up to 10 years. Most scopes are made of aluminum alloy, while others are made of less durable material.
Those who own crossbows all have different priorities regarding how they use it and what they use it for. Some like red dot sight scopes, others may prefer the traditional cross sight or laser sight, and some like more lightweight scopes compared to heavier scopes.
If the best crossbow scope you ultimately pick can provide you with easy visualization of your target, magnify for a better view of your prey, give you quick and humane kills when hunting, and offer features that serve all of your specific needs.
Click here to see the full selection of crossbow scopes.
Best Crossbow Scope FAQ
Still have questions? Let's shed some more light on the best crossbow scope and how to find it.
What features make a crossbow scope good?
A good crossbow scope will have multicoated lenses designed to allow maximum light to flow through. This helps you see your target clearly, no matter the distance. You also want a crossbow scope that is nitrogen-filled to prevent early morning dew from fogging up and clouding the lenses.
How do you properly use a crossbow scope?
To properly use a crossbow scope, locate the adjustment mechanisms on the scope, including the windage adjustment and elevation adjustment. Beginning at 10 yards from the target, see if the scope is properly installed. You can then make small adjustments as necessary in the windage and elevation mechanisms so you can consistently hit your target.
Move 20 yards from the target and shoot three arrows. You can't permanently adjust your scope until this is done. You can then choose a base distance for your dot or top reticle. The base distance is whatever you choose. Continue to shoot your target, making proper adjustments. Once you can consistently hit your target, you can shoot knowing that the dots or reticle indicate.
What do the lines mean on your crossbow scope?
The closer your crossbow shoots to the speed, the closer each of the lines or dots on the scope will represent accurate distances of 20, 30, and 40 yards. Your crossbow will shoot high if the lines are not properly aligned. To adjust the sight, follow what is known as the Follow the Arrow rule. If your arrows hit to the right of the target, move the pin to the right. If the arrows hit higher than you want, then move the pin up.
What are the benefits of using the best crossbow scope?
A crossbow scope is good if you need a higher level of accuracy when shooting. The scope allows you to aim at your target before taking your shot, allowing for quick target sighting.
What differentiates a crossbow scope from a riflescope?
A crossbow scope and riflescope are designed to work similarly to each other; however, there are still notable differences. The magnification power for each is one of the biggest differences. Rifles are more for long-range shooting at distances of 100 yards or more. Scopes for rifles have variable magnification for both viewing and shooting short-range and long-range targets.
Crossbows are shot at much shorter ranges, so the magnification isn't as great as it is for a riflescope. The optimal magnification for a crossbow scope is 1x and 4x.
The objective lens is also larger on a riflescope. The bigger the objective lens, the more light that is allowed through. Crossbow scopes are limited to 40mm.
Another difference is the recoil. The direction of the recoil for a crossbow is opposite to that of a rifle. So, using a riflescope on a crossbow isn't typically recommended.