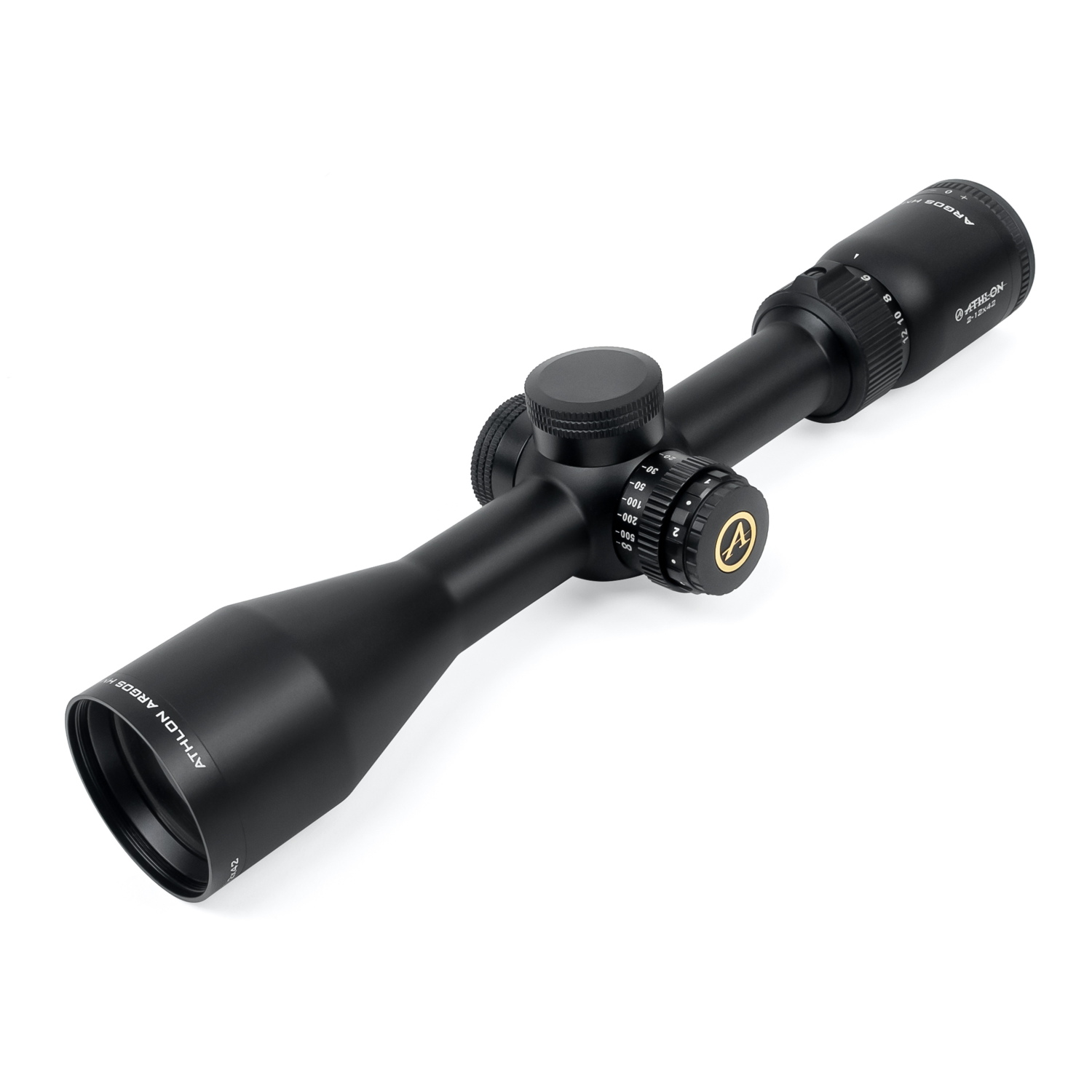 I've tested a lot of Athlon's binoculars over the last few years, as well as recently a spotting scope and a red dot sight. However, I hadn't gotten ahold of one of their rifle scopes until just recently, and boy was I looking forward to putting it through the paces. Athlon is very proud of their riflescopes, and rightly so. That seems to be the area where they focus most of their energy, and customer reviews have been excellent on every scope I've looked at. So when they sent me their new Argos HMR 2-12x42mm, I was beyond stoked to test it out (and not only because it gave me an excuse to buy another hunting rifle).
The scope they sent me has the illuminated BDC 600A reticle in it, which is a fantastic reticle. In most of my guns I run a standard duplex type reticle, sometimes with re settable elevation turrets. However, such turrets are notoriously unreliable, and though I've never had any problems yet, I've always been tempted to try something like what this Athlon scope has. The various marks are set up to be your holds for 100-600 yards. Athlon advertises it working with a wide variety of calibers. I put this scope on a new 6.5 Creedmore Tikka Superlight, which of course shoots very flat, and the reticle isn't perfectly dialed for it. However, it will work great for me with a 200 yard zero, with the next holds down being for 250, 325, and 415. Those are great holds for my purposes of hunting deer and elk. The illumination is also a great feature that really helps the reticle stand out. I initially had a difficult time getting focused when I first started shooting thanks to how thin the reticle is, however once I got the parallax and focus adjusted it worked great, and the illumination makes it that much better! The thin reticle of course is ideal for taking longer shots. My only complaint is that the reticle light dial is a little bit tough to move. It's possible that it will loosen up with use, but I could imagine it being tough to work in the cold when my fingers are numb.
This scope has a zoom of 2-12 power. What's especially impressive here is that low end 2 power. The most common scope I see is a 3.9 power, so this scope not only has the ability to zoom in further, but also the ability to zoom OUT further, which can be instrumental when hunting in close quarters. It's rare I see a scope that has that low of a minimum zoom, and I totally love it. The 42mm objective lens is also great, it keeps the scope light which is perfect for hunting purposes.
Zeroing and adjusting the scope was a breeze. I mounted it using a scope mounting kit and Talley one piece alluminum rings, which I highly recommend to create a bombproof seal between the scope and rifle. The first shots at 50 yards were almost dead on without any adjustment. After dialing in there, I went to 100 and then finally 200 to get totally zeroed in. The scope has easy to use 1/4 MOA clicks on large adjustment rings. They are also covered with screw on caps, which is by far my preferred style of scope adjustments unless you want a resettable elevation turret. I know this scope will stand up to the elements and abuses of hunting without any danger of it losing its zero.
The glass in this scope is excellent, and meets the standards of what I would expect for a scope in this price range. It doesn't compare to something like a highend Nightforce or Schmidt & Bender, but of course it also costs a tenth of what those scopes do, and I wouldn't dare bring something like that into the field. This scope definitely is in that sweet spot where it is a nice enough setup to do everything I need it to in the field, but it doesn't cost so much that I feel like I need to bubble wrap the whole thing before I step out my door.
Overall, I was very impressed with this scope. I didn't get to test out the long range holds built into the reticle yet as the ammo shortage limited my range time, but I'm looking forward to testing it more and then carrying it on some hunts in the near future! If you want to check out this scope, take a look at it on Amazon here.