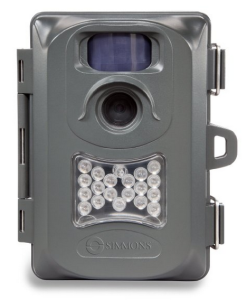 Ever wondered what goes on after dark or whether your favorite hunting spot is seeing any action after sunset or are you just wasting your time and need to move on? You can't be there 24/7 to see what's happening, or can you? If you have a Simmons Whitetail Trail Camera with night vision you can, and with multiple models to choose from, there is one for every budget.
Priced in the $100 range this model has three settings to choose from for video capture – 3MP, 5MP, or 7MP – all with full color resolution and high-quality 640×480 images in daylight and black and white in night vision. Still photos can be taken in either two megapixels or four megapixels. The motion activated sensor has a range of 25 feet in daylight and up to 30 feet after dark, and the infrared LED night vision sensors are barely noticeable to avoid spooking game while filming.
The Simmons trail cam operates on four AA batteries, has up to six months of battery life and can store 32 GB of data on a user-supplied SD card, holding thousands of still pictures, and expanding your recording time to about 30 days before you need to download the images and reset the SD card; buying two cards will allow you to simply swap and leave. The less time you spend in the area, the less you spread your scent so game is not spooked. The camera is light-weight, needs no additional mounting box, comes with box and strap to mount as is, and it is easy to set up (even without reading the directions) unlike other cameras you may have used before so you are ready in a hurry to "see" what is going on when you can't be there. The four MP camera gives a clear image and the motion activated sensor can capture a moving target in stills or video.
This camera also offers a time and date stamp to allow more accuracy when plotting game movement, tracking certain individual animals, and observing the nocturnal habits of the area game, such as the time of evening with the most activity. This allows you to track exactly how early game is on the move, so you can plan your days with more precision knowing when the local animals will begin to move before the area is fully dark.
There are some issues with delay in the motion sensor, which can be up to five seconds, and will sometimes cause the camera to miss the target, especially small animals so it returns pictures of the landscape only in that case. Some fine tuning on the capture area may help to correct issues with animals moving out of range before the picture is taken, but this is by far the biggest user issue, although most were perfectly happy with the camera as-is with no mention of delay issues.
While the battery power is good, some of the added features over more basic cameras can cause a faster battery drain. To compensate for this, you may want to upgrade to lithium or rechargeable batteries, instead of regular. Keep in mind that you get what you pay for, meaning you have to decide what features to splurge on and which to scrimp. In the case of the Simmons trail cam, the budget-friendly pricing is the main selling point in consideration of what you want a trail cam to do. This one gives very good value for the price, meaning if fast, super-sharp professional quality images are what you are looking for you may have to upgrade and spend more, but this one will satisfy a large number of owners who do not want to invest a large sum of money to take usable images.
Even though the trail camera is designed to capture images of game animals, you can use it for spying day or night for any reason. The product has been used to capture the nocturnal activities of indoor cats related to a behavior issue or as an inexpensive home security camera. Some users have simply set one up to see what kind of critters are roaming the backyard at night and causing problems such as foxes or dogs killing chickens or other animals.
If you desire a bit more resolution in your pictures, go for the 6 MP trail camera. It offers either 5 or 6 megapixel 640×480 videos. It has all of the functions of the 4 MP trail camera with a bit sharper images and for just a little more money it's still a great value.
All of the major trail camera ranking sites include the Simmons trail cam in comparison to others where it scores high marks for affordability, ease of use and battery life. For the beginner or even the experienced videographer, this trail cam is worth a second look.