While some low-profile cameras can be used for home and business security as well as in the wilderness, others are designed especially for trail use. Such is the case with the Stealth Cam STC-P12 6.0 Megapixel Digital Scouting Camera. If you are looking for a camera to do reconnaissance work to help you set up a duck blind or deer stand, you may have considered this model. Read on to learn more about the Stealth Cam STC-P12's specifications, features and most importantly, what its users have to say about it.
Stealth Cam STC-P12 Specifications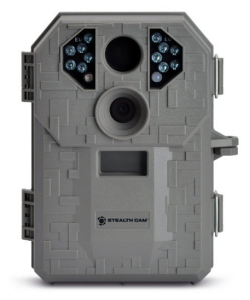 The camera measures 6 x 4.8 x 2.2 inches. It takes both still images and video footage and stores them on a standard SD card, which is sold separately. It also offers mini USB output, for users who want to, for example, look at images on a laptop in the field without removing the SD card. There is no viewing screen on the camera. Photos are stamped with the time, the date and the phase of the moon and are color when taken during the day, black and white at night.
The STC-P12 operates on 8 AA batteries, sold separately, and is equipped with a low-battery indicator. A port on the bottom side of the camera also allows users to attach a 12-volt battery pack if desired for longer operation without the need to change batteries.
It has a 50-foot detection range and offers 6.0-megapixel resolution on its images. Nighttime images are taken using infrared technology, and there is no flash.
Features of the Stealth Cam STC-P12
The Stealth Cam, with its tree bark casing is relatively unobtrusive when mounted in the wild. Animals are not disturbed by its presence nor by its operation. Humans, however, may notice the infrared light glow when the camera is activated at night or the subtle LCD status display, and it is therefore not an ideal security camera to catch vandals or intruders.
There is a 1/4 x 20 screw hole on the bottom of the camera for tripod mounting, or it can be attached to a tree with the included strap. A lock is suggested if leaving the camera unattended in areas where it may be subject to theft. The STC-P12 is weather resistant but not suitable for submersion in water.
Video recordings on this trail camera are 15 seconds in length. In "Burst Mode," the camera can capture one to six images per triggering event with adjustable recovery times between image captures.
What the Users Say About This Model
Even though the Stealth Cam STC-P12 is a relatively older model, its low price point at under $100 makes this camera attractive for people who want to get their feet wet with trail cameras or for those who may be worried about theft of a higher priced model.
Regular users recommend getting the best SD card available, up to 32 gigabytes, for long-term use and the best quality, fastest photos. Viewing the photos in the field can best be accomplished by either connecting the camera to a laptop via the mini USB port, for which a separate cable would be needed and may be unwieldy in a wilderness setting, or by removing the SD card and inserting it in a conventional camera. Use of the SD card with a home computer requires an SD card reader.
The trigger time with the STC-P12 can be a bit slow compared to other newer and more expensive trail cameras. Daytime photos are crisper than night images. Users report the camera captures true to its indicated range, and it will also produce good images of animals within a few feet of the lens. Some users enjoy this camera for getting covert images of the birds at their feeders, while others have found it useful for catching yard critters and neighbors' intrusive pets.
Setting up the camera is fairly easy, and the preset options make this model basically a plug-and-play device out of the box. There is no software needed to manage the camera's images, so this model is usable by both PC and Mac owners, and as mentioned above, the SD card could simply be viewed on another camera with a viewing screen. Custom configurations may be a bit trickier to get right, so it is advisable to test out these settings first to ensure they are to your specifications.
All in all, the Stealth Cam STC-P12 6.0 Megapixel Digital Scouting Camera makes for a solid entrance into the trail camera world. With a low price point and extreme ease of use, many would-be trail cam users find the barrier to entry removed for advance game scouting. Also, at under $100, many users find it feasible to purchase multiples of the same model to position in different areas to compare results. If you're seeking a camera that can double up as a security camera, you'd do better looking elsewhere, but the Stealth Cam STC-P12 should be a definite contender for reasonably priced, user-friendly trail cameras.