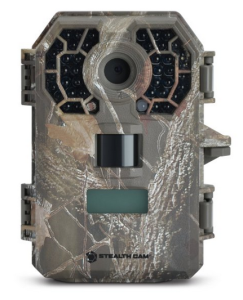 When it comes to expressing opinions about pricey camera equipment designed primarily to capture images of wildlife, consumers are not shy, which is why the introduction of the Stealth Cam G42 No-Glo Trail Game Camera was met with a mix of hope and skepticism. As sales increased, it was hard not to notice the balance of good v. bad reviews, many of them extreme, which is why one rave review grabbed our attention: A veteran wildlife photographer bought and used 20 G42s for an extended Central American assignment and raved about his experience so glowingly, we wondered if he was using the same model bashed by others. If you're considering this camera, avoid buyer's remorse by doing your homework before making a buying decision.
Features
Where to begin? How about with the TRIAD® 10.0 Megapixel with 4 resolution settings: 10mp, 8mp, 4mp and 2mp. HD Video recording features extend from 5 to 180 seconds with audio capacity, and the camera's time lapse function features PIR Override capability. Engineered with 42 "black" IR transmitters to cover 100-feet of terrain, you can expect the G42 to deliver one to nine images per triggering in burst mode. Recovery time runs from zero to 59 seconds and the external LCD feature displays all of the data you need to tag images with time, date, moon phase and temperature. The G42 camera housing is durable and weather proof and the SD card slot accepts up to 32GB cards. There's a USB output portal and the camera also offers an external power jack. This camera requires eight AA batteries.
Benefits
For wildlife photographers in need of surreptitious performance, the G42 has been shown to operate as stealthfully as its name, so you won't wind up with blurry photos of deer spooked by shutter flashes. The trigger time is fast at 0.5 seconds and for equipment designed specifically to capture motion, blurring is kept to a minimum. Photos snapped during the day are sharp and detailed, so if you have had issues with false triggers in the past, this camera could be your solution to that maddening issue. When compared to older low-glow stealth cameras, the G42's glow flash has been called "one of the best on the market," even when compared to high-profile competitors like comparable Bushnell equipment. Little things mean a lot, which is why owners love the generic icon generated each time the camera saves a file, so you won't have to click every file to spot the image you seek.
Pros
Photographers who spend endless days searching for the highest quality equipment on the market are delighted to find that the price tag attached to the G42 is affordable, especially if you consider the number of features that come standard with this camera–and the quality of the photos themselves. Case construction is excellent, solid and everything about the camera's workmanship is lauded by happy users. Ambient noise associated with this camera is, for all practical purposes, undetectable. If you find set-up times to be annoying in general, this alone could convince you to choose the G42 over others since set up time is fast and easy, even for those who admit to being all thumbs. Weather extremes test a camera, and reports from satisfied users point to high functionality in 100-degree heat, dust and even torrential rains.
Cons
The main complaints coming from those who returned their G42s tend to revolve around external factors rather than the camera itself. Reports that the G42 battery compartment showed signs of rusting after only a few months are infrequent, but battery selection dominates complaints. Owners using cheap AA batteries to power their cameras claim they die fast and leave photographers in the lurch, which is why name-brand alkaline or lithium batteries are recommended. Your likely response is, "How about rechargeable batteries?" Experienced wildlife photographers say that their frustration levels reached maximum capacity when they tried using rechargeables because, in their experience, they don't hold up at night or in low light. Want to keep your blood pressure in check? Follow the lead of satisfied G42 owners by avoiding rechargables and relying upon high-quality branded batteries. Additionally, be aware of the fact that memory card issues have also plagued G42 users. This camera best supports two brands of memory card: SanDisk and PNY. By using a full size, type 10 card (not a macro), transfer rates should be fast and photos of excellent quality if you stick to these two card brands.
Conclusions
Knowing up front that the biggest threats to your sanity, should you decide to buy a G42, are likely to be batteries and memory cards–and given the fact that experienced wildlife photographers are generally happy with their purchases–your decision to buy one may be an easy one, particularly if you're on a budget and want the best quality at the lowest price point. There have been the usual number of complaints associated with customer service issues surrounding purchases, but since this has nothing to do with the camera itself, apply due diligence by choosing a reputable seller and you can check that off your list. In general, about 60-percent of buyers report being delighted by their G42 purchases and another 25-percent are happy with theirs, so odds are in your favor that if you address battery and card issues up front you will be favorably disposed to join this community of satisfied purchasers.