If you're feeling bold, then perhaps you are willing to take the leap straight from the Vixen Space Eye to the StarBlast 4.5. This telescope is widely considered to be excellent entry-level telescope after a children's. Apart from its name, which gives some credit to its capabilities, the StarBlast is manufactured by Orion Telescopes and Binoculars, who specialize in making high-tech viewing equipment.
Most users have reviewed the StarBlast positively by saying how easy it was to set up, and how quickly they were able to start stargazing.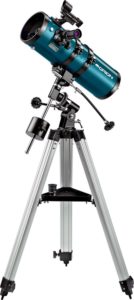 What's the difference between the StarBlast and similar user-friendly telescopes?
Range and View
The StarBlast is a reflector telescope, featuring a wide body and a small aperture over a sixty-six-degree angle.
What does that mean?
The telescope will be able to include more objects in its field (and more for you to view) while still retaining the power to see things so far away it's almost unbelievable. Sure, we may see the various planets in our solar system and glimpse stars and nebulas outside of it, but what about the Andromeda galaxy, our closest neighbor?
That's right, the StarBlast has the jaw-dropping power to see objects outside our galaxy, and it can be yours for under two-hundred dollars.
Optics
The power to see those objects requires incredibly intricate and advanced optics, hence the hefty price. However, the quality of such views and the pictures you take will be unmatched by almost any telescope in this price range.  Two eyepieces come with the telescope—a 15mm and a 6mm and a maximum magnification of being 75 times the original setting when using the 6mm eyepiece.
Handling
The StarBlast weighs more than the other telescopes we've reviewed—close to twenty pounds. It isn't too difficult to move if you're a burly adult or teenager. However, the size of the tripod and the large body of the StarBlast are not to be underestimated when children are near. While it may be an easy telescope to use, it's handling is another criteria altogether.
The EQ-1 mount introduces slow-motion controls to the telescope market, making the tracking of celestial objects easier without the need of advanced computer systems that raise the price of more sophisticated telescopes.
Overall
We found it incredibly difficult to find bad things to say about this extraordinary telescope. There's no doubt that the optics are extremely delicate, so you have to be careful during the initial assembly. The opportunity to view objects outside our solar system is well worth the couple hundred required to obtain the StarBlast.