We had a few people ask about a brand that was making the rounds on Google, so we decided to check them out: the Eagle Eye Z100 Binoculars
This brand invested a ton in advertising earlier this month, so they received quite a bit of attention with their flashy website. When we purchased our pair, the website itself was doing even more than it is currently — there were countdown clocks and flashing signs urging us to buy now before the price goes up, and buy right now before they're all sold out.
This type of advertising can be a bit manipulative, so we weren't big fans right off the bat. I went looking for some reviews online to see if anyone reputable had tried these out yet. Unfortunately, the only reviews available are obviously fake.
The site claims that they've been featured on major media outlets (thus, they are now almost sold out). I have been unable to find Eagle Eye Z100 on any of those outlets they claim.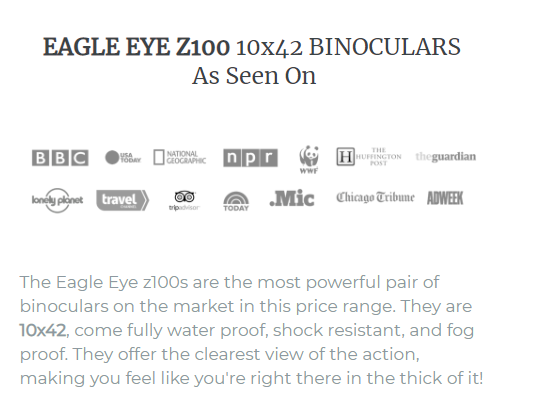 On one of the landing pages, too, the design mimics Amazon review layouts, so it gives the impression that there are many 5 star reviews (and probably on Amazon). These are not available on Amazon, so any of these reviews would come from somewhere else.
Despite our misgivings about the practices of this brand, we took a chance and ordered anyway, paying around $100 plus $9 for shipping. The website and ordering process assured us they would ship within 7 days.
Two weeks after ordering, I emailed back and asked about the order as we never got a shipping confirmation and they had not yet arrived. No one responded, so we planned to file a chargeback through the credit card company. A week later, they arrived, having been shipped priority 2-day from a fulfillment place in Georgia. (And they never did respond to my email!)
As you can see, the packaging is completely generic. The company's logo does appear on the top, but nowhere else. It's pretty easy to tell when a pair of binos is generic simply by looking at the focus knob — if there is no logo there, the brand likely bought in bulk and slapped a small logo sticker on.
Additionally, there's a very generic manual that does little to explain how to use the binos, and there is no information anywhere about specs.
These kinds of binoculars do not have ED (extra-low dispersion) HD glass, which is what you want in a good pair of binos. The focus knob on the pair we got is very loose, which makes it much harder to focus.
The Eagle Eye Z100 website claims that these are "completely waterproof," which is likely incorrect. First, no optics can ever be completely waterproof — they are typically weatherproof or water resistant. It's highly unlikely that this pair has gone through additional waterproofing to ensure they are "completely" waterproof (so don't drop them in the tub!)
The body looks nice and feels hefty when you hold it, so, aside from the generic focus knob, they seem fine in person. As far as sizing, these are fairly compact but seem pretty heavy.
I was able to get a fairly clear view when I tried them out, but that loose knob is finicky. The lenses are nothing extraordinary, so I'd say these are on par with most inexpensive binoculars we've tried out.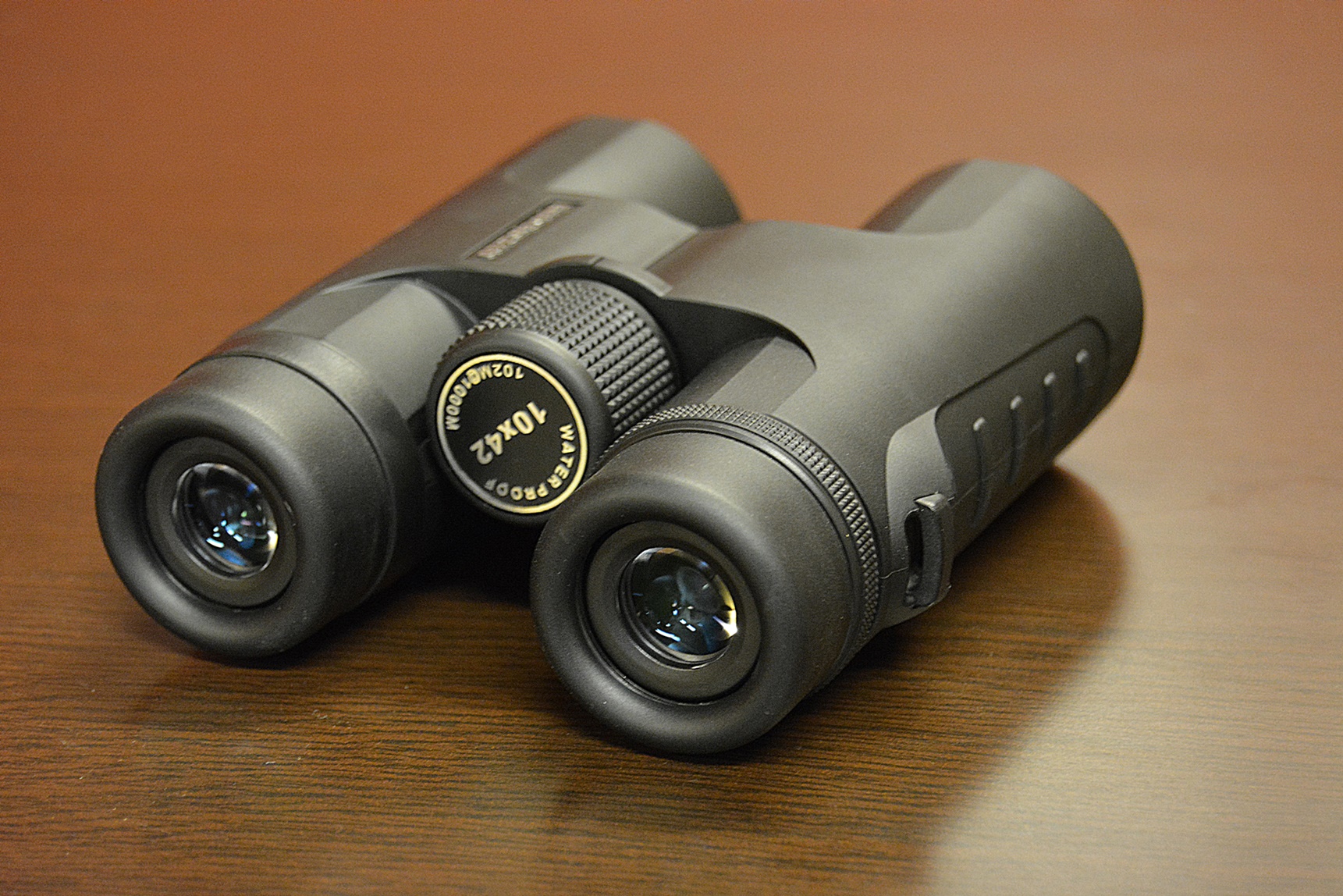 Should you buy the Eagle Eye Z100?
We did not have a great experience with purchasing the binoculars, and overall the operation is very suspicious. The manipulative advertising isn't professional, and the fake reviews and problematic ads are likely to get the company in trouble with search engines.
We'll give these a more rigorous test next time we go out in the field, but we wanted to share our initial impressions as soon as possible. Because these are so generic, there's just not anything out of the ordinary about the binos given our experience testing out so many different pairs over the years.
The $100 price tag (after all their pop-ups and extra special discounts) isn't terrible, but I'm not convinced it's worth the risk for this particular pair. The $300 list price the company claims is very unlikely to be true — these are simply not $300 binoculars. You can get a pair that is equally as good (if not better) for the same price elsewhere. We'll keep an eye on this brand, but for now, we just can't recommend them.