The .30-06 cartridge was first introduced to the United States military in 1906 to replace the .30-03 rimless service round. It was developed to satisfy the necessity for lighter-weight, higher velocity, service rounds with pointed (spitzer) bullets, and was used for seven decades after that.
Today the .30-06 is one of the most popular hunting and sporting cartridges in the world – and for a good reason. As a target round, this one is handy, reasonably priced, and accurate. As a hunting cartridge, it is moderate enough in recoil to be used by even the most inexperienced hunters, and flexible enough to cover the vast spectrum of North American game species: from varmints to mid-sized and large game.
It is only logical that a caliber with as much versatility and performance as the .30-06 should be mated to an excellent scope. Failure to do so not only limits its functionality but also affects your user experience. It does not take an expert to know that you cannot randomly pair a rifle with any scope and achieve the best results. Yes, you might hit your target; but with as much effort as it takes to eat soup using a fork.
So, esteemed shooters, that brings us to the trillion dollar question: Which are the best scopes for the .30-06? Reading this article shows that you have found out, in one way or the other, how difficult it is to find the right scope for this traditional, yet grand scope. You see, a caliber this popular ordinarily has a surfeit of scopes out on the market that is compatible with it, if not made directly for it.
What to Look For
But you should not give up just yet. Because, though there is not one scope that we can name as the overall winner, there is certainly one that will be a perfect fit for you. Just as each hunter's needs differ from those of the next, so are each scope's characteristics. Manufacturers have tried, and still, are trying, but they have not yet found a way to build a single scope that will cover everything. Therefore we will evaluate the ones that come close enough and leave it to you to choose the one that suits you best. But before we do that, it is imperative that you first understand how your new sight will work. So – with much apologies to the pros – I will give you a crash course on the front-to-back basics of the scope, and the standard terminology used before I start hitting you with big words.
Here are the scope basics from front-to-back:
The objective lens is the front glass, and its size is directly proportional to both the field of view and amount of light transmitted.
The scope body also known as the tube is usually one inch or 30mm in length. You should ensure that the rings that hold the tube in place are of the same size as the tube.
Adjustment knobs change the windage and elevation of the scope – although some larger magnifications feature parallax adjustment as well. Standard is one click changes impact ¼" at 100 yards. They can be adjusted using finger pressure, a flat-tip screwdriver, or turrets.
The eyepiece, the focus knob, and the magnification adjustment make up the rear.
The reticle is the series of fine lines in the eyepiece used as a measuring scale. Some are battery-powered.
It will also not hurt to know a few of the terms used:
Single or fixed power means that the scope's power cannot be adjusted while variable power means the opposite.
Objective size is the size of the objective lens. The larger it is, the bulkier the scope usually is.
Lens coatings repel water and block some wavelengths. They determine how much reflection you might experience.
A charged scope is one that has been filled with nitrogen or oxygen to keep out fog r moisture.
Top Scopes for the .30-06 Caliber
You might have heard of the old thumb rule which states that you should only buy a scope that costs more than half as much as your rifle. I beg to differ with that line of thinking. Most experts out there and I believe that price should only be a factor if you are on a budget. That is because there are cheaper brands that work as well as pricier ones, just as there are expensive ones that ride on brand name but offer very little functionality.
Here is our list of the best scopes for your rifle in no particular order.
Though one of the newest companies in the scope and optics industry, Vortex has not only proven to be worth their salt but are giving the bigger names a run for their money. The Vortex Diamondback (HP) 4-12×40 is no exception. For starters, it is equipped with an array of high-quality features that you will not find in some of the pricier comparisons.
The 40mm lens is made of XD extra-low dispersion glass to increase resolution to the already large field of view. Its XR multi-coated lens maximizes light transmission and reduces reflection to give you a squint less and glare less hunting experience. The 4-12x magnification allows you to push your rifle to its limit at ranges above 1000 yards.
As is the case with most rising stars, Vortex strives to produce the highest quality products in a bid to establish itself and cement its position in the industry. The Diamondback is rugged, to say the least, and the HP in its name is an acronym for "High Performance," and it shows for it. Click here to see it.
From the state of Oregon comes the Leupold VX-2, an all American scope for a genuinely American caliber. Leupold's seven-decade experience in scope-building is reflected in the VX-2's ruggedness and excellent material quality. And as if to flaunt its superiority, Leupold provides a lifetime warranty for an almost indestructible product.
Leupold goes green with the Index Matched Lens system with lead-free glass and edge blackened lenses. The result is an environment-friendly scope with best-in-class clarity. Waterproof and argon-filled to prevent fogging, it enables you to enjoy your rifle in any weather. What's more, zeroing has been made much quicker and more precise with the finger adjustable 1/4 MOA click windage and elevation adjustments.
The ergonomic eye piece now features a fast focus that eliminates the need to adjust a lock ring every time you want to change focus. The Leupold VX-2 is a functional and reliable scope that will not disappoint. Click here to see it.
Nikon ProStaff 4-12×40's two-hundred-dollar-ish price tag is a surprise to many seeing how fully loaded it is. A perfect blend of ruggedness and aesthetics, this sight, will satisfy even the most demanding hunters and shooters. The finger adjustable turrets of the Prostaff 4-12×40 can be quickly reset to zero allowing for quick adjustments in the field.
Hunting in the most undesirable conditions is made possible by the nitrogen-purged, O-ring sealed tube and the sun shade adjustable lens. Brilliant sight picture and versatile magnification range come in handy in any hunting situation, from heavy timber to the open prairies.
Multicoated lenses increase light transmission up to 98%, and precise hand-turn 1/4-MOA click adjustments get you zoned in quicker. Nikon's patented BDC reticle gives you an advantage at long distances but still provides normal sight picture for shorter-range shots while the crosshair itself is the aiming point.
Although recoil is not much of an issue with the .30-06, the Prostaff 4-12×40 still offers generous and consistent eye relief. Nikon Prostaff Rifle Scopes include a lifetime factory warranty. Click here to see it.
The Nikon Buckmaster 3-9×40 is what you get when Nikon, a premium lens maker, and Buckmaster, a top-class scope builder, team up. Buckmaster riflescopes constitute Nikon's medium priced line, and the 3-9x40mm model is the most popular of them all. Nikon itself describes this scope as a: "Classic variable, excellent for game hunting from deer to varmints."
The Buckmaster is Nitrogen-filled, and O-ring sealed for waterproofing and fog proofing purposes. The Nicoplex reticle, a better copy of the famous Leupold Duplex, is standard on the 3-9x40mm.
The multi-coated 40mm objective lens allows nearly one hundred percent light transmission, making this the right scope for dawn or dusk hunting. 3.6″ of eye relief is enough to protect you while still offering plenty of field of view throughout the magnification range. With a lifetime warranty sweetening the deal, this scope competes with others that double the price. Click here to see it.
Here comes another Leupold, and it is almost identical to its VX-2 sibling save for its slightly lower lens quality and optical clarity. The 3-9x50mm is considered the best of the VX-I models because it offers you more magnification range and larger objective lenses than the others.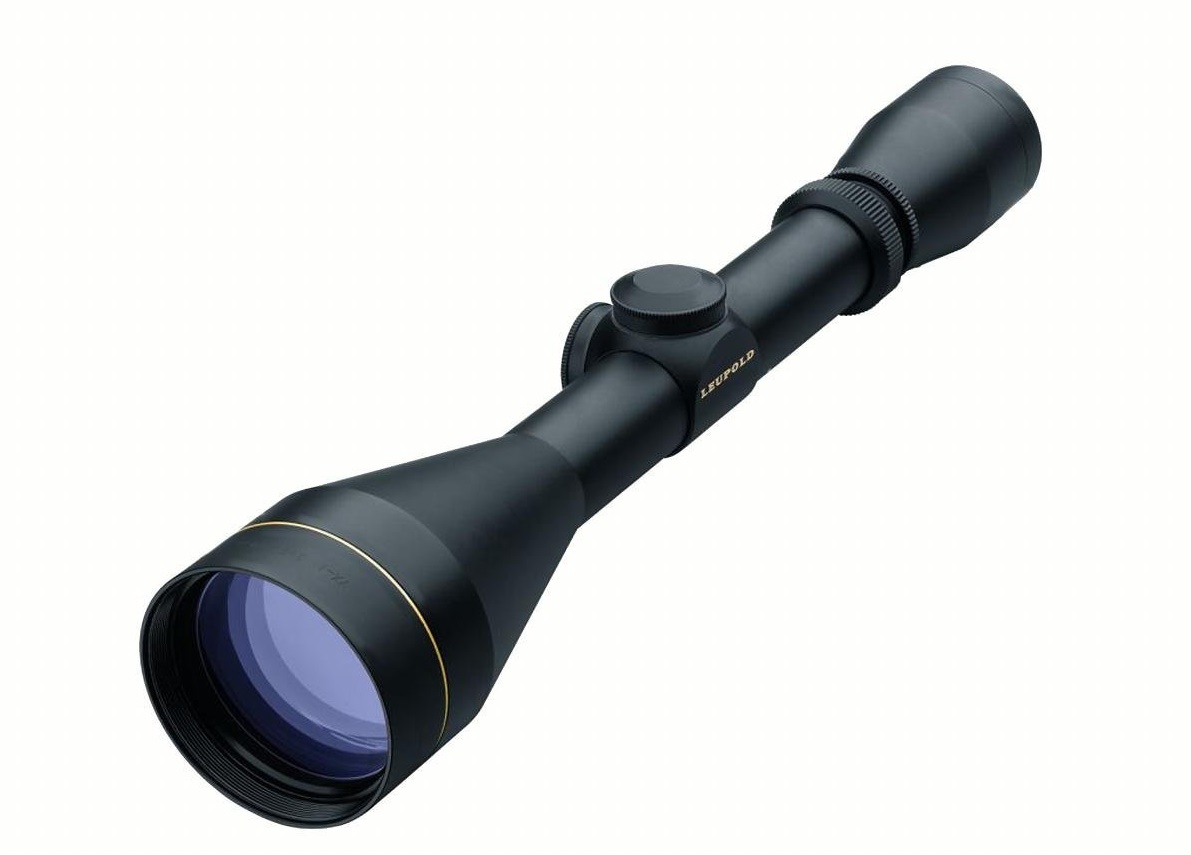 Shooting at distances of about 400 to 500 yards is a bargain for its price and an objective lens of 50mm makes this possible even in dim conditions. The VX-I 3-9x50mm guarantees professional performance on an amateur's budget and will revolutionize your next hunt.
Expectedly, VX-I 3-9x50mm shares the same ruggedness and reliability with its siblings. Likewise, it is offered with a lifetime warranty. Click here to see it.
You may wonder why I have decided to include the Nikon ProStaff 3-9×40 while its overall specs are almost similar to those of both the Buckmaster and the ProStaff 4-12×40. I was also reluctant until I realized two important things: the ProStaff 3-9×40 is one of the best-reviewed riflescopes on the market, and it strikes a balance between the other two. It has earned notoriety for its capabilities in deer hunting, especially in thick cover. It is also very useful at short ranges and is the scope of choice for stealth hunters.
Multi-coated, multi-colored, and layered with anti-reflective compound, the optical system is made for high performance and efficiency. Similar to the ProStaff 4-12×40, its patented BDC enables you to adjust the bullet drop to up to 600 yards and allows you to stay and hold 'dead-on' at various ranges. The crosshair plays as the aiming point for close range shooting and the parallax setting increases the scope's precision.
It is suitably fog proof, shock proof, and waterproof, given that it is Nitrogen-filled and O-ring sealed. Its simplicity makes it perfect for beginners, and its light weight is ideal for situations that call for speed.
This is the right alternative if you are after a scope that will fulfill your hunting and shooting needs with as little complication as possible. Click here to see it.
Not many experts would have expected the Simmons 8 Point Truplex to make it to this list, but I dared to include it. Now this is for those of you that are not afraid to explore the roads less traveled – and well, to save a few bucks in the process. As easy on the wallet as it is on the eye, the 8-Point riflescope offers more high-quality features than any other in its class.
Fully coated optics ensure a brighter, higher contrast image while the 1/4-MOA SureGrip audible click windage and elevation adjustments allow for fast and effortless changes. The 50mm objective lens is more than generous for its price range, but hey, no one is complaining. 3-9 power magnification at its best, this waterproof, fog proof, and recoil proof scope will offer you more than you bargained for – literally. Click here to see it.