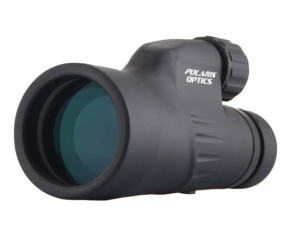 A great alternative to a conventional set of binoculars is a small scope designed to produce magnification like a binocular but only requires a single eye like a telescope, called a monocular. Like a telescope, a monocular has a single viewing lens and body. Like binoculars, a monocular utilizes lenses and prisms to reflect light and magnify an image. When choosing to purchase a monocular, make sure to consider the range of factors that fit your intended purpose, budget, and needs. Here are five things to consider before choosing the right monocular for you:
Purpose of the Monocular
Whatever your viewing requirements may be for your next professional and recreational activity, there is a monocular for you. If you plan to be around water during your sailing or canoeing adventures, then a waterproof and fogproof monocular will protect your unit from the natural environment. Will darkness be an issue? No problem. Choose a night vision monocular with a sophisticated Infrared illuminator to allow night vision capability for your hunting for camping trips.
Magnification
While magnification levels are generally higher in a telescope, and viewing depth is generally greater in binoculars, a monocular is suitable for situations that require a lightweight and compact device. The magnification of a monocular is how much larger the viewed image is enlarged over normal and is indicated by the first number of the optical specification, as in the 12 in "12×50." (The second number is discussed below.) Lower magnifications ensure that the zoom on the object is minimized and field of view is maximized. As the magnification increases, the field of view becomes smaller. Here are the advantages to both lower and larger levels of magnification.
6x and below – These lower magnifications will keep the object smaller and are suitable for viewing wide landscapes.
7x to 14x – These mid-range magnifications are a good balance between a diminished field of view and increased object size.
15x and higher – These higher magnifications with decreased field of view are excellent for viewing specific objects at quite a distance
Objective Size
The objective size of a monocular is the diameter of the front lens given in millimeters and is indicated by the second number of the optical specification, as in the 50 in "12×50". In this case, the diameter of the objective lens is 50mm, or about the average length of an adult's thumb. This number indicates the light gathering ability of the device. Although a larger lens does allow more light and thus enhanced clarity and sharpness of the image, increased size and weight does become a factor.
Eye Relief
Eye relief is especially significant for people who wear glasses. Eye relief, measured in millimeters, is the furthest distance that the eye can be placed from the eyepiece while allowing the widest possible field of view. If your eye is further away from the given eye relief distance, you will loose the end of the sight picture. To accommodate the offset effect of various eyewear, it is recommended that you choose an eye relief distance in the range of 14mm – 16mm.
Lens Coating
Monocular coatings come in a variety of finishes such as fully multi-coated, multi-coated, fully coated, and coated. Each type of coating is associated with increased brightness, clarity and reduced glare of the viewed image. Expect to pay a bit more for fully multi-coated lenses than simply coated lenses. In general, multiple coatings increase light transmittance and definition.
The Best Monoculars on the Market Now
Polaris Explorer – 12X50 High Powered Monocular – Designed for any weather environment, this powerful monocular allows you to view objects at 12 times their original size. The 50mm lens allows for a clearer and brighter range of view. At about 50 yards, individual leaves on a tree may be easily seen. Use the focusing mechanism to make minor adjustments to clarity. The Polaris Explorer High Powered Monocular features fully multi-coated lenses and renders a high quality image under low lighting conditions. In addition, the waterproof and fogproof features secure it from dirt, dust, and debris. The durable external protective material makes this monocular capable of withstanding wear and tear.
HDE 15x – 55x Zoom 21mm Compact Monocular – At just 4 ounces, this monocular can easy fit into your pocket or bag while allowing for the same power that much larger units offer. You will value the wide range of magnification settings from 15x up to 55x zoom allowing you see up to five miles away. The 21mm lens is most suitable for bright conditions at a long distance. To compensate for vibrations associated with higher magnification levels, the HDE® Compact Monocular comes with a tripod screw for steady viewing.
Night Owl Optics 5-Power NOXM50 Night Vision Monocular – For your next campout or hunting trip, amplify light under the darkest conditions with this rugged high quality monocular designed with the latest optics technology. The 5x magnification and 50mm lens with activated infrared light will clearly illuminate a small area up to about 100 yards. The Night Owl Optics Night Vision Monocular comes with a sturdy protective finish, hand strap, and plastic focus ring for increased clarity. Requires a lithium battery that is not included.
Conclusion
Ultimately, monoculars are single-tubed optical devices used to view distant objects under a variety of conditions. Although the main advantage over binoculars and telescopes is portability and carrying convenience, the main disadvantage is lack of comfort, depth, and ease of continuous viewing. When purchasing the right monocular for you, make sure that the purpose, magnification, objective size, eye relief, and lens coating specifications align with your sightseeing goals for a fun, comfortable, and enjoyable experience.
Using Your New Monocular
Once you've selected the monocular that will fulfill your needs, check out the video below to learn how to properly and effectively use your new optic: