Shopping for boyfriends is impossible, right? Not anymore! Here are ten unique gift ideas for the man in your life. We think these picks are great for any occasion – birthday presents, anniversary celebrations, Christmas, or even just because.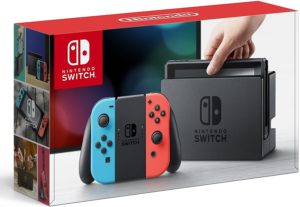 Here are our top picks for gifts for boyfriends.
Nintendo Switch
If you have the bucks to spare, the hottest item in the world of gaming right now would make an excellent gift for any guy. The Nintendo Switch offers at home and on-the-go playing, all in one device. With fun games and great quality, this pick is as much for you as for him. Plus, you'll probably win GFOTY (Girlfriend of the Year) with this one.
Beer Cap Holder
For the beer snob connoisseur boyfriend, a place to collect caps is a fun and unique gift idea. Choose a shadowbox for him to throw them in, or pick up a cool Cap Map to show off all the unique beers he's had the pleasure of meeting.

Yeti
Yetis are all the rage, and for good reason: they are amazing at keeping beverages as hot or as cold as you want them to be. Yeti coolers can break the bank, but Yeti tumblers and can coolers are much more affordable, and make excellent gifts.
Binoculars
A pair of Upland Optics binoculars makes a fantastic gift for the boyfriend who hunts. These are built tough, offer great clarity, and are designed specifically for hunters. If your guy has an old pair in his truck that only work with one eye – these will be perfect for him.
Optics
Of course, we're a bit biased, but we think that optics in general make great gifts. If your boyfriend is interested in stargazing, consider a telescope. If he's into hunting, he might love a new scope or rangefinder.
Tools
Tools are always a good idea. If your man is still building his selection of tools, consider adding to his collection with a nice tool set. Or, give him an always-popular Leatherman. You might have to do a little research and/or some stealthy investigating to find out what he needs or what he wants.
Sheets
Do guys ever buy things like bedding unless they absolutely have to? We don't think so. That's why treating your boyfriend to a luxurious sheet set is a unique way to help him feel really pampered.
Bluetooth Speakers
If your boyfriend loves music, he'll love new Bluetooth speakers. We like this one from JBL – it's a great all-purpose, all-weather option that doesn't break the bank.

Bartender Kit
For a budding home bartender, a mixology kit is a must-have for full effect. This is a great gift option because there are so many different options for kits depending on your budget. You can add a bottle or two of your guy's favorite booze, or even a drink recipe book.
Fancy Body Care
High-end body and face care or shaving stuff feels like a splurge, which is why it makes a great gift for any guy. Jack Black is a great brand for men's facial care. Or, if you've got a beardy guy, a nice shaving set or beard lube makes an excellent gift.