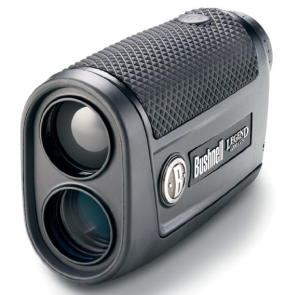 The Bushnell Legend 1200 ARC is a lightweight, compact rangefinder with a vast array of listed functions. It features 6x magnification, a Bow Mode touted to provide true horizontal distance from 5-99 yards, bullseye, brush, and scan modes for viewing, and with Rainguard HD an effective range of 5-1200 yards. All of this comes in a simply designed shell that is meant to be ergonomic, easy to access and use. This review will take an in-depth look at how the 1200 ARC's features perform and contribute to its overall value.
Size and Weight
For any hunting tool, accessibility is one of the most important aspects, and rangefinders especially need to be able to be used spontaneously. In this, the 1200 ARC does very well. It is fairly lightweight but still enough to give purchase and subtle nuances in its shape makes it very easy to hold steady. It can fit in shirt or pants pockets, adds virtually no burden to a backpack, or can be hung from a belt without becoming a distraction.
Power and Magnification
Rangefinders are best judged by their maximum range but are never expected to actually achieve it. Different conditions always produce different results, so in clear conditions one might be able to work with a reflective object over its maximum range, but less responsive surfaces, such as the skin of a deer, only over a third of its range. The higher the maximum, the more likely a rangefinder is to respond to an object within a fraction of its total range. The ARC's 1200 yard range is a pretty fantastic maximum, as few people are likely to try to target a deer from more than 400 yards away. For reflective surfaces like practice targets, the maximum comes into play.
The 1200 ARC's 6X magnification is more than enough to satisfy most people. Rangefinders are less about spotting and more solely for the purpose of determining distance, so most people will only zoom in a few levels for subtle adjustments. The rangefinder's picture quality diminishes as expected when zoomed in, but not drastically so.
Picture Quality
The 1200 ARC's glass is of an acceptable quality, with a few spots around the edges that sometimes appear during the manufacturing process. The rangefinder's picture quality isn't great or poor but noticeably better than other models in a similar price range. As a tool for determining range, picture quality isn't the most important feature of the 1200 ARC, but hunters will appreciate the extra clarity.
Viewing Modes
The 1200 ARC has three different viewing modes: scan, brush, and bullseye. Scan is the most frequently used setting on any rangefinder, as it allows users to see changes in depth continuously as they survey an area from afar. The 1200 ARC's brush mode does the same while ignoring trees and bushes while bullseye automatically fixes on the nearest object within the scope. Some people may find more utility for the extra modes than others, but the ARC's scanning, the only thing that universally matters, is impeccable.
Final Impression
The Bushnell Legend 1200 ARC is very highly regarded among hunters as a versatile tool that performs well day and night, in virtually any environment. It has an effective range, good picture quality, and several other extra features to satisfy situational necessities that most people wouldn't expect to require. Despite being loaded with a variety of additional tools, the rangefinder's fundamentals are solid and finely tuned. Ultimately, it has value that exceeds its own competitive price tag. Everything the 1200 ARC does is with incredible accuracy.