Night vision binoculars are becoming increasingly popular for hunting. They've been around for several years as the military has relied on them for one mission after another. With hunting, it gives the hunter a real advantage with allowing them to see their target through the blackened forest. Sometimes, the moonlight just isn't enough to supply the hunter with needed light. Since many hog and varmint hunts are performed at night, the technology of night vision binoculars is a helpful accessory.
If you're shopping for the best night vision binocular, I'm sure that you know there are a wide variety of great brands and offers out there. In fact, you may be reading this article because you're slightly overwhelmed over what's on the market! Whether you're an expert or a beginner, we are here to help you narrow down the choices in the realm of night vision binoculars. We will supply you with information on some of the best brands, the best products out there right now and the best product for the price and scenario. As for the beginner, we will even cover some of the basics so that you won't feel blinded in the hunt for the best night vision binocular.
The Best Brands
1. Bushnell
Bushnell is a well-known name in the binocular market. Even better? They have spectacular night vision binoculars! This company has been in business for over 65 years. Their expertise is in providing the best optics products for any outdoor or sporting occasion. These excursions include fishing, hunting, stargazing, golf, bird watching, the study of nature and much more. They even create binoculars for indoor activities such as viewing the opera or watching the car race.
Since their company is all about binoculars, they have stayed up to date with the latest optical technologies through the years. After all, 65 years is a long time to be in the binocular business. Bushnell is a brand that you can rely on in offering durable and reliable night vision binoculars.
2. Armasight
Armasight is another well-known name in the night vision and thermal imaging technological markets. With their main headquarters located in San Francisco, California, they have spent many years in providing the public with high quality, night vision, and thermal imaging optic technologies. The company offers many optical products for a variety of prices. Some items are very pricey while others are not. Because Armasight makes many night vision and thermal imaging products for the military and law enforcement communities, many of their products are the absolute top notch. You can find night vision binoculars at the high cost of $12,000.00 to the low cost of $50.00. It depends on what you're looking for with this brand and product and what you are willing to spend.
3. ATN
ATN is a massive brand in the night vision and thermal imaging technological field. In case you're interested, the letters, "ATN" stand for "American Technologies Network". The company is headquartered in San Francisco, California, like the company Armasight, and has been in operation for over two decades. The company proudly states that all of their products and technological equipment is created and produced in the United States. Many hunters choose much of their night vision equipment from ATN and Armasight merely because they're two huge brands that offer the most advanced products for a broad range of prices. If you want something simplistic, ATN has it. If you need something very developed with the high tech Gen 3 details, ATN has it. ATN's products and cutting edge technologies are often used by the military, law enforcement communities, and hunters.
4. Night Owl
The company, Night Owl, has decades of experience in the night vision technology. When you visit their website, it's clear that their mission is devoted to producing solely night vision equipment. It's a guarantee that you will find great quality binoculars from Night Owl.
5. Aurosports
Although it's hard to find company information on Aurosports, there's no doubt that this brand name of binoculars can be found all over the internet in online shopping websites such as Amazon. They provide very inexpensive yet convenient binoculars for nearly any occasion. However, if you're into serious hunting or work in law enforcement, this may not be the best brand for you to go with. However, for pure hunting, sightseeing, traveling, bird watching and so on, this brand would be great. They offer some of the most inexpensive binoculars on the market.
Brand Overview
The hardcore brands in night vision binoculars are Bushnell, ATN and Armasight. (There are much more, but since we will be providing product examples from the five brands listed at the beginning of this article, we will only discuss and compare those five brands.)
If you work in law enforcement and need safe, reliable and dependable night vision binoculars, Bushnell and Armasight is the brand for you. From inexpensive to expensive, they offer what you need. You can find night vision binoculars in any generation, and many come with other convenient accessories.
If you're a hunter that hunts big game such as hogs, bears, deer, elk, moose, etc., then Bushnell ATN AND Armasight are for you. Many times, you can't get very close to these animals without them getting away. When you have night vision binoculars with Gen 1, 2, or 3, it empowers you to track them from greater distances without them noticing you.
If you're a hunter that hunts smaller game and varmints, then brands like Night Owl and Aurosports will provide you with what you need and go easy on the wallet. Typically, the night vision binoculars from these brands are small and compact and allow you to carry them in your pocket. Keep in mind that most night vision binoculars from these two brands don't typically incorporate the generation technology into their products. If you're searching for binoculars with the Gen 1, 2, or 3 technologies, then you should browse through the Bushnell, ATN and Armasight brands.
What to Look for When Shopping?
If you're a pro at shopping, then you will already know that it's important to know what you're looking for. So, what should you look for when shopping for night vision binoculars?
Make sure that you don't accidentally purchase regular binoculars! Unfortunately, this has happened to many customers, especially the beginners. Some binoculars are misleading with statements like "visibility in low light," even though they aren't actual night vision binoculars. Many times, the night vision binoculars don't look any different from the regular binoculars. However, when you're browsing through Amazon, always ensure that the binoculars you choose say that they are created specifically with night vision.
The higher the price, doesn't always mean that it's better. Yes, it's a general rule that if something is more expensive than a similar product, the more expensive is likely to be of better quality. However, this isn't always the case. When you're calculating your budget, be sure to notate what you need in good night vision binoculars. This will help you to narrow down the necessities and keep you from spending more for something that you can get for cheaper at the same quality.
Determine your needs in night vision binoculars. This is very important. Why do you need it? If you want a pair of night vision binoculars for night time bird watching, perhaps you will be satisfied with binoculars from the Night Owl brand or the Aurosports brand. If you're a serious hog hunter and need something sturdy, weatherproof and equipped with the latest technology, then perhaps you will find satisfaction with binoculars from the Armasight, ATN or Bushnell brands.
Determine your budget. Once you've figured out what you need in binoculars, this will pave the way for you to determine a budget. You can find wildlife viewing night vision binoculars for much cheaper than you can the serious, tech savvy, night vision binoculars.
Finally, you want to find the best product for the money. When it comes to shopping, you want to find a good deal. Plain and straightforward. Shopping is all about finding the bargain and walking away with what you need without your wallet crying in agony.
Night Vision Generations
While shopping for the best night vision binoculars, it's always good to have some knowledge of the generations 1, 2, and 3. These determine the amount of power and strength that resides in your binoculars. Naturally, the higher the age you go, the higher the price tag. Why? Each generation is more advanced than the previous. Here's a little lesson for each generation.
Generation 1
Gen 1 is the most simplistic of all of the generations. It's the most inexpensive and also the slowest when it comes to advancement. This is the case since it was the very first of its kind. It was invented during the early 1960s when the world was emerging as a technological sphere. The Space Age was active and growing as well as military technology and advancements. The Gen 1 night vision technology isn't as thorough as the Gen 2 and Gen 3, but it supplies enough options for most people. Here are some general facts about the Gen 1 devices in comparison to Gen 2 and Gen 3.
Compared to the Gen 2 and Gen 3, Gen 1 has:
Lower resolution imagery.
It has the shortest battery life span.
The overall life expectancy is 1500 hours of use.
Usually, the operator is exposed to light during the use of the Gen 1. This can cause potential dysfunction with making the operator visible.
The median useful sight range for Gen 1 is rounded to 75 yards.
Generation 2
Gen 2 is a huge step above Gen 1. It comes with more conveniences and sharper technology. However, it's always more costly than any Gen 1 device since it has more advanced technology and capabilities. Let's take a look at some its details in comparison to Gen 1.
Compared to Gen 1, Gen 2 has:
It has a longer battery life than Gen 1.
Great resolution for imagery.
The overall life expectancy is a whopping 4500 hours!
The median useful sight range is around 200 yards. (Remember that the Gen 1 sight range is generally around 75 yards.)
It doesn't need the IR illumination capability.
Generation 3
Gen 3 is the greatest when it comes to the three generations of night vision technology. It's certainly no laughing matter. It's real and powerful. In fact, this form of night vision technology is so advanced that it's the United States Military's choice of night vision equipment. All of their binoculars and other night vision equipment are infused with the Gen 3 technology. Every passionate hunter, marksman, and law enforcement officer prefer the Gen 3 if it agrees with their wallet. Yes, the Gen 3 night vision technology is not cheap. In fact, there are some Gen 3 binoculars that are worth thousands of dollars. If this does indeed agree with your wallet, then the Gen 3 is worth every penny.
Here are the details on the Gen 3 technology in comparison to the others:
It has the best resolution for images by providing intricately detailed pictures.
It has the longest battery life.
It offers the best low light performance.
It has the longest life expectancy with an astounding 10,000 hours of operation!
The advanced imagery technology lets it work in all light shades and conditions.
The median useful sight range is an incredible 300 yards.
Best Night Vision Binoculars for Hunting
If you're a hunter, then we know that you're serious about your equipment. It's important to have the best equipment that provides you with the best abilities to perform in the outside elements. If you're shopping for the best hunting binoculars, then we have found just the kind for you.
ATN Night Scout VX Gen 2 Night Vision Binocular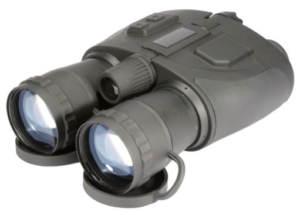 For a Gen 2 model, these binoculars are a bargain! There's no doubt that ATN ensured this night vision binocular was designed to give the customer the best quality without a high cost.
What are the Details?
It comes with a powerful and reliable 5x magnification with multi-coated, glass optics. It has a long range infrared illuminator that is very useful in viewing scenarios from a distance.
Not only is the ATN Night Scout a Gen 2, but it is also water AND fog resistant! This is perfect for hunting outdoors since many hunters have to endure a multitude of weather elements like rain, snow and ice.
Another detail that hunters will love about the ATN Night Scout is the fact that it's very lightweight and compact. Every hunter appreciates the hunting equipment that is compact and light to carry.
One of the best aspects to this night vision binocular is that there is no light to amplify so you can easily walk through the night without being seen. This product is, by far, a great value for a Gen 2 and perfect for any hunter!
Best Night Vision Binoculars for Wildlife Viewing
For the avid wildlife viewer and observer, you likely enjoy the hobby at night as well. If you're searching for serious night vision binoculars, you may want to consider this Night Owl product.
Night Owl Explorer Pro 5X Night Vision Binoculars with Infrared Illuminators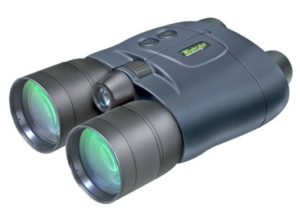 For simplicity, we are going to call this night vision binocular the Night Owl Explorer. It has a stellar rating of 4.5 stars! Customers seem to have been completely satisfied with these night vision binoculars.
What are the Details?
The Night Owl Explorer comes with 5x magnification. That means one thing: a powerful view. To be exact, it has a 700 field of view and a 575 range of view. That's remarkable for sight seeing and observing. With the built in infrared illuminators, you're able to view the wildlife animals in absolute, complete darkness. The moon could be hidden from the night sky and you would be able to see what is many yards ahead of you.
It has a steel stringer system that gives you additional control and precision over the binoculars. This is definitely worth the money!
As for the battery operation, it needs two AA batteries in order to work. It does come with a low battery indicator and has an extended infrared operation on the low battery status. That's a great thing to know in case you're out in the field and the low battery indicator alerts you.
The Night Owl Explorer would be a great choice in the area of wildlife observation and night time viewing.
Best Night Vision Binoculars for Under $1,000
When you're shopping for a serious night vision binocular set, sometimes it's difficult to find the best quality with the highest technology for under a $1,000.00. However, there are many great binoculars out there that are priced underneath a grand. Let's take a look at the Bushnell LYNX model.
Bushnell LYNX Gen 1 Night Vision Binocular, 2.5x 40mm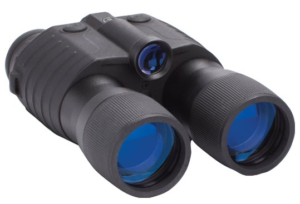 The Bushnell LYNX Gen 1 Night Vision Binocular is available in the classic black color. It's priced at an impressive $434.49 with a great 4.3 star rating on Amazon. These binoculars aren't for simple star gazing. They are powerful and work fantastically for the skilled hunter or law enforcement officer.
What are the Details?
The Bushnell LYNX is a Gen 1 night vision binocular that has a 2.5 magnification with 40mm objective lenses. The lenses are AR coated and very resilient. As for visibility, it has a built in infrared illuminator that enables you to see from a long distance of 90 yards.
Since these binoculars are high tech and equipped with the Gen 1 abilities, everything is seen in spectacular HD quality. If you're needing to survey an area for long periods of time, the Bushnell LYNX is remarkably comfortable to use.
Even better? The binoculars are weather resistant! It doesn't matter if it is rain or shine, the weather won't hurt these night vision binoculars.
Each and every part of the Bushnell LYNX has been tested and used before sent to the market shelves. This guarantees that the customer gets the best of the best.
Finally, you will need two AAA batteries to operate the Bushnell LYNX. It doesn't come with batteries if you order it from Amazon.
Best Night Vision Binoculars for under $500
So, you've determined that you need a serious set of night vision binoculars but have a budget of underneath $500.00. Believe it or not, it can be done, and it has. We have found a high-quality night vision binocular set at a bargain price. The brand? Armasight. As you already know, Armasight is one of the best in the realm of night vision equipment.
Armasight Dark Strider Gen 1 + Night Vision Binocular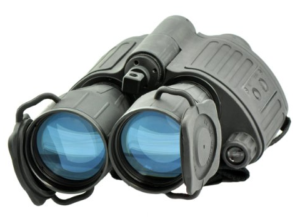 The Armasight Dark Strider is priced at a fair $399.99 on Amazon. It's a Gen 1 night vision binocular that is guaranteed to supply you with all of your night vision needs. For Armasight, this is a real deal for a real product.
What are the Details?
If you compare these night vision binoculars to regular day binoculars, they appear to be very similar in sight. The Armasight Dark Strider is a Gen 1 night vision binocular that is of high-quality aluminum housing, multicolored lenses and armored with rubber.
It's super easy to operate and anyone could learn quickly. With the powerful 5x magnification, it comes with a built in, long range infrared illuminator. It has two high resolution collimated Gen 1+ image intensifier tubes and an incredible range of focus from 10 to infinity!
The Armasight Dark Strider is water and fog resistant, making it an excellent night vision tool for any weather element without the worry of destruction.
As for the battery life and power supply, it comes with a 1x CR-123 Lithium 3V and lasts for up to 12 hours with the IR on. When the IR is off, the battery life lasts for up to 58 hours! It also has a low battery indicator that is marked by LED.
The controls are digital which is what helps make these binoculars super easy to operate.
Finally, this great night vision binocular set comes with a limited two-year warranty. That's always a comfort when you purchase something as awesome as the Armasight Dark Strider. Customers have loved this night vision binocular set for many, many reasons. The fact that it's available for under $500.00 is amazing.
Conclusion
When it comes to shopping for the best night vision binoculars, you really need to know what you need. In order to figure this out, ask yourself, "What am I going to be using them for? How much is my budget? The lighter, the better? What will be my typical observation range?" Once you can answer these questions, then you can best determine what brand and price will best suit your needs. It always makes for easier shopping when you know exactly what you are searching for.
In all honesty, Armasight is probably the best-known brand for the night vision and thermal imaging products and equipment. However, they usually have the highest in prices since they generally have the highest in quality. This brand is often found in the United States Military and in the hands of many law enforcement officers.
The brands of ATN and Bushnell follow closely behind the Armasight brand. They also produce the tough, hardcore night vision equipment thus making some of the best night vision binoculars for the serious hunter or observer.
The brands of Night Owl and Aurosports create great night vision binoculars for customers that enjoy wildlife observation, small game hunting, and more. Keep in mind that Night Owl has been in the night vision business for a very long time and that their prices will be higher than that of Aurosports. However, the quality differences are there between the two brands.
Although we didn't cover any night vision binoculars that are infused with the Gen 3 technology, it's important to understand and have the knowledge of all the generations before purchasing a night vision device. The Gen technology enables you to see longer distances and wider ranges than the typical night vision binocular set. If you're a novice or beginner to this sort of technology, just remember that with each generation, the strength and power rise as well as the price. You will never see a Gen 3 night vision model be priced the same as a Gen 1 night vision model. Why? Simply because there is a huge difference in technological advances between the two.
If indeed you are searching for a Gen 3 night vision binocular set, we highly recommend the Armasight brand. They produce many night vision devices and equipment that are infused with the Gen 3 technology.
At last, we hope that this has been an informative guide for you in shopping for the best night vision binoculars. From the brands to the scenarios to the night vision binoculars, it's been our intent to provide every small detail and advice given on the subject. Happy shopping for the best night vision binoculars!