Rangefinders belong to an innovative class of technology that has been evolving over the last century. These handheld gadgets are useful in a variety of situations. The system itself arose almost one hundred years ago, primarily adapted alongside cameras. In recent decades, these helpful tools have been utilized for solo performance in a variety of fields. They offer great benefits for hunting, archery, and golf.
This technical guide explores the vital specifications of these revolutionary devices. Before detailing the essential characteristics of a sound rangefinder, we will present the best ones available on the current market. While the functional mechanics remain relatively identical, minor modifications allow these machines to be employed for a variety of different purposes.
The Best Rangefinders for Hunting
Hunters use rangefinders to gauge the distance between themselves and their prey. Once they know how far away the prey is, they can make a more accurate shot. A rangefinder works exceptionally well when paired with a rifle scope. Here are the best gadgets for an accurate shot:
Upland Optics Perception 1000 Laser Rangefinder
Upland Optics is the brand we recommend the most for hunters, and their all new rangefinder is a perfect example of why. Simple and effective, this device is built to be rugged enough to handle the extreme conditions that hunters often face.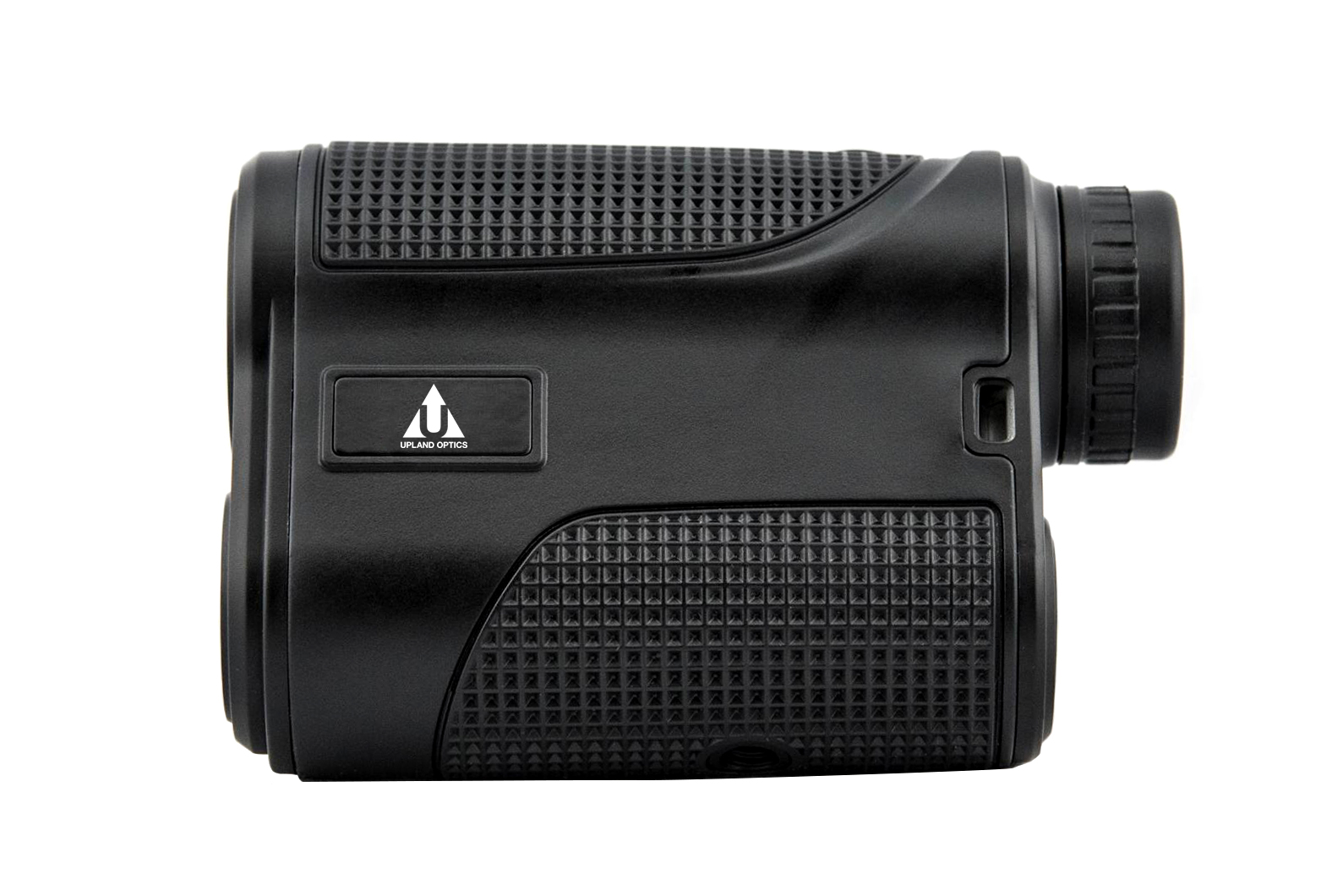 With an effective range of 1000 yards, this rangefinder will be dialed in on distances well outside the effective range of most hunters. You will always know exactly how far of a shot you are taking or how much distance you have to cover to get within range.
Lightweight and portable, the device isn't even noticeable when added to your other heavy gear. I personally carry it on my chest attached to my binocular harness, making it very easy to access quickly. Click here to see the current price.
The Best Rangefinder for Archery
Archers use rangefinders to hone their accuracy while developing an understanding of environmental factors. To make every arrow count, look into one of the following machines:
Nikon Arrow ID 3000 Bowhunting Laser Rangefinder
Archery aficionados swear by this premiere rangefinder from Nikon. All measurements are very specific. The increments are given for every 0.1 yards or meters. The gadget comes with First Target Priority Mode. This is the main selling point, mainly because it can be used to aim onto really small objects. It is designed to read thin fence posts 100 yards away. The mapping interface also does not falter with close-range distances down to 5 yards. The objective diameter is an ideal 21mm.
This machine is durably suited for tough conditions including fog and rain. The 89 degree angular range is truly impressive, and it enables straight shots up and down. An 18.3mm eye relief zone enshrines true comfort. The CR2 lithium battery promises reliable use for extended periods of time. It is water resistant and rainproof, so you don't have to worry about the elements. Click here to see the current price.
The Best Rangefinder for Bow Hunting
When archery is applied in the field, the stakes are raised even higher. A dependable rangefinder must be on-hand to guarantee a successful experience. This surveillance equipment instills safety through awareness, and it allows perfect opportunities for exact kills. Here are the most trustworthy tools for these rigorous hunters:
Bushnell 202442 "The Truth" ARC 4x20mm Bowhunting Laser Rangefinder with Clear Shot
Here's a go-to rangefinder for bow hunters in the middle ground. This dashing device is equipped with all of the necessary accessories for a successful wilderness excursion. Bushnell's equipment is especially useful for handling targets in motion, and it tracks distances between 7 and 850 yards. The powerful 4x zoom extends 199 yards, and it grants pure horizontal perspectives. This forceful machine is pocket-sized, and it is equipped with a comfortable anti-slip surface for tight gripping all the time.
It has a truly complete angle range that touches 90 degrees on both positive and negative ends of the scale. The Clear Shot interface gives immediate data on every shot before and after it is taken. The precise angle of each arrow is instantaneously provided.
This brand always makes the best carrying cases, and the one that comes with this model is no exception to the rule. It also comes with a handy neck strap for rapid access. Click here to check the current price.
The Best Rangefinder for Golf
To pick the right golf club before every stroke, wise players must take several conditions into account. Luckily, a rangefinder can do most of the measuring work! Here are our top recommendations:
Bushnell Tour V4 Jolt Golf Laser Rangefinder
For a truly well-rounded golfing experience, it is hard to top the state-of-the-art equipment that is featured in this mainstay from Bushnell. This is the most popular tool of choice for golfers around the world. Its stylish contour is outfitted with a stellar 24mm objective alongside 5x magnification.
This device can precisely calculate ranges up to 1,000 yards, and its minimum distance is a mere 10 yards. With the combo of PinSeeker with Jolt, players can estimate flags within a single yard of accuracy up to a total of 300.
The laser is top-notch and completely safe. A sturdy carrying case is provided, and the 3-Volt battery is a standard inclusion. This design features an ergonomic structure that has one of the most stable grips available. A generous two year warranty is granted, and it is legal for official tournaments. Click here to check the current price.
The Best Rangefinder for the Money
On a financial scale, rangefinders can be costly. Luckily, their powers are available in several affordable variations. For the penny pinchers, this list of inexpensive devices will be invaluable:
Here is a nifty device that is the perfect mix of functional and affordable. It looks prototypical, but it is actually capable of viewing up to 1,000 yards. It has a field of view that cuts off at 325ft, however, the viewing angle is limited to 6 degrees.
This is a laser intended for use primarily by hunters. It aims to capture mobility with refined accuracy. At a mere 5 ounces, it is also one of the lightest rangefinders in production. It is also outfitted with single-button mechanics for immediate comprehension and use. In terms of objective lens diameter, buyers can look forward to a respectable ratio of 23 mm / 0.91″.
On a side note, the cubic shape is exclusive to the Redfield line. These futuristic devices disguise themselves with retro appeal. Click here to check the current price.
The Best Rangefinder for Under $200
Here are some more affordable rangefinders. These products condense all of the vital elements into a compact product that can be mass produced. The rangefinders listed here are suitable for curious hunters and first-timers.
Simmons LRF 600 Tilt Intelligence laser Rangefinder
For being sold at such a low price, this model is still a step up from the standard version. Priced under $150, this grand device flaunts intuitive Tilt Intelligence. This interface rapidly calculates True Horizontal Distance.
All modes of use can be simplified to one button. The carrying case is surprisingly slick for being an automatic add-on accessory. With 4x magnification and 600 yards of range, the LCD in-view picture is stunningly clear every time. It has the welcome bonus of being bright and weather-resistant.
While this model is ideal for golf, it can also be useful for archers and bow hunters. Those who need extra ballistic controls may need to look elsewhere. Click here to check the current price.
The Best Rangefinder for Under $500
For a little more cash, you can get some serious bells and whistles. Here are some of the best rangefinders available within a more reasonable price limit:
Vortex Optics Ranger 1000 with Horizontal Component Distance Rangefinder RRF-101
This is one superb piece of technology right here! Vortex has crammed a ton of special amenities into this $380 model. It has a regal rubber exterior that protects from heavy impact while simultaneously allowing for a seriously unrelenting grip. Each one of the lenses is coated to enshrine anti-reflective powers, which leads to a wonderfully high level of brightness during use.
The O-ring instills one of the best moisture prevention methods possible. This tight seal completely combats all interference from dust and debris. It is also programmed to fully prevent moisture contamination. These machines are known to emphasize a streamlined diopter, which refers to the curvature of its interior mirroring. Thus, focus is crystal clear no matter the occasion. Click here to check the current price.
History of Rangefinder Use
Rangefinder equipment for cameras originated in 1916. They were an exceedingly prevalent means of photography for several decades, but single lens reflex (SLR) cameras rendered them somewhat obsolete. Fortunately, the technology lingered on outside of the picture taking field.
Today, the rangefinder industry covers a lot of different ground. They are regularly used for land surveying purposes. Many navigation systems rely on them as well. Digital cameras still sometimes use rangefinder technology to instill proper focus for their images. The military is also presumed to use high-tech variations of this hardware, but this information is presently classified.
The Components of Conventional Rangefinders
Most modern rangefinders involve some variation of an electronically outfitted monocular. The techniques they use to estimate space can vary widely. Laser rangefinders are becoming increasingly prominent, but other approaches include ultrasonic, radar, and simple trigonometry.
Most of these machines are meant to be held, but they can be attached to tripods for maximum stability (similar to a spotting scope). Angular mounts can be applied to uncover exact measurements of elevation. Spherical coordinates may be precisely deduced as well; for the non-layman, a proper term for these rounded measurements is "azimuth."
Lasers work by calculating the exact time of flight for each burst of light. Their mathematical determinations are rapid and exact! Meanwhile, radar applies pre-determined numerical figures for quick estimations. For the most accuracy, rangefinder connoisseurs stick with the traditional means of triangulation. With the mere power of sine, cosine, and tangent, this type of standard model can still trump all of its fancier competitors.
To convey useful data, a screen is usually mandated. These monitors can come in a variety of forms, but their most common incarnation is liquid crystal display (LCD). Lately, this high-tech inclusion has been structured into the viewing apparatus itself.
Why Rangefinders are Useful
These visual aids can be used to measure vast distances. The most advanced versions are equipped to detect distant objects. This prioritization over close objects commonly sets hunting rangefinders apart from their golfing counterparts.
These devices are equipped with ultra powerful lenses that can accurately capture an entire panorama at once. Sharpshooters often utilize these gadgets to figure out ideal ballistics before firing. This enshrines the zenith of accuracy for every shot. The same is true for archers and bow hunters. Basically, rangefinders are divine accessories for anyone who desires a fuller comprehension of their visual field.
Final Word
This list may be detailed and comprehensive, but it is by no means complete. The truth is that everybody should conduct their own research to ensure that their rangefinder needs are met. Hopefully, this guide is able to help you make a decision in regards to your next rangefinder purchase!