When you're hunting with a shotgun, common sense clearly tells you not to expect any sniper-style shooting feats. For many hunters, the need for a shotgun scope seems laughable. "I'm just shooting a turkey, and not that far away. Why would I need a scope?"
Believe it or not, the addition of a scope to your shotgun can dramatically improve your chances of bagging that trophy Tom. And that isn't to mention those who hunt larger game with slugs, which requires even greater accuracy with your favorite shotgun. While it's true that you can get a bead on your target using iron sights, the assistance of a scope is like the difference between reading in fine print and reading in large print. With a quality scope, your time is much better spent and frustration is reduced to a minimum.
In this guide, you'll find the reasons that you should consider purchasing a shotgun scope, what to look for when making a decision, and finally the four scopes we most highly recommend.
Reasons why Shotgun Scopes make a Difference:
Crosshairs
Crosshairs allow you to pinpoint your target without playing guessing games.
Scope
With a scope, you aren't tempted to raise up to check the movement of the bird or other game animal. As many hunters have learned, this is a major reason for losing that bird that seemed a sure thing.
Magnification
It never hurts to have a clearer view of your target.
Whether you're hunting turkeys or whitetail, a scope can improve your game to the point that you'll wonder how you ever got along without one. Although the addition of a scope to your gun may add a small amount of weight, it more than makes up for it by making your trek into the woods so much more profitable.
What to Look for in your Scope
When you decide it's time to begin shopping for a shotgun scope, there are a few things to keep in mind. Here are some important tips to help you make your decision when a world of choices make settling on the right scope a victory in itself.
Durability conquers all.
When you're choosing a shotgun scope, the most important thing to keep in mind is that in order get your money's worth, your scope will need to be tough. When you're crashing through the thick brush or your gun slides down from the tree stand and lands against the trunk with a crack, once you've given thanks for the fact that it didn't go off and kill anyone, you'll be thankful you chose a scope that could stand up to anything your shotgun can handle.
Clarity is a must.
Another top priority for choosing a shotgun scope is clarity. Although it isn't necessary to buy the priciest scope to achieve maximum resolution – more about that later – there's no point buying a scope that makes discerning the difference between your target and the background a mystery. Make sure the scope you choose provides a sharp view of whatever you point it at so your eyes get the break they'll need when you've been peering so hard for so long.
Keep it simple.
As you begin shopping around, you'll find that different scopes offer different features. While many of these may seem tempting and downright must-have, keep in mind that anything that adds complication to your scope is one more thing that can break and render your scope useless. Unless you know that your scope would still work if a certain feature became inoperable, keep it simple and forego the fancy features.
Pricier doesn't mean better.
Although it's true that you get what you pay for, when it comes to shotgun scopes, there's really no need to spend an arm and a leg. As long as a scope fulfills these other requirements, don't be afraid to settle for a scope that just gets the job done without an exorbitant price tag. Unless you plan to make your living hunting, a cheap yet adequate scope should be all you need.
Slight magnification is plenty.
Obviously, with a shotgun, you don't have much need for long-distance reconnaissance. As long as the scope provides slight magnification, you should be pleased with the results.
Shiny scopes are easily spotted.
It would be a shame to head out with your Mossy Oak gun stock and RealTree head-to-toe camo, just to have the deer turn tail and run at the flash of morning sun glinting off your gun scope. When looking for your shotgun scope, keep in mind that camouflage is just as important for scopes as it is for gunstocks. If you can't find a suitable camo-colored scope, a matte-finished scope will prevent sunlight from giving away your presence to any vigilant wildlife you're trying to evade.
Brighter isn't always necessary.
Sure, it's true that the brightness feature can be helpful for hunters out in the wee hours of the morning. Still, there's no need to worry about making your scope too bright since you'll be hunting when it's somewhat light anyway. Why tempt yourself with ultra-bright technology when bagging that deer at night while it's not legal to do so can get you in serious hot water. Although laws differ from state to state, good sportsmanship alone would dictate that too much technology can take the sporting chance out of the equation and cheapen the experience for everybody.
Reviews of the Four Best Shotgun Scopes on the Market
With each of these things in mind, here are four top examples of shotgun scopes that should provide what you need to make your hunting experience that much more profitable.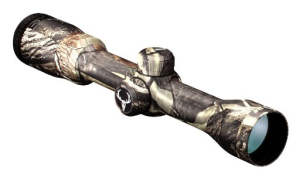 Color: Camouflage
Cost: $108-$215, depending on seller
Weight: 12.7 ounces
Magnification: 1.75x to 4x
The Bushnell shotgun scope is an all-around winner. The camo colored, lightweight scope isn't crazy expensive, but its durability makes it a favorite and one that many hunters will buy again – after their first one finally gives out after fifteen years.
Amazon customer reviews:
"I mounted this scope on my Beretta 391 20 ga. for spring turkey hunting. I have had another one just like it on a 12 ga. Beretta M303 for 8 years and it has given me great service. I expect this one will do the same. Tough scope to beat for the money – great value for your dollar!"

"This Bushnell 'Circle-X' Shotgun Scope with Realtree Camo was a very good choice for my Mossberg 500, also with Realtree camo. The optics are very clear and it has a respectable eye-relief of 3.5″, which is of course important to keep your eye out of danger from the recoil. The 1.75-4x magnification adjusts easily and is appropriate for use on the relatively short range of shotguns. The scope is also tough enough to take the 12g recoil, remaining zeroed after several hundred rounds and between trips to the range. This was worthwhile addition to shotgun and would replace it with the same model if needed. Highly Recommended! CFH"
Top features of the Bushnell Circle-X Reticle Shotgun Scope:
Wide view field allows minimal movement
100% waterproof, shockproof and fogproof
Flip-open scope covers shields from falling precipitation
Fast-focus eyepiece
91% light transmission
RealTree finish
Nearly indestructible
1/4 MOA fingertip windage and elevation adjustments
Multi-coated optics allow for excellent contrast and clarity
Perfect for slug shooting for deer and turkey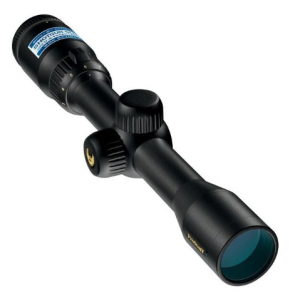 Color: Black Matte
Cost: $153-$160
Weight: 13.9 ounces
Magnification: 2x to 7x
True to its name, the Nikon ProStaff Shotgun Hunter Riflescope integrates professional Nikon technology into this cutting-edge tool to make hunting precise and smooth.
Amazon customer reviews:
"No one likes to admit they are getting older. But….. This past deer hunting season I was unable to locate a trophy buck in the old red dot scope I had on my shotgun for many many years, and had great success with, due to the low light conditions I was in and the glare the red dot was giving off, even at the lowest setting. I tried my brother's shotgun that had this very same scope on it, in the same low light conditions, and the viewing area was fantastic!! Needless to say, I went right home and bought this. Mounting and sighting it in was very simple. I should have changed to this scope a couple of years ago. The optics are great."

"It's a Nikon. Great scope used for its purpose. I have it mounted on H&R Ultra Slug 20g with Dead Nutz scope mount. The 2×7 zoom is enough for shooting slugs. Optics are spot on and CLEAR. Scope quality is excellent. BDC reticle is on the money. You can't go wrong with Nikon."
Top features of the Nikon ProStaff Shotgun Hunter Riflescope:
3.8 inches of eye relief keeps you safe from recoil
100 yard field of view
Nitrogen-filled housing to keep out fog and moisture
Bright, crisp images
Works great with muzzle-loaders
Zero-reset turrets with spring-loaded adjustment knob
Quick-focus eyepiece
Great even with severe shooting angles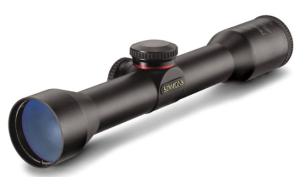 Color: Black Matte
Cost: $61-$73
Weight: 8.6 ounces
Magnification: 4x
The affordable Simmons ProHunter ProDiamond shotgun scope offers advanced technology at an easy-to-swallow price. The sharp focus is made possible by the use of high-quality optical glass so that you can see your target clearly, regardless of the weather.
Amazon customer reviews:
"Without hesitation, this is the scope I have been recommending to my friends and family for all of their shotguns and muzzleloaders. I have 3, on my shotgun and muzzleloader and on my daughter's shotgun. I have taken turkey and deer with this scope for 15 years and counting. You could pay a lot more, but you will not get better features or quality. If you are looking to buy a shotgun or muzzleloader scope…look no more! Buy this one and you WILL be happy."

"GREAT Scope, I own 3 of them and have killed several deer and turkey with this scope on 870 shotguns. I highly recommend it and have had zero problems with these scopes in almost 15 years of using them. I see no need to spend more on optics for my shotguns and recommend this scope without hesitation."
Top features of the Simmons ProHunter ProDiamond Reticle Shotgun Scope:
TrueZero windage and elevation adjustment keeps your focus fixed
Durable construction can resist 1,000 rounds from a 12-gauge slug gun firing 3.5-inch shells
O-ring sealed, 100% waterproof housing
4-inch eye relief protects vision
25 years of customer satisfaction
Multi-coated optics offer clearly contrasting images
Pro-Diamond reticle
Easy grip and adjustment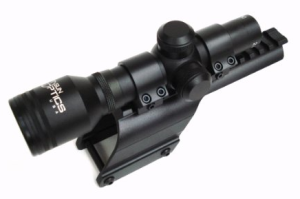 Color: Black Matte
Cost: $103-$138
Magnification: 2.5x
The Remington 870/870 Express Shotgun Scope and Mount Combo is an excellent choice for shotguns with excessive recoil. This scope and mount combo is designed to absorb the impact of the recoil without injury to your eye or forehead.
Amazon customer reviews:
"Got this baby in the mail, slapped it on my Remington 870 in about 10 minutes and went shooting the next day. This scope is easy to sight in, has a great deal of eye relief, and stays true once it is sighted in. I shot 60 slug rounds with it and the scope stayed true to where I set it. I was hitting 75 yard easy with this scope. Can't wait to go deer hunting with it."

"I purchased this gun for my husband as a gift and he loved it. Said I got a good deal on it too!"
Top features of the Remington 870/870 Express Shotgun Scope and Mount Combo:
Lifetime warranty
6 inch eye relief
Audible click finger tip windage and elevation adjustments
Withstands powerful recoils
100% waterproof and fogproof
High definition blue lenses are multi-coated
Bright and clear field of view
Regardless whether you choose one of these fine scopes or another one not listed here, be assured that the addition of clarified sighting will improve your hunting results dramatically. Happy hunting!